Search for flowers for my date and postcode
Hand-crafted by a local artisan florist in West Lothian
Flower delivery for all occasions
West Lothian Flower Delivery
Flower Delivery in West Lothian
When it comes to sending a meaningful and sincere gift to your loved ones in West Lothian, Interflora's flower delivery service is your ideal choice. Our dedicated West Lothian florists skillfully design breathtaking arrangements using fresh, locally sourced flowers, guaranteeing both beauty and longevity. Whether it's a birthday, anniversary, or an expression of gratitude, our personalised bouquets convey your emotions and bring joy to someone's day.
With Interflora's reliable delivery service, you can trust that your carefully chosen flowers will arrive punctually and in impeccable condition, no matter where your loved ones are in West Lothian.
About West Lothian
Nestled in the central belt of Scotland, West Lothian is a region brimming with history, natural beauty, and a vibrant community spirit. Just a short distance from the bustling city of Edinburgh, West Lothian offers a perfect blend of urban amenities and serene countryside.
The region is steeped in history, with notable landmarks like Linlithgow Palace taking center stage. This magnificent royal residence, birthplace of Mary Queen of Scots, showcases exquisite architecture and beautifully preserved interiors, allowing visitors to step back in time. The historic town of Linlithgow itself exudes charm, with its quaint streets, traditional shops, and a picturesque canal offering leisurely walks.
West Lothian's stunning landscapes also captivate visitors. The rolling hills of the Bathgate and Pentland Hills provide breathtaking views and opportunities for outdoor adventures like hiking and cycling. The picturesque Union Canal winds its way through the region, offering tranquil boat trips and scenic towpath walks. Additionally, Beecraigs Country Park beckons nature lovers with its woodlands, lochs, and diverse wildlife, providing a peaceful retreat for relaxation and exploration.
The region is also renowned for its sense of community and vibrant cultural scene. From traditional ceilidhs to contemporary arts festivals, West Lothian showcases its rich heritage and creative spirit. The town of Livingston boasts excellent shopping facilities at The Centre and Livingston Designer Outlet, while numerous local markets and independent shops throughout the region offer unique treasures and locally produced goods.
Florists in West Lothian
Interflora is thrilled to partner with skilled florists in West Lothian who craft breathtaking floral arrangements. Our trustworthy flower delivery service covers the entire region, including towns like Livingston, Bathgate, and Linlithgow, ensuring that your heartfelt emotions are conveyed through the sheer beauty of our blooms, making every occasion in West Lothian truly remarkable. Our network of talented local florists guarantees that the floral creations you send or receive in West Lothian are of the highest quality, capturing the essence of your sentiments and creating cherished memories.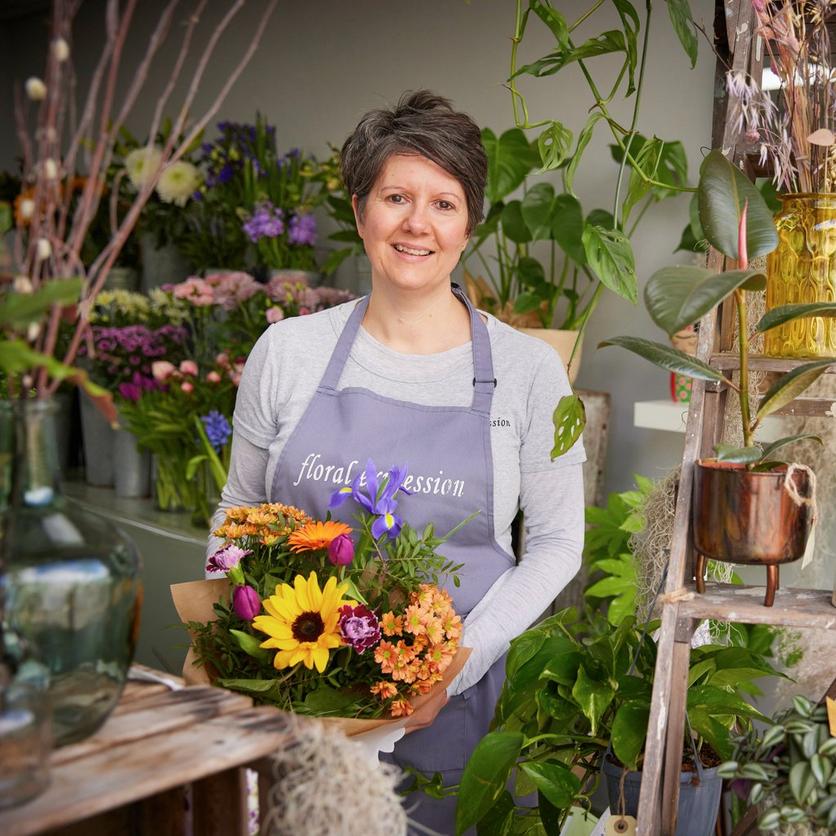 Find a local florist to craft your bouquet
Whatever the occasion, we're here to help. From birthdays to anniversaries or simply just because, we deliver flowers across the UK and even overseas.
Over 900 local florists nationwide
Every bouquet is created by an experienced artisan florist.
No lost bouquets here, these are made to wow them on the doorstep.
We guarantee all our flowers will be fresh for 7 days at least.
Our bouquets are created by local florists. Long live the high street!