Search for flowers for my date and postcode
Hand-crafted by a local artisan florist in West Sussex
Flower delivery for all occasions
West Sussex Flower Delivery
Flower Delivery in West Sussex
When it comes to flower delivery in West Sussex, Interflora is the perfect choice for sending a meaningful and delightful gift. Our skilled local West Sussex florists expertly craft stunning arrangements using fresh, hand-selected flowers.
Whether it's a birthday, anniversary, or a gesture of appreciation, our personalised bouquets are designed to convey your sentiments and bring joy to your loved ones. With Interflora's reliable delivery service, you can trust that your thoughtful gift will be delivered promptly and in impeccable condition, making it a cherished surprise that brightens their day. Celebrate special moments and show you care with Interflora's exceptional flower delivery service in West Sussex.
About West Sussex
West Sussex, located in the south of England, is a county known for its scenic beauty, charming villages, and rich history. The county is blessed with a diverse landscape that includes rolling hills, picturesque countryside, and a stunning coastline. From the iconic white cliffs of Beachy Head to the sandy shores of West Wittering, West Sussex offers breathtaking views and opportunities for outdoor activities such as hiking, beach walks, and water sports.
The county is also home to several historic and cultural attractions. Chichester, the county town, boasts a magnificent cathedral and a wealth of Roman and medieval heritage. Arundel Castle, a medieval stronghold overlooking the River Arun, is a captivating sight to behold. West Sussex is dotted with quaint villages, each with its own unique charm, where visitors can explore historic buildings, browse local shops, and indulge in traditional pub fare.
West Sussex is also renowned for its vibrant arts and culture scene. The city of Brighton, located on the eastern border, is known for its eclectic arts community, vibrant nightlife, and the iconic Brighton Pier. The Goodwood Estate hosts internationally acclaimed events such as the Festival of Speed and the Goodwood Revival, attracting visitors from around the world.
Florists in West Sussex
Interflora takes pride in our talented florists in West Sussex who create stunning floral arrangements for every occasion. With our reliable flower delivery in West Sussex, you can trust us to deliver beautiful blooms that convey your heartfelt sentiments. Brighten someone's day with Interflora's exquisite floral creations in West Sussex.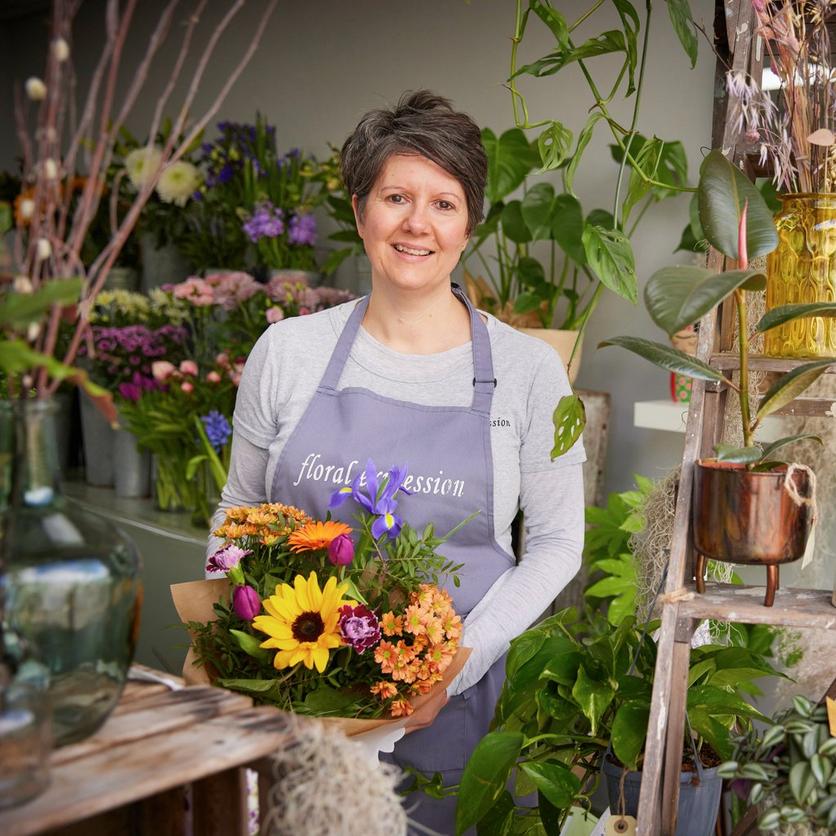 Find a local florist to craft your bouquet
Whatever the occasion, we're here to help. From birthdays to anniversaries or simply just because, we deliver flowers across the UK and even overseas.
Every bouquet is created by an experienced artisan florist.
No lost bouquets here, these are made to wow them on the doorstep.
We guarantee all our flowers will be fresh for 7 days at least.
Our bouquets are created by local florists. Long live the high street!