Search for flowers for my date and postcode
Hand-crafted by a local artisan florist in Wicklow
Flower delivery for all occasions
Wicklow Flower Delivery
Flower Delivery in Wicklow
If you're looking for a thoughtful and heartfelt gift for a loved one in Wicklow, look no further than our flower delivery service. Our dedicated local florists in Wicklow create stunning arrangements using fresh, locally sourced flowers, ensuring that your gift is both beautiful and long-lasting. Whether it's a birthday, anniversary, or a simple gesture of appreciation, our personalised bouquets offer the perfect way to express your sentiments and brighten someone's day. No matter where your loved ones are in Wicklow, our reliable delivery service guarantees that their flowers will arrive on time and in perfect condition.
About Wicklow
Wicklow, often referred to as the "Garden of Ireland," is a captivating county that showcases the natural beauty of the Emerald Isle. From its rugged mountains to its stunning coastline, Wicklow offers a diverse landscape that appeals to outdoor enthusiasts and nature lovers alike.
Explore the Wicklow Mountains, where you'll find the majestic peaks of Lugnaquilla and Djouce, offering breathtaking views of the surrounding valleys and shimmering lakes. Hike along the Wicklow Way, a long-distance trail that winds through enchanting forests, tranquil streams, and picturesque villages. Discover the famous Glendalough, an ancient monastic site nestled in a glacial valley, where you can explore the ruins of a medieval monastery and admire the serene beauty of the surrounding lakes.
For those seeking coastal charm, the towns of Bray and Greystones beckon with their scenic promenades, sandy beaches, and vibrant atmospheres. Take a leisurely stroll along the Bray Head Cliff Walk, marvel at the panoramic vistas, or indulge in some delicious seafood at the local restaurants. Wicklow's coastline is also dotted with charming fishing villages such as Arklow and Wicklow Town, where you can experience the authentic Irish maritime culture and enjoy freshly caught seafood.
Wicklow is not only blessed with natural wonders but also boasts a rich heritage and cultural scene. Immerse yourself in the history of Powerscourt House and Gardens, a magnificent estate that showcases exquisite gardens and an elegant mansion. Explore the quaint streets of Avoca, home to Ireland's oldest woollen mill, and browse the unique shops for handcrafted goods and traditional Irish products.
Florists in Wicklow
Interflora is delighted to collaborate with talented florists in Wicklow who create stunning floral arrangements. With our reliable flower delivery service covering every corner of Wicklow, including towns like Bray, Greystones, and Wicklow Town, we ensure that your heartfelt sentiments are expressed through beautiful blooms, making every occasion in Wicklow truly special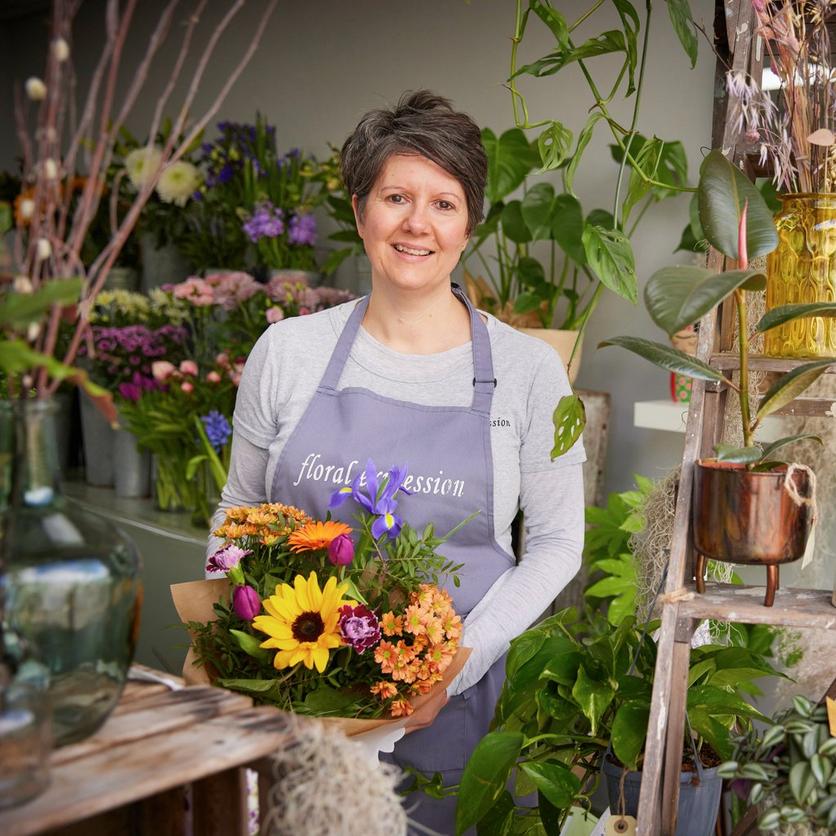 Find a local florist to craft your bouquet
Whatever the occasion, we're here to help. From birthdays to anniversaries or simply just because, we deliver flowers across the UK and even overseas.
Over 900 local florists nationwide
Every bouquet is created by an experienced artisan florist.
No lost bouquets here, these are made to wow them on the doorstep.
We guarantee all our flowers will be fresh for 7 days at least.
Our bouquets are created by local florists. Long live the high street!