Search for flowers for my date and postcode
Hand-crafted by a local artisan florist in Wiltshire
Flower delivery for all occasions
Wiltshire Flower Delivery
Flower Delivery in Wiltshire
For an unforgettable flower delivery in Wiltshire, trust Interflora. Our dedicated Wiltshire florists expertly handcraft exquisite arrangements using the finest, freshest blooms.
Whether it's a birthday, anniversary, or a special occasion, our personalised bouquets are sure to convey your sentiments with elegance and beauty. With our reliable delivery service, your loved ones in Wiltshire will receive their flowers in perfect condition, creating cherished moments that will be treasured.
About Wiltshire
Located in the picturesque West Country of England, Wiltshire is a county steeped in history and natural beauty. With its rolling hills, charming villages, and iconic ancient sites, Wiltshire offers a captivating blend of rural charm and cultural heritage.
At the heart of the county lies the world-famous Stonehenge, an ancient stone circle shrouded in mystery. Visitors from around the globe flock to Wiltshire to witness this enigmatic monument and marvel at its impressive architectural prowess. Nearby, the mystical Avebury Stone Circle, a UNESCO World Heritage Site, provides an equally awe-inspiring experience.
Wiltshire is also home to the historic city of Salisbury, where the stunning Salisbury Cathedral stands tall. With its soaring spire and exquisite medieval architecture, the cathedral attracts visitors seeking architectural marvels and a sense of spiritual tranquility. The charming streets of Salisbury are lined with quaint shops, cafes, and traditional pubs, creating a delightful ambiance for exploration.
Beyond the cultural and historical gems, Wiltshire boasts expansive countryside landscapes that are a haven for outdoor enthusiasts. The rolling hills of the Salisbury Plain offer opportunities for hiking, cycling, and horseback riding, while the tranquil beauty of the Cotswolds Area of Outstanding Natural Beauty provides breathtaking vistas and picturesque villages to explore.
Florists in Wiltshire
Experience exceptional flower delivery in Wiltshire with Interflora. Our skilled Wiltshire florists create stunning arrangements using the freshest blooms, handcrafted with care. Trust us to deliver your heartfelt sentiments with precision and reliability, bringing joy and smiles to your loved ones in Wiltshire.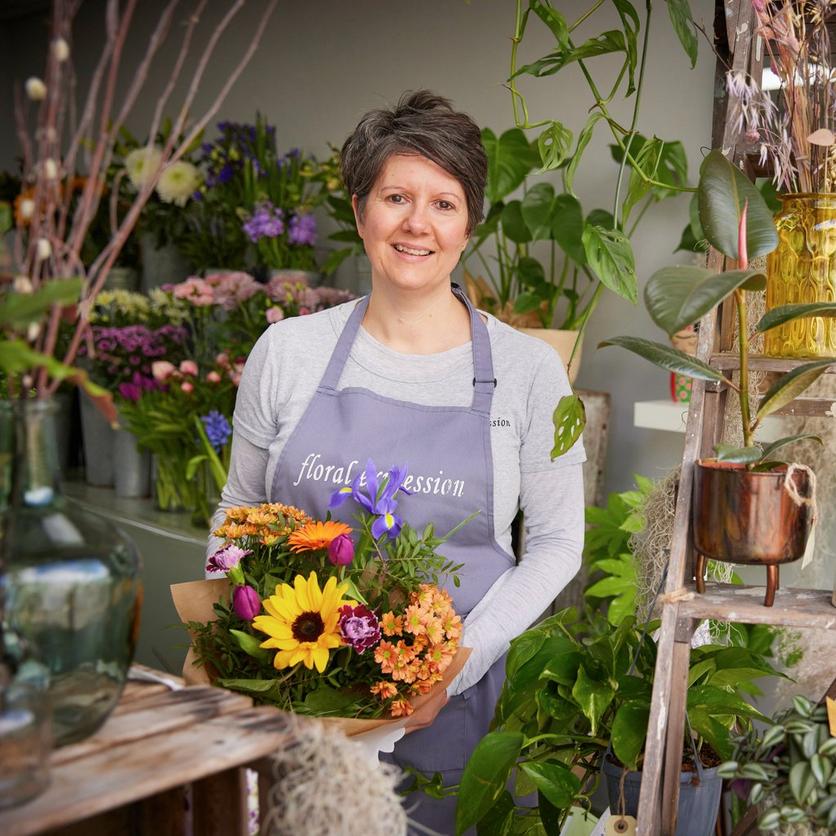 Find a local florist to craft your bouquet
Whatever the occasion, we're here to help. From birthdays to anniversaries or simply just because, we deliver flowers across the UK and even overseas.
Every bouquet is created by an experienced artisan florist.
No lost bouquets here, these are made to wow them on the doorstep.
We guarantee all our flowers will be fresh for 7 days at least.
Our bouquets are created by local florists. Long live the high street!