Search for flowers for my date and postcode
Hand-crafted by a local artisan florist in Worcestershire
Flower delivery for all occasions
Worcestershire Flower Delivery
Flower Delivery in Worcestershire
For a truly special flower delivery in Worcestershire, trust Interflora. Our dedicated Worcestershire florists expertly craft stunning arrangements using the freshest, locally sourced blooms.
Whether it's a birthday, anniversary, or a heartfelt gesture, our personalised bouquets are designed to convey your sentiments and bring joy to your loved ones. With Interflora's dependable delivery service, their flowers will arrive on time and in pristine condition, creating unforgettable moments in the heart of Worcestershire.
About Worcestershire
Located in the West Midlands region of England, Worcestershire is a picturesque county known for its natural beauty, historic towns, and culinary delights. Nestled in the heart of the countryside, Worcestershire offers a peaceful escape with rolling hills, charming villages, and meandering rivers.
One of the county's highlights is the historic city of Worcester, which sits on the banks of the River Severn. Worcester Cathedral, with its stunning architecture and rich history, dominates the city's skyline. Visitors can explore its magnificent interior and learn about the county's past at the adjacent Worcester City Art Gallery & Museum.
Worcestershire is also renowned for its connection to the famous Worcestershire Sauce, a tangy condiment enjoyed worldwide. Food enthusiasts can indulge in a variety of culinary delights, from traditional pubs serving locally sourced produce to award-winning restaurants offering fine dining experiences.
Nature lovers will be captivated by the county's beauty, with attractions such as the Malvern Hills, an Area of Outstanding Natural Beauty. These ancient hills offer breathtaking panoramic views, inviting outdoor enthusiasts to hike, cycle, or simply enjoy the tranquility of nature.
Worcestershire's charming towns and villages, including Pershore, Evesham, and Broadway, boast picturesque architecture, quaint shops, and delightful tea rooms. The riverside town of Bewdley offers a glimpse into the county's industrial past with its historic steam railway and charming riverside walks.
Florists in Worcestershire
Experience exceptional flower delivery in Worcestershire with Interflora. Our skilled Worcestershire florists create stunning arrangements with the freshest blooms, ensuring every bouquet is a work of art. Trust us to deliver your heartfelt sentiments with precision and care, bringing joy and beauty to your loved ones in Worcestershire.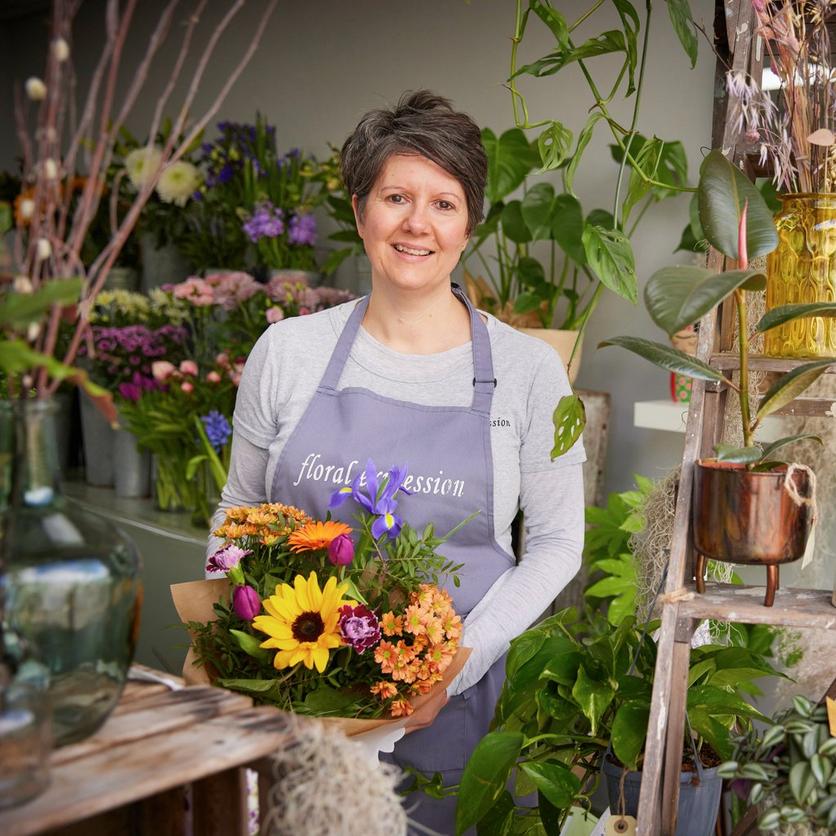 Find a local florist to craft your bouquet
Whatever the occasion, we're here to help. From birthdays to anniversaries or simply just because, we deliver flowers across the UK and even overseas.
Over 900 local florists nationwide
Every bouquet is created by an experienced artisan florist.
No lost bouquets here, these are made to wow them on the doorstep.
We guarantee all our flowers will be fresh for 7 days at least.
Our bouquets are created by local florists. Long live the high street!