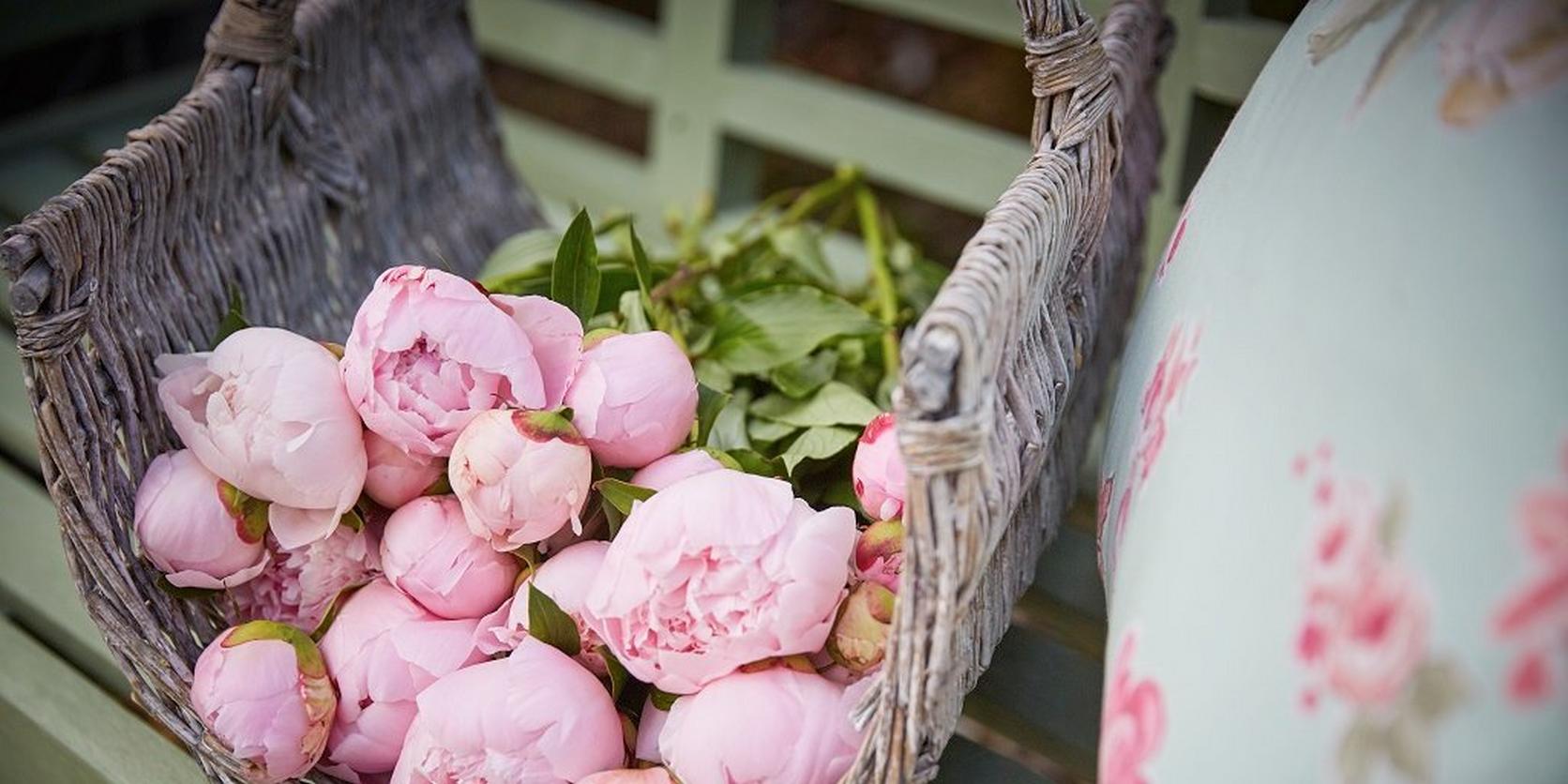 Peonies: Your Ultimate Flower Guide
Peonies. They're the most fashionable flower around. And what's not to love? They're the Cara Delevingne of the flower world. Instafamous, super stylish and just a little bit sassy.
Read on to find out more about why peonies make the dreamiest gift going. Plus we share our top tips for peony care and how to arrange these stunning stems at home.
When are peonies in season?
Peonies are only in season for a very short time, typically from late April to June (blink and you'll miss them!). The fact that they're so illusive only makes us want them more.
How long do peonies last?
Peonies have a naturally shorter vase life than most other flowers – around five days (oh how we wish they'd stick around a little longer!). Because their vase life is short but sweet most good florists will send your peonies out in bud (we know we do). Don't worry if your blooms look less than impressive on delivery. Give those golf ball buds a couple of days, and WOW, POW, look at them now! Their big blousy blooms will open before your eyes. Just like magic.
Why haven't my peonies bloomed yet?
If you want to hurry your peonies along, here are a few tricks of the trade to help your peonies open faster.
Gently squeeze the flower head. If it's soft to the touch then it's very close to blooming. If it's firm then it's still very fresh and may take more persuasion to open up. It may be best to leave it a day or so longer – remember good things come to those who wait!
Carefully peel back the shell of the flower and gently massage the petals underneath (yes, really!).
Pop the heads in a little warm water. A quick and gentle dunk should do it!
Recut the stems and position your peonies in a warm, sunny room to speed up the process.
How to arrange peonies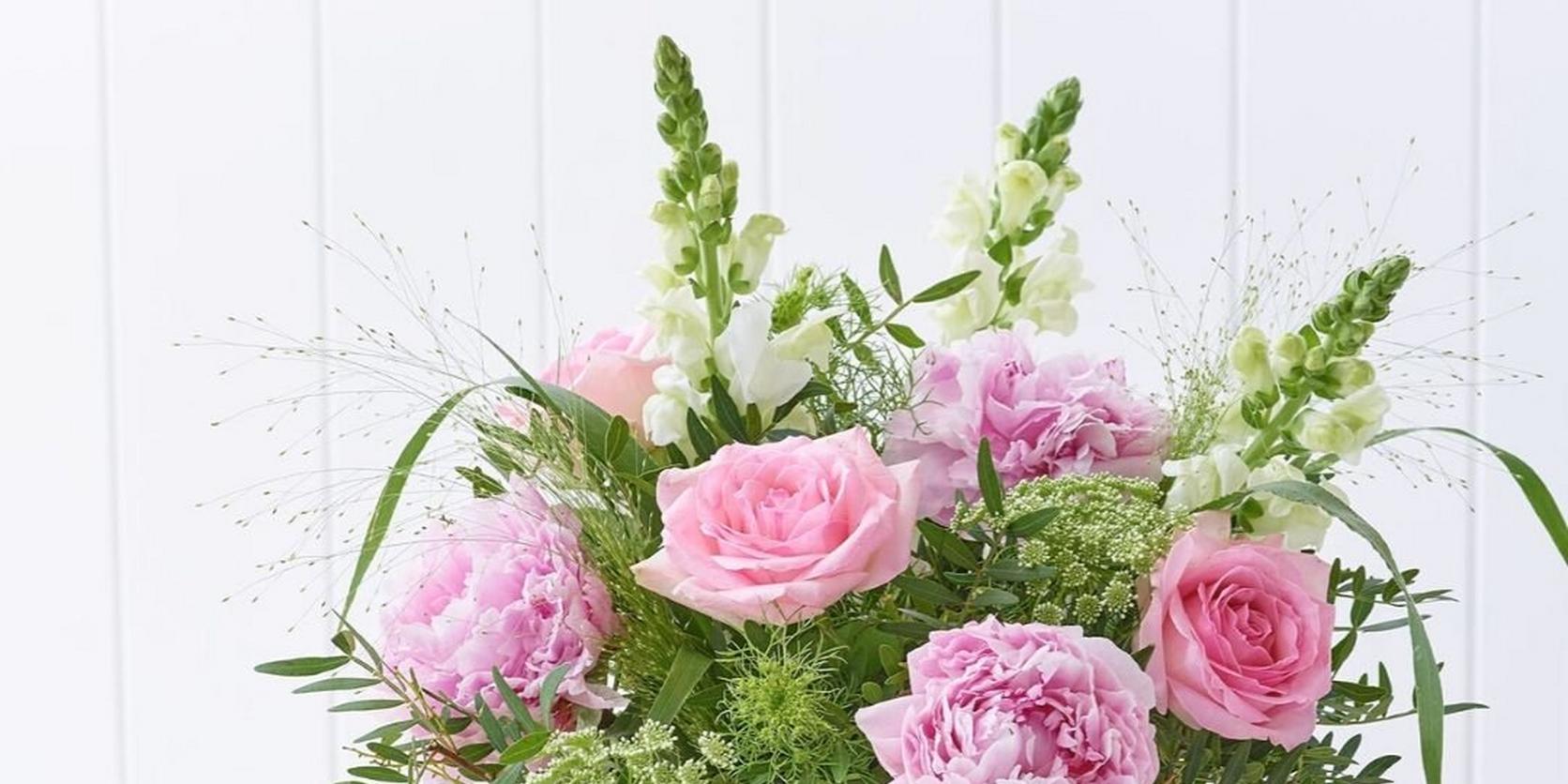 Whether standing solo or bunched up with other equally gorgeous blooms, arranging peonies is fun and oh-so easy. Fancy giving it a go? Here are our top tips for creating your own peony arrangement:
A goldfish-bowl type of vase is great for peony flowers, as it works well with their full rounded shape.
Before cutting the flowers, measure the stems against the vase. The big trend is for the peony flower heads to sit just about the top of the vase, creating a super luxe look.
Peonies look great with other voluptuous blooms. Team yours with roses, delphiniums and lilacs to create an insta-worthy arrangement.
Pair peonies with fabulously fragrant stocks for an arrangement that smells as good as it looks.
Peonies look great arranged en masse (like one big, fluffy pink cloud) but they can also hold their own as a few stems in smaller vases. Try splitting them up into different containers and scattering them around the home to bring beauty to different rooms.
What do peony flowers symbolise?
Peonies are linked to romance, prosperity and good fortune making them a great gift for any occasion. So whether you're celebrating an anniversary, birthday or just want to say congratulations, sending a bouquet of peonies is always a good idea.
Peonies are also a popular choice of wedding flower because they symbolise good fortune and a happy marriage. What could be a better omen?
A brief history of peonies
Growing up to ten inches, the much-loved peony flower has been a staple in households for over 4,000 years. Cultivated in China (where it remains a symbol), the flower first came to Europe in the late 17th century.
Taking inspiration from the Greek name 'Paeon', legend has it that the flower was named after the Greek god of healing. Paeon, a medical student, was turned into the flower to save him from his jealous tutor Aesculapius, after he had saved Pluto using the now famous peony root.
To this day, peony root is still used in Chinese medicine. Fascinating!
How many different types of peony flowers are there?
There are hundreds of different varieties of peonies. Sarah Bernhardt and Coral Charm peonies a real favourite amongst flower fans.
When to give peonies?
Not backwards in coming forwards, peonies pack a real punch when given as a gift. Here are a few occasions that are perfect for celebrating with a peony flower delivery:
Anniversaries
A hot contender for the most romantic bloom ever (#sorrynotsorry roses!) peonies are the perfect flower to sweep them off their feet. They're even the 12th anniversary flower – who knew?!
Birthdays
Peonies won't just make their day, they'll make their week. That's because they can enjoy watching these beauties bloom before their eyes for five days or more. What a way to make them feel super special on their birthday and beyond!
Get Well Soon
Want to send them a little pick-me-up? Peonies are the answer. Choose the pretty pink variety for an instant mood boaster. They'll be bowled over by the thought.
Just Because
Let's face it. Everyone loves receiving peonies. And, in our book, that's good enough reason in itself to surprise them with a spontaneous flower delivery.
Want to send a vase full of peonies? Our local artisan florists are at your service. Head over to our website to take a look at our peony collection and grab them whilst you still can!
Peony wedding flowers
It's similarity to a rose in full bloom makes the peony an incredibly popular wedding flower. The flower itself represents romance and prosperity and is believed to bring good fortune and a happy marriage.
After declaring the flowers made her "so endlessly happy" on Instagram, Meghan Markle went on to choose peonies for her wedding bouquet when she married Prince Harry back in 2018. Need we say any more?
Peony season is here!
Treat them to a stunning seasonal bouquet of our finest pastel peonies specially chosen by a local florist.