Christmas flower ideas
18th September, 2023
With the winter weather creeping in, we look forward to a bit of festive cheer to warm our hearts, hearths, and fluffy-socked feet. Christmas decorations are an important part of the festive season. Done right, they can turn any home into a glorious winter wonderland and provide a rosy-nosed reprieve from the cold.
Of course, flowers and plants play a big part in making your home look (and smell) fantastic. The right festive flora can bring the best bits of the natural world inside – minus the slush and soggy leaves. We've put together our Christmas flower decorations guide to help you turn your home into the perfect winter residence – from knowing which flowers to choose to incorporating your chosen blooms into beautiful decorations.
Christmas flowers
The Christmas flowers you opt for will tend to depend on the aesthetic of your decorations. For example, if you want to proceed with a traditional look, your go-to choices might be something more classically Christmas, such as:
The queen of floral Christmas decorations, the poinsettia is possibly the most iconic of all winter flora and can be seen on many a mantelpiece and greeting card come December. Their classic contrasting red and green look is thanks to their striking star-like leaves, with the actual flowers of the poinsettia plant hidden within the foliage.
If you're looking for something a little different, poinsettias are also grown in shades of pink and white, adding a modern colour twist to an otherwise classic look. However, while beautiful, these plants are mildly toxic to pets, so may not be the best idea if you're sharing Christmas with some furry friends.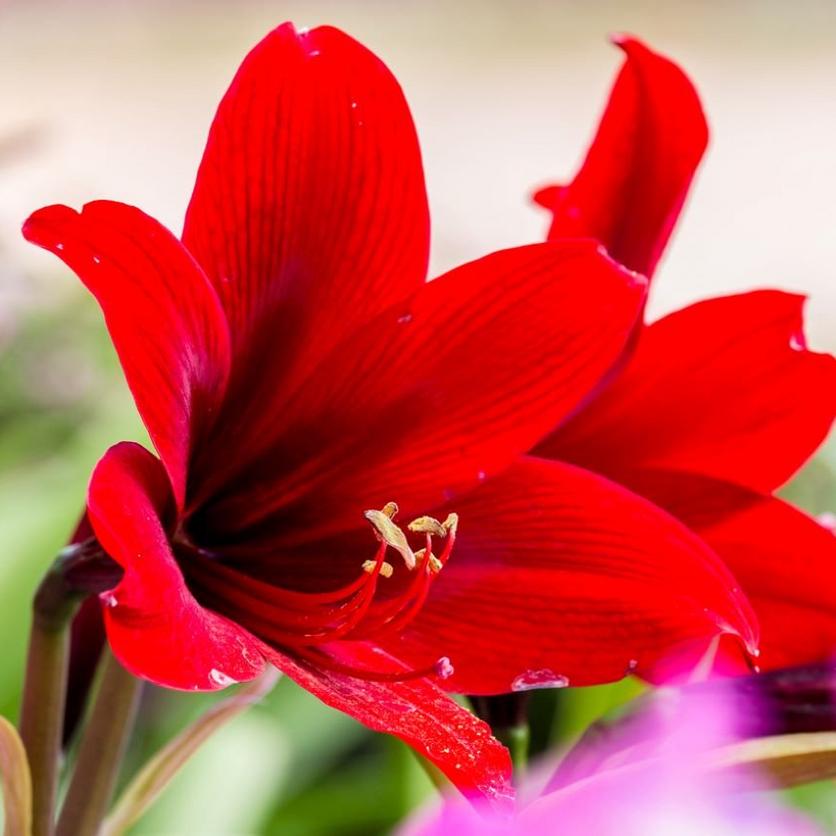 Amaryllis - Strength, determination, love
From the Greek of the same name, meaning 'to sparkle'.
The star of festive bouquets and floral Christmas decorations, the bright and beautiful amaryllis flower boasts large, star-shaped petals. Their frosty-tipped anthers contrast beautifully with their deep petals and forest green foliage, making them a great all-round festive-feeling centrepiece.
Amaryllis flowers are also grown in a snowy white colour if you want to bring a little more of the winter tundra to your tabletop. They're also known to last quite a while – up to three weeks if cared for properly – so they'll see out advent along with the rest of your decorations.
If traditional Christmas flowers aren't your thing, then perhaps look towards some unsung festive flora to adorn your home. For example: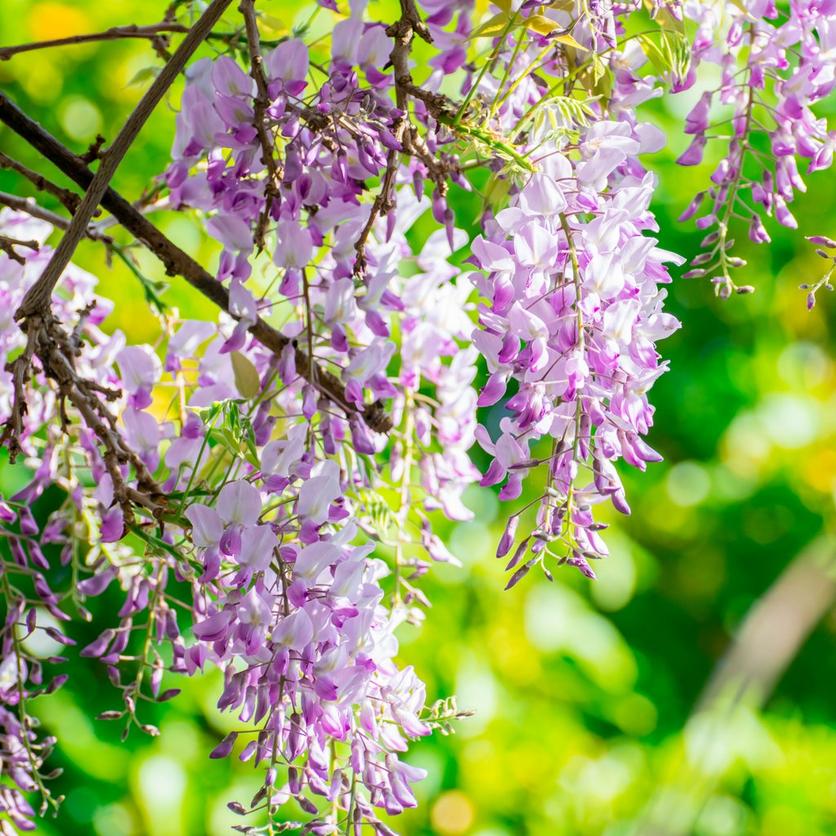 Wisteria
Meaning: Romance, devotion, long life
Wisteria really is a magical flower. This cascading bloom looks like something from a fairy tale, with its delicate white flowers reminiscent of falling snow or elegant ice frozen mid-flow. They look amazing in stand-alone bouquets, or perhaps with a little bit of greenery, bursting over the rims of vases or falling like snow from macrame hangers.
While wisteria is beautiful, it is incredibly delicate, as it naturally grows from tree vines rather than floral stamen. However, once you've created the perfect arrangement, it really does add an enchanting twist to traditional winter interiors.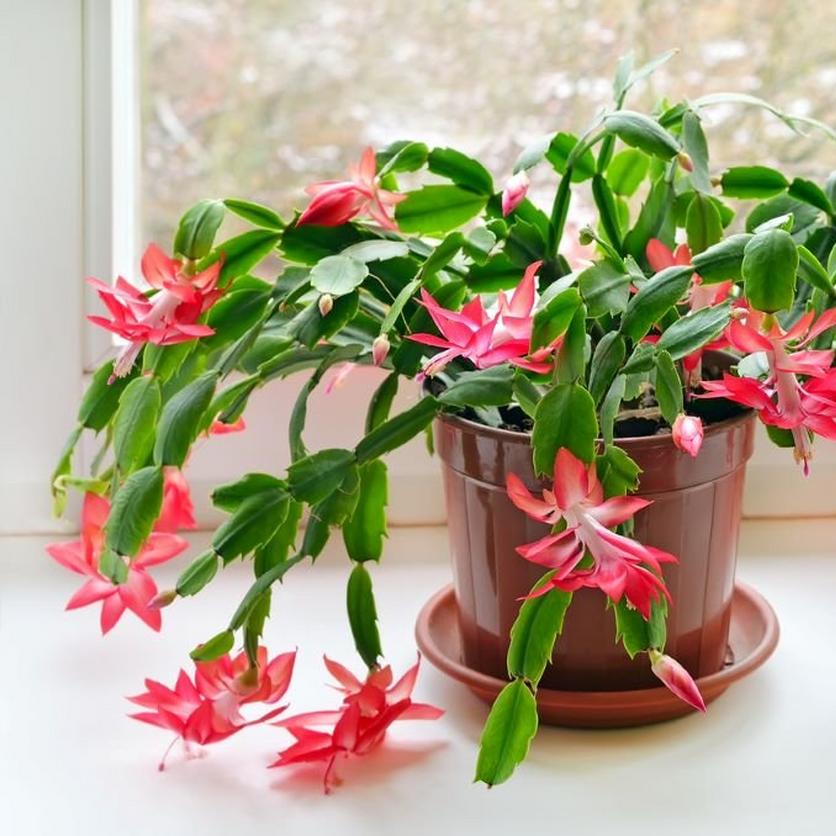 Christmas cactus
Yes, we said cactus – and one that's tailor-made for Christmas. This unique flowering succulent makes for an eye-catching alternative to traditional red-petaled festive flora. This plant's flowers bloom in spectacular shades of white, pink, and red, providing a bright contrast to the deep green cactus itself.
This houseplant is a centrepiece show-stealer, and although prickly by nature, its quirky shape and colours add warmth and festivity to any home. Plus, Christmas cactuses have been known to last for decades (up to 100 years in some cases!), so this festive flower can be a friend to last through the generations.
How to use flowers in your Christmas decorations
Combining traditional Christmas decorations with beautiful fresh flowers and foliage adds colour, texture and scent to your home, making it feel like the perfect place to cosy up for Christmas. If you want to do something a little bit different this year, a floral touch here and there is the ideal way to lift each decorative idea.
From adding something extra to a classic wreath to reinventing the traditional centrepiece, here are a few Christmas flower decoration ideas to inspire you.
Christmas wreath
While it's easy to grab an artificial wreath that you use year-in, year-out, there's nothing quite like using fresh blooms to create your own. You can still stay in the traditional vein, using bold green pine as the base and decorating with dried fruits and fresh flowers, such as roses and amaryllis.
However, the options are never-ending when you take a step out of the gift-wrapped box. Why not think about incorporating other tones, such as delicate purples and pinks? Or, perhaps use gypsophila to create a wreath that looks as if it's made from clusters of snowflakes?
Christmas mantelpiece garland
We love a garland – or, as we like to call it, a really long wreath. The mantelpiece is the heart of your home, especially in winter, so it's only fitting that it's decorated to be the centrepiece of your living room. While it's easy to haul that tatty plastic garland out of the loft every year, nothing can compare to the real thing.
Trade peeling plastic berries for fresh winter blooms woven within the foliage. The classic poinsettia was born to take centre stage in mantelpiece garlands, while hints of crisp white azaleas create perfect snowy accents. If you fancy something a little different, rose garlands entwined with eucalyptus leaves make for an enchanting choice.
Christmas tree flower decorations
Of course, the star of the show is the tree. And while it's lovely that you're re-using the same baubles your nan bought from a catalogue in 1973, they might not have the same effect as they once did. We promise she won't be heartbroken once she sees beautiful fresh blooms taking pride of place instead.
For perfect Christmas tree flower decorations, curl seasonal leaves and foliage into clear glass baubles, dappled with delicate white gypsophila to create contained winter wonderlands. Or pack them with striking red rose heads to accent the green of the tree needles. If you're not a bauble person, take inspiration from your hearth decor and entwine the pine with blooming garlands, decorated with pink and purple orchids for Christmas with a twist.
Gift tags
For some, giving gifts is the best part of Christmas. For others, receiving them is even better. In either case, creating beautiful gift tags decorated with festive florals and foliage puts a smile on everyone's face. You have great fun making them, and they – there's no other way to put it – will have a great time tearing them off to get at what's inside. They'll also have their week of fame under your tree, looking incredible against your handmade floral decorations.
Dried flowers and sprigs are your best bet, so twisting small pine cones, dried fruit slices, and bold flowers will contrast amazingly well against classic cardboard tags. Why not also give flower pressing a go? Simple yet effective, pressing single dried pansy and azalea heads onto tags and wrapping is an easy way to make Christmas morning extra special.
Table settings and centrepieces
Ok, we might have forgotten about the food when we said that giving gifts is the best part of Christmas. And while the meal itself should be the star of the show when it comes to the much-anticipated event, you want your table to be a feast for the eye as well as your stomach.
Simple and subtle is the motto for Christmas table flower decorations, as you don't want it to be too crowded among the big bird and bowls of colourful trimmings. With this in mind, try wrapping delicate flowers around the necks of wine glasses and drop a few sprigs of fresh holly and rose petals here and there. If you want to go bolder, create a floral centrepiece that complements your tree and the rest of your decorations. Red roses are always a Christmas classic, while white amaryllis and azaleas help to uplift the room.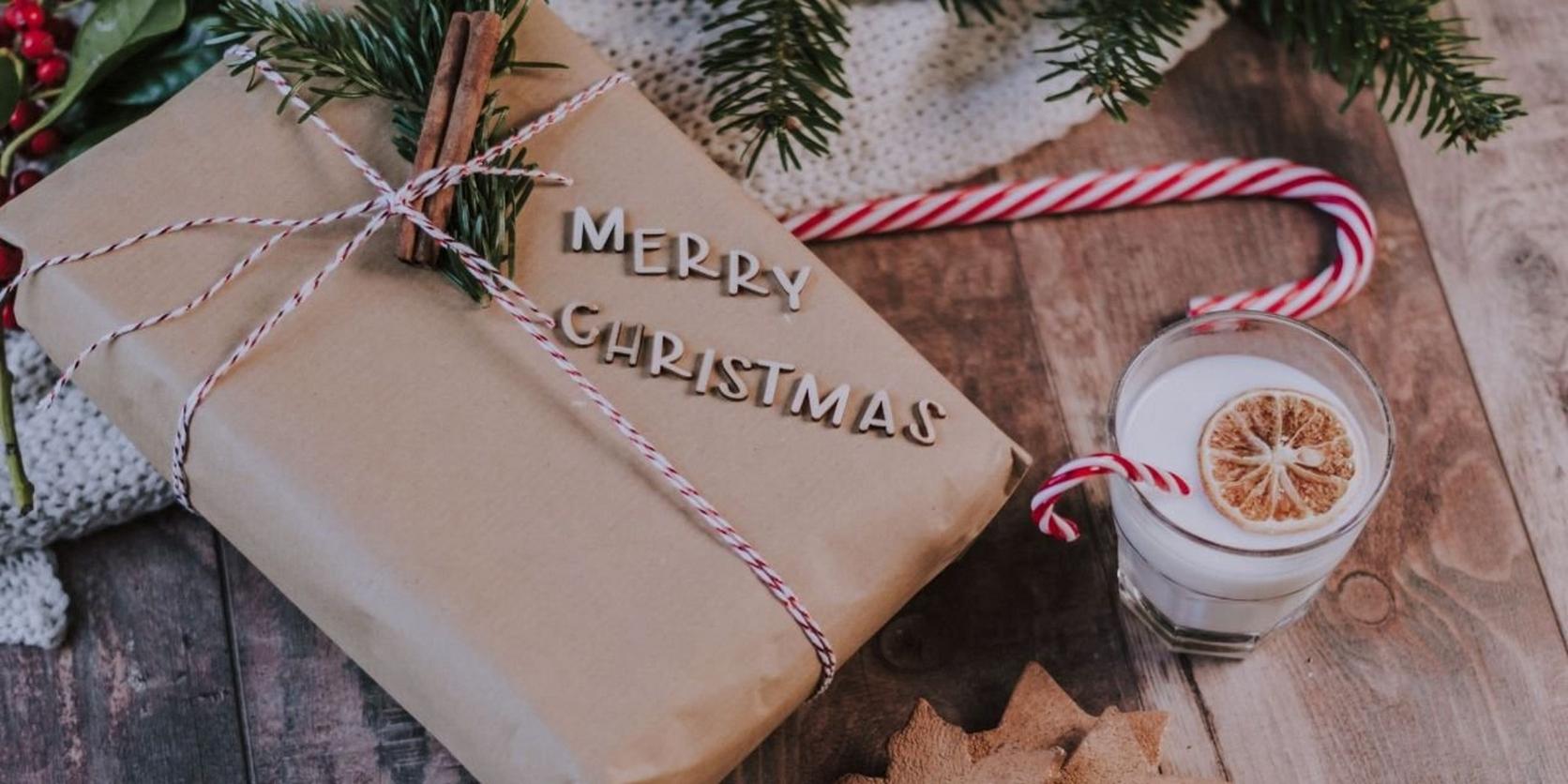 Bouquets
Dressing the whole house in bold and sparkly Christmas adornments isn't to everybody's taste. Curating your interior with tasteful (yet festive) vases of fresh flowers is a more subtle and elegant route for those still wanting to add a touch of Christmas magic around the house.
Depending on whether you're looking for something more traditional or modern, each bouquet can be created to suit individual rooms or perhaps a running interior theme. Deep reds and greens are the go-to colours for a classic festive feel, with amaryllis brightening up any winter bouquet, surrounded by complementary holly berries, fir, and fern. For something a little more delicate, try placing draping vases of wisteria or a curated explosion of dried gypsophila, thistles, and wildflowers.
Candle displays
Candles are a classic Christmas decoration that bring light (literally) to any setting. They help to lift a room further when traditionally decorated with winter flowers and shrubbery, typically curled around the foot. If you want to go down this route, incorporating your wreath theme here would work wonderfully as you can make smaller decorations from the offcuts.
However, a great way to incorporate colour and preserve your flowers is by pressing them into the candles themselves. We recommend using classic white or off-white candles for this, so the floral patterns stand out even more. Have fun creating winter scenes, or simply use tasteful ferns and rose petals.
Whether you're a traditional Christmas decorator or want to keep it subtle, the natural beauty and power of flowers provides a wealth of diversity. From delicate accented florals that remind you of snowfall to deep red blooms that provide a warm burst of colour, incorporating floral Christmas decorations into your festivities never fails to impress.