How to combat the New Year blues
10th December, 2023
The start of a new year can be a difficult time for many people. With the festivities of Christmas and New Year gone for another 12 months, and everyone settling back into a normal routine, it's easy to let the bleak weather and cold, dark time of year get you down.
At times, the new year blues can feel never-ending. That's why January is arguably the trickiest month of the year, but there are various ways to counter the dreaded pendulum of post-Christmas excitement once the new year rolls in.
Little things like setting yourself goals can help focus the mind, while making sure your home is bright and bouncing with colour can counteract some of the darkness that comes with January. Flowers can go a long way to helping with this, bringing a burst of colour, a fresh feel and an invigorating smell to your home to help banish the blues.
Find out how to beat the January blues with sweet-smelling flowers, house plants and a dash of colour therapy with our guide.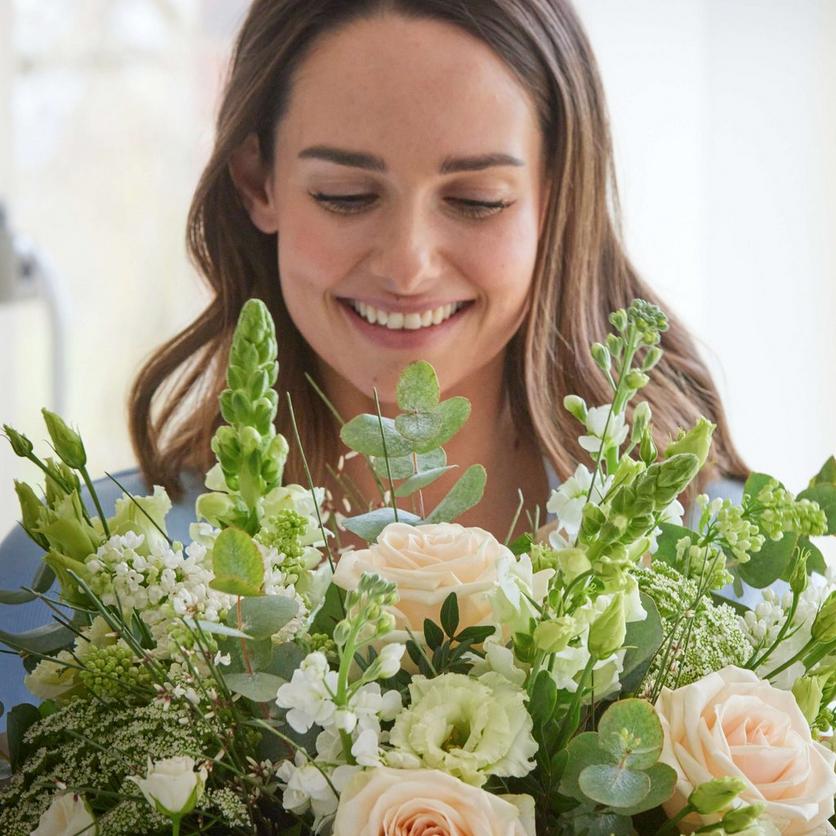 How can flowers lift your mood?
There's nothing quite like that warm fuzzy feeling that comes from receiving a gorgeous bunch of flowers. The same satisfaction also comes from treating yourself to some fresh blossoms, particularly at this time of year. Flowers have a way of lighting up a room and improving our mood, no matter the time of year.
It's all about getting back to nature and admiring something beautiful in the home – which is why flowers are an effective way to shoo away the New Year blues. A vibrant vase of flowers is a metaphorical dusting of the cobwebs, a reminder that the New Year slump doesn't have to be as monochrome as it may seem.
Flowers are a multi-sensory experience too, uplifting any room with a dose of natural beauty. They have a calming effect on our minds, and the creative aspect of arranging the perfect selection of stems is great for combatting stress, too.
The visual vibrancy of colour therapy taps into this, but flowers can also help improve the overall aesthetic of your home with their delicate fragrance which brings a little freshness to any room. So, if you're in need of a refresh this new year, give your home a bit of a boost with a fresh new look, bringing colour and sweet scents into your home.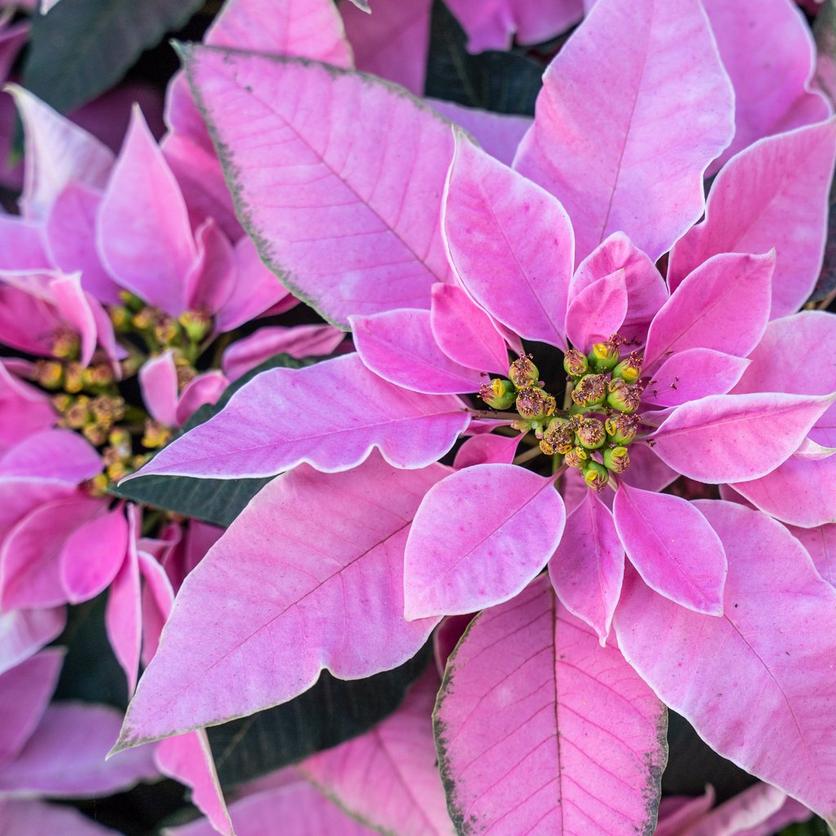 Flowers to beat the new year blues
When you're choosing flowers to bring a bit of brightness to your home, colour is a major consideration. And with good reason. Colour therapy (also known as chromotherapy) is the concept that colour can help boost our mood when times are grey. This goes for everything, from our clothes to interior décor. Flowers are part of that equation too, and luckily nature provides a stunning array of colours to choose from to fill the home with vibrant colours.
Learn more about how colour can influence our mood and explore some of our favourite flowers that inspire happiness below.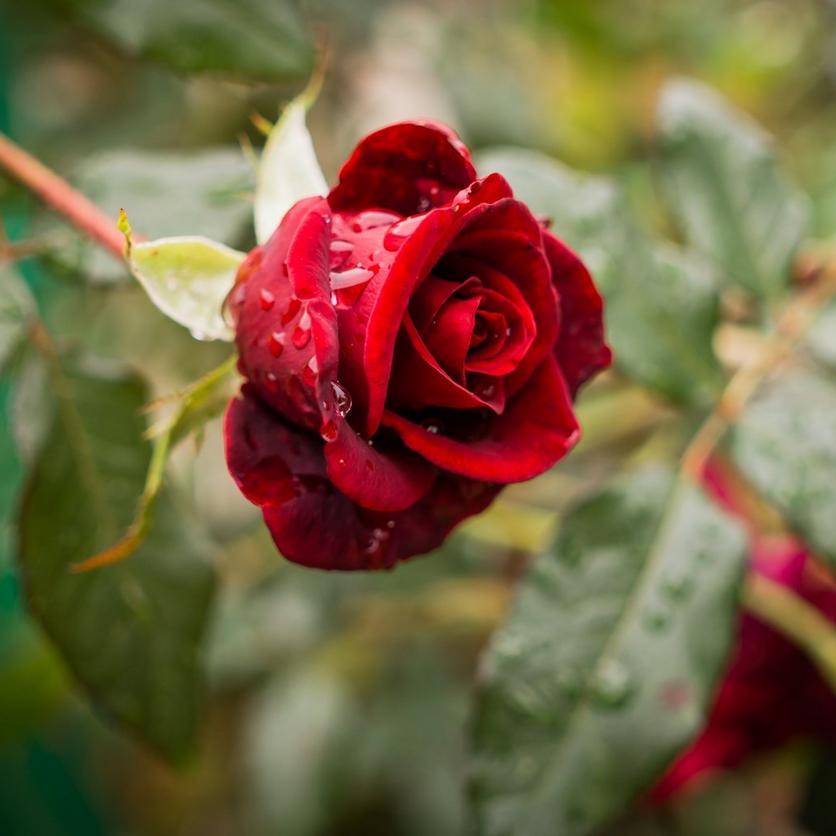 Red flowers
Red can symbolise various emotions, from anger to passion and love. In China, red is considered to be a colour that represents good luck and fortune – which is exactly what we need to kick off the new year.
Roses
Red roses remind us of those 'butterflies in your stomach moments' when you first embark on a new relationship or feel the excitement of seeing your partner. A boost of these fluttery feelings should improve your mood and help beat those January blues.
Their delicate scent is a subtle way to uplift a room while making life feel just a little bit more romantic.
Best for creating feelings of: romance, passion, strength, and luck.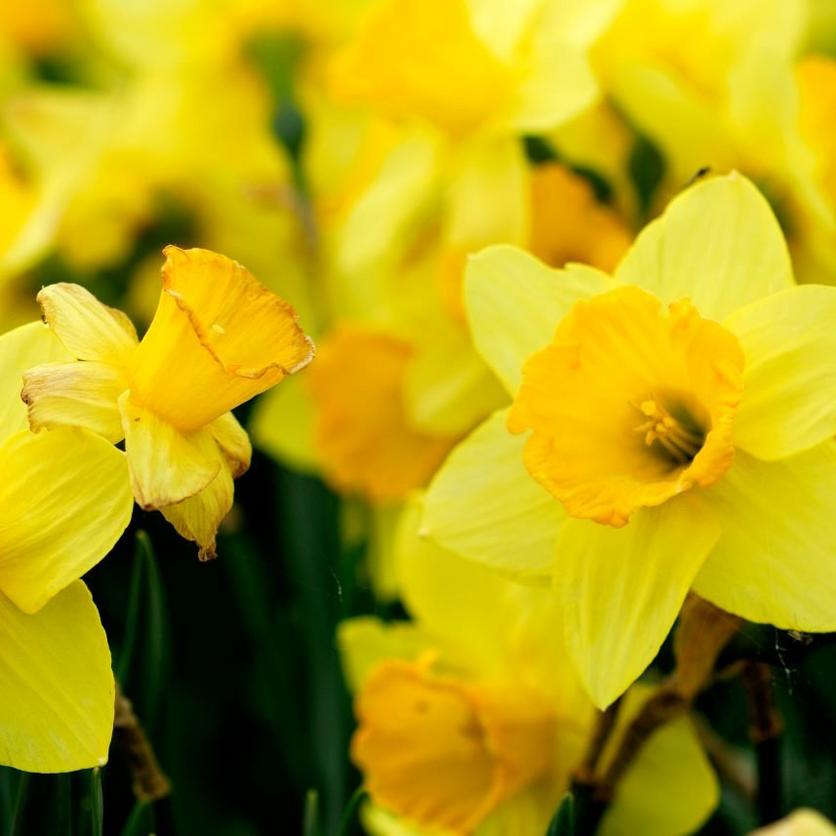 Yellow flowers
If you're looking to introduce a sunburst of optimism to your home, yellow flowers and décor may be just the trick. Yellow is warm toned, which can help combat those dreary January blues.
Daffodils
Daffodils represent new beginnings, so why not add a bunch to your coffee table and motivate yourself to smash this New Year? With a light and airy scent, get your hands on some of these early spring bloomers and you'll be on your way to feeling cheerier in no time.
Best for creating feelings of: happiness and positivity.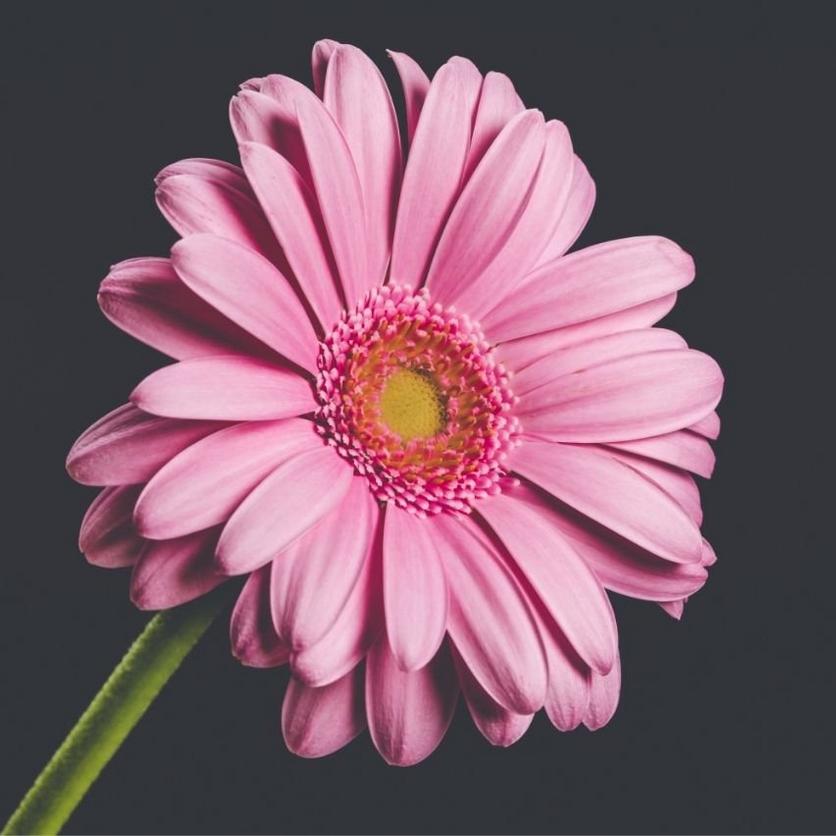 Pink flowers
While some people may associate this colour with femininity, pink is also thought to represent friendship and harmony. Perfect if you're looking for colourful flowers to cheer up any friends who are feeling the New Year blues.
Gerbera daisies
There are few flowers as bright and happy as gerbera daisies – they can bring a fresh feel to any room in the house. Did you know daisies represent youthfulness and new beginnings? With their wide range of colours and stunning halo of petals, we couldn't think of better blossoms to shake off those New Year blues. Pick up a bunch in hot pink and pastel hues to add a touch of flower power to your home.
Best for creating feelings of: comfort, joy, and harmony.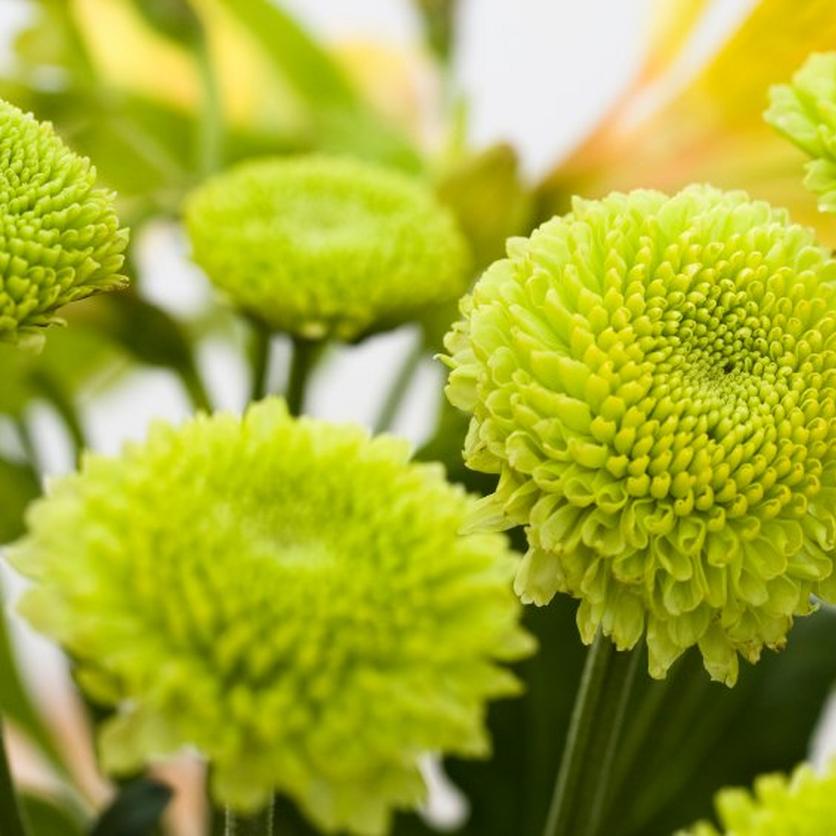 Green flowers
Rich and earthy, green is a mature yet relaxing colour that can breathe life into any space.
Chrysanthemum
Chrysanthemums come in dazzling shades of green, great for introducing a pop of vibrancy to your life. They're also said to represent joy and good luck. In Japan, chrysanthemums are celebrated yearly with a festival in their honour.
We love using these fluffy blooms as part of a bouquet, matched with equally striking pink carnations and purple statice. Their subtle scent is herby rather than sweet, which brings a fresh feel to the home that's sure to lift your mood.
Best for creating feelings of: calm and focus.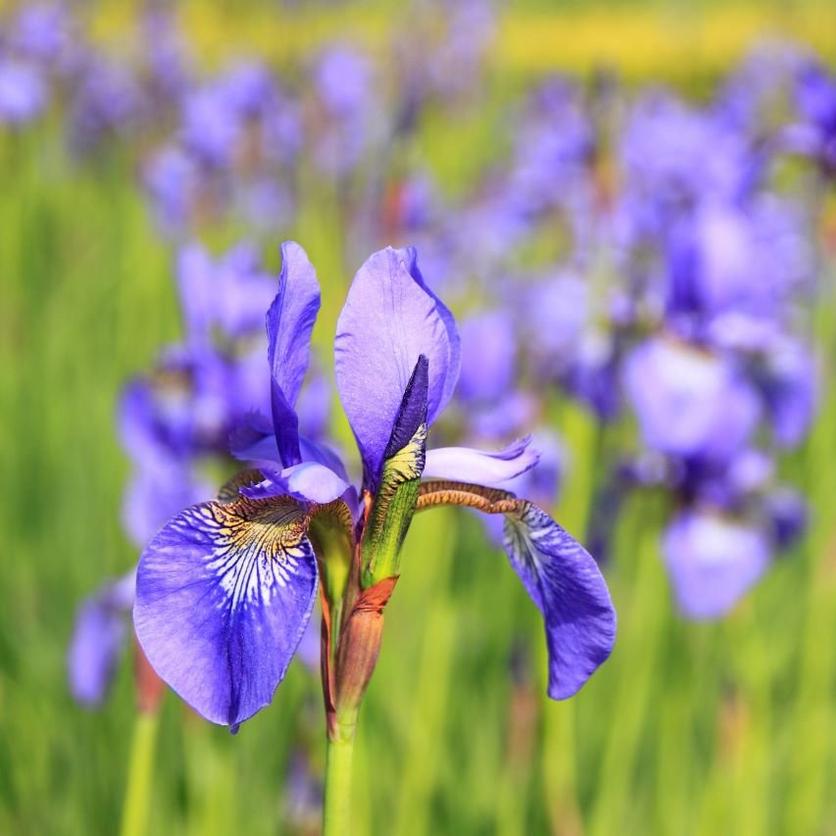 Purple flowers
Considered to be the colour of royalty and luxury, a pop of purple can help inspire feelings of purpose. Great if you have some goals or resolutions to smash this year.
Iris
While their royal purple colouring can represent ambition, irises also symbolise hope. Pop these regal blooms on your office desk to inspire you while you work, or gift them to someone who needs a motivational boost this new year.
Bold in colour rather than scent, irises are ideal if your sense of smell is sensitive to fragrance.
Best for creating feelings of: motivation, wisdom, and luxury.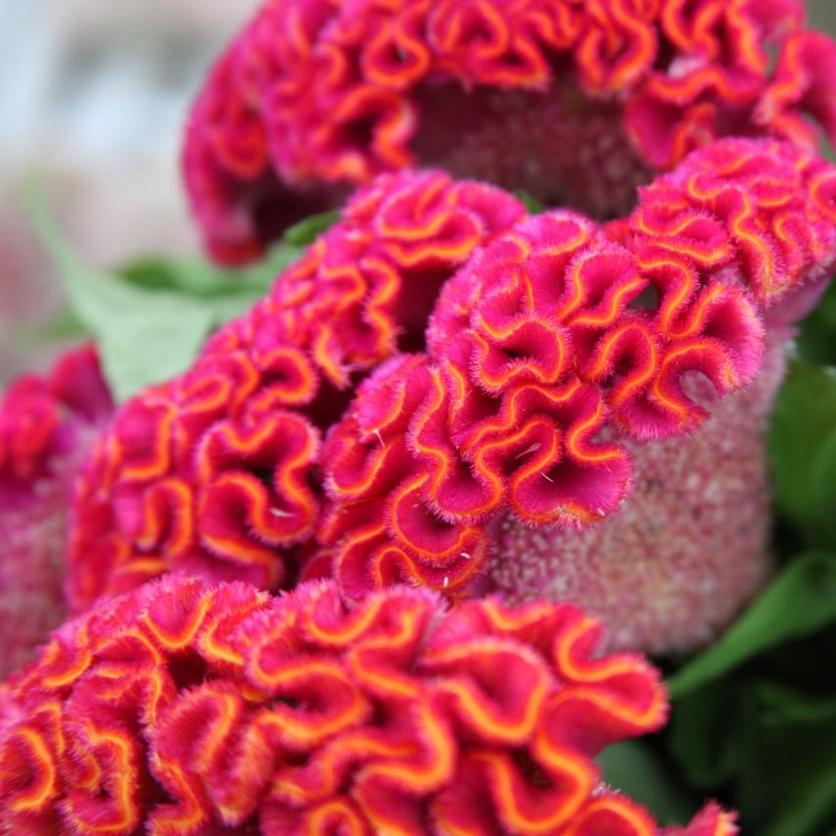 Orrange flowers
Like yellow, orange flowers can bring plenty of zest to your life. Full of spirit, orange might be the perfect colour for motivating yourself this new year.
Celosia
Celosia flowers come in a range of vivid colours, including orange. The exotic Celosia argentea (Cristata) is lovingly referred to as 'brains' by our florists – although we think you may have eaten too many carrots if yours is as orange as these round blooms. Celosia argentea (Plumosa) has pointed, fluffy blooms with a feather-like appearance.
Celosia flowers have a long vase life, so you can relish their beautiful colours and spicy scent long into January.
Best for creating feelings of: motivation, energy, and strength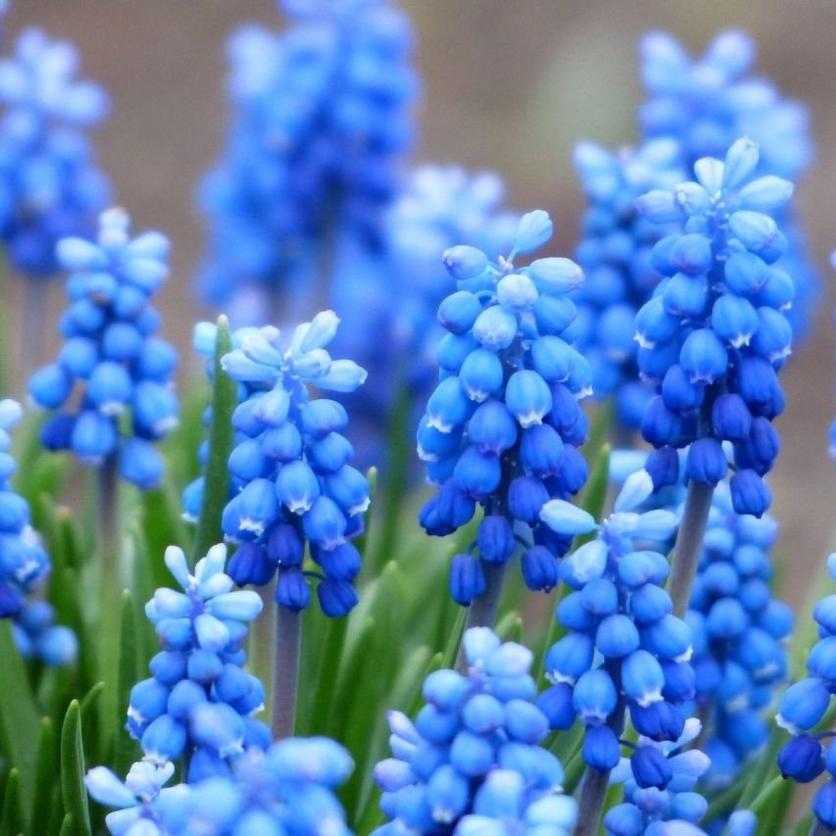 Blue flowers
A naturally soothing colour, blue is great if your new year's resolution is to practice more mindfulness.
Hyacinth
Sweet potted hyacinth plants can help remind us of the radiance of springtime during dreary January. What's more, their brilliant shades of sky blue can also have a wonderful calming effect.
Hyacinths are known for their long blossoms and beautiful floral scent that can fill any room. Use them to boost the freshness of your living space and kitchen, or why not see if their soothing colours can help improve the relaxing ambience of your bedroom?
Best for creating feelings of: calm, comfort, and tranquillity.
House plants and happiness
Flowers aren't the only thing that can help beat the January blues. Indoor plants are proven to help boost mood, encourage productivity, and manage stress levels. What's more, house plants are known to improve indoor air quality too.
Compound the sensory benefits of flowering house plants by introducing sweet-scented plant pots around your home. Keep lavender in your bedroom for soothing sleep, or have some to hand in your home office to help you feel more zen. Enjoy fresh basil in your kitchen or hang jasmine from a bookshelf and spread an aura of natural sweetness.
Chromotherapy can also come in handy by applying your best interior design skills – featuring ceramic plant pots painted in your favourite colours. Which will you choose?
The new year blues can be tough, but that's nothing a little self-care and fresh fragrance can't tackle. Explore our wide range of gorgeous plants and flowers to inspire happiness this January – whether it's at home or for someone you care about. Learn more about different types of flowers to boost your mood with our expert blog.