Interflora and Manchester Gin | Interflora
6th December, 2023
Introducing Interflora x Manchester Gin
We love a gin tipple, so the recent gin renaissance has been a real treat – you can get all sorts of delicious flavours (and lovely bottles) these days. But we thought the world of gin was lacking a little flower power, so we teamed up with the brilliant team at Manchester Gin to craft a spirit with spirit.
The result is a fresh, floral, chamomile and echinacea gin that's completely unique. It's a dream blend of, not just gin botanicals, but the master skills of our fabulous florists and the Manchester Gin distillers.
Why Manchester Gin?
Supporting the high street is really important to us (it's one of the reasons we work with local florists) so we wanted to team up with a business who were truly independent, and celebrated being local. Manchester Gin were the ideal partners – they're passionate about their home city, in fact their logo – a little bee – is an iconic symbol of Manchester, reflecting how Mancunians work hard, and work together. Bees, of course are also essential for flowers – what a perfect fit!
The other reason we've loved working with the Manchester Gin team is because they've got serious skill! Like us, they're dedicated to being masters of their craft. Their work has been recognised in some of the most prestigious spirits competitions in the world. And once you taste their gin, you'll understand why!
What Flavours feature in our floral gin?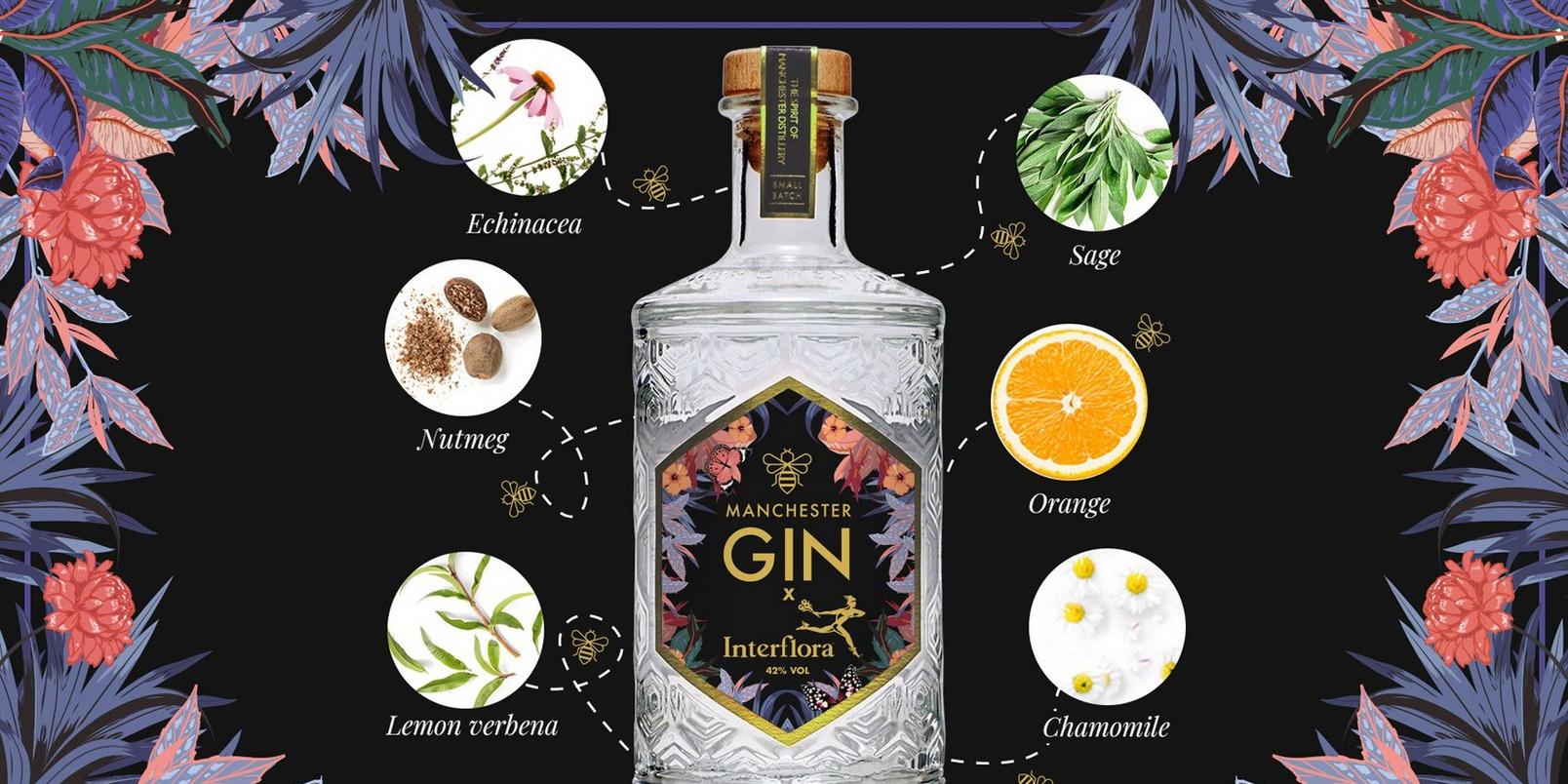 We know flowers and plants can brighten your day just by looking at them, but could they delight another sense too? This was the gin-spiration behind the bottle and it worked a treat.
Working with the Manchester Gin team, we choose a comforting array of blooming botanicals, designed to complement a lovely summer's day. There's a fresh flavour from echinacea, a gentle, honey-like taste from chamomile, and crisp lemon verbena and cassia bark. It's a gin made for enjoying on these warmer, lighter evenings.
Some of the botanicals we've used are even known to have health benefits in some instances. Chamomile is said to be soothing and has been used to treat digestive problems, and the vitamin C in orange is said to help with the immune system. Obviously, we can't claim our gin has medicinal properties, but we loved that our beautiful botanicals are something special.
Our botanicals: echinacea, chamomile, lemon verbena, cassia bark, nutmeg, sage, orange.
Try out these tasty cocktails
Gin and tonic takes some beating, but seeing as our gin is bursting with fresh floral flavours, we thought we should make the most of them, pairing them with delicious cocktail ingredients. Trust. Us, these tasty tipples are worth the effort!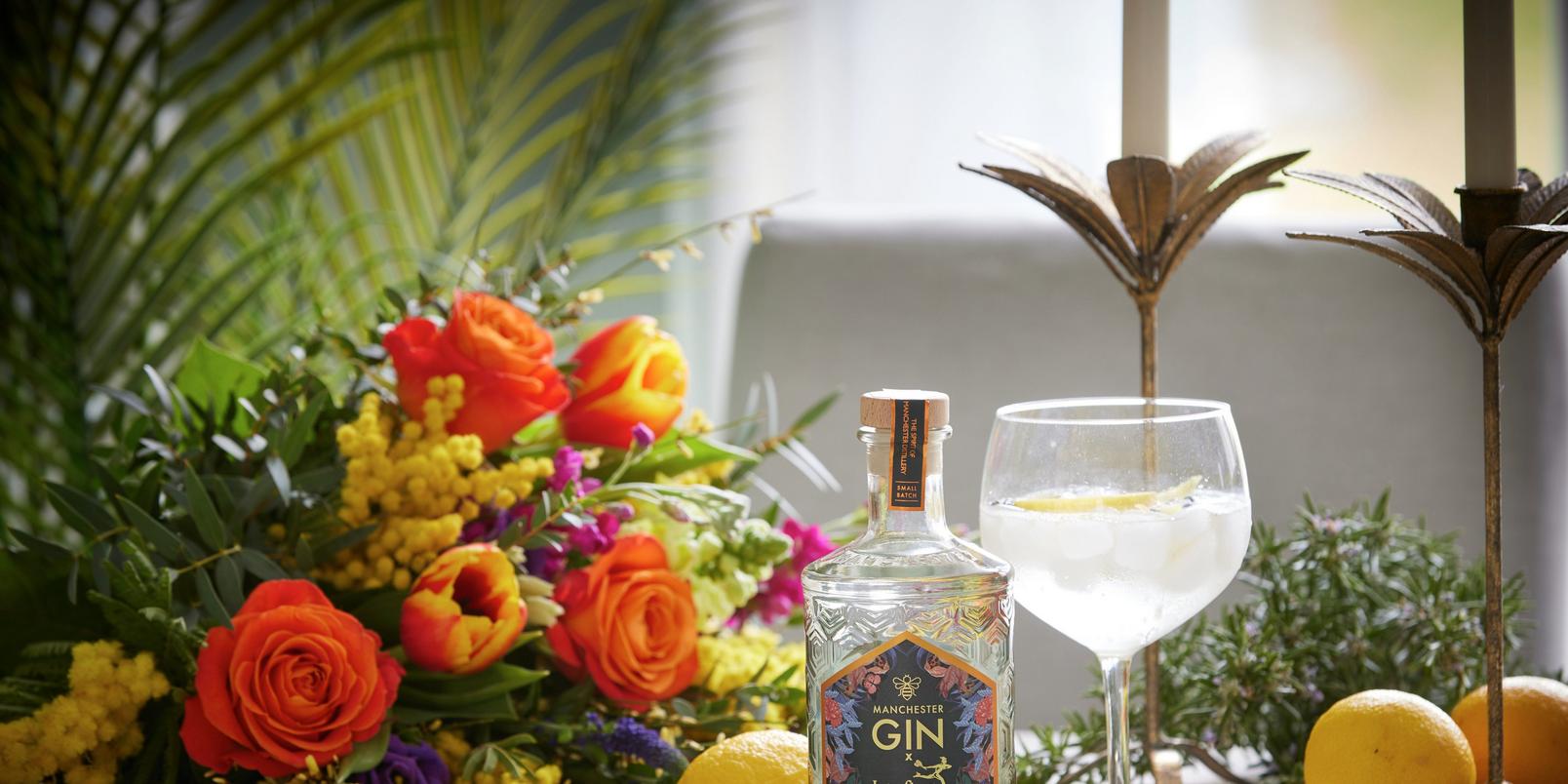 Rosemary and Elderflower Fizz
½ lime cut into wedges

1 lemon wedge

10ml honey

37.5ml Interflora x Manchester Gin Chamomile and Echinacea Gin

12.5ml Seedlip Garden 108 Basil and Rosemary

Elderflower tonic

Rosemary
Add lime, lemon and honey into a highball glass and muddle, top with lots of crushed ice. Pour over your gin and Seedlip and stir to combine. Top with elderflower topic and rosemary to garnish.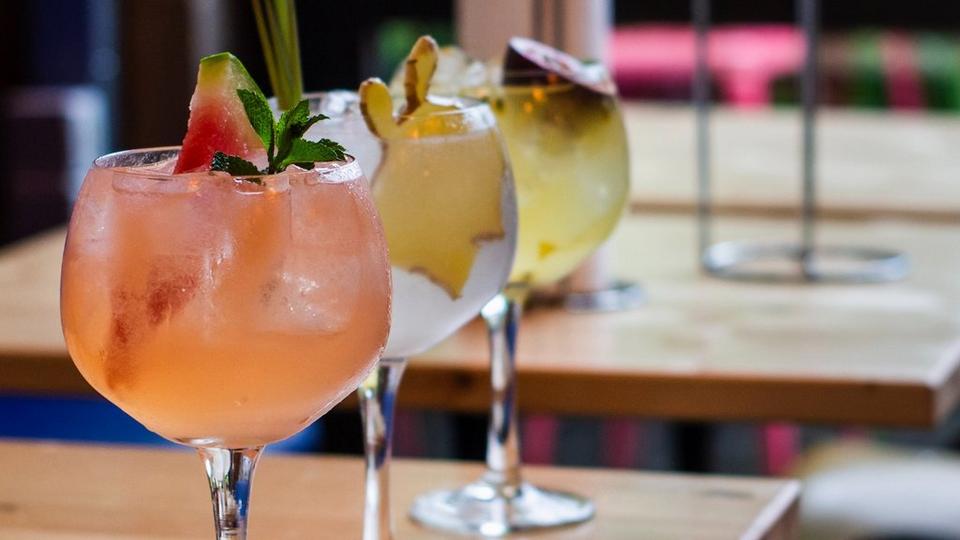 Spiced Gin and Ginger Tipple
1 inch fresh ginger

½ cinnamon stick

1 teaspoon brown sugar

10ml hot water

50ml Interflora x Manchester Gin Chamomile and Echinacea Gin

50ml apple juice

12.5ml lemon juice

Ginger ale

Dehydrated lime or lemon slice
You'll also need a muddler, strainer and cocktail shaker.
Add ginger, cinnamon, brown sugar and hot water into a highball glass and muddle together (use your muddler to mix them about) to create a syrup. Add gin, apple juice, lemon juice and your ginger and cinnamon syrup into a cocktail shaker with ice and shake until well combined.
Pour it through a strainer (or your shaker might have one built in) into a glass, over the top of some ice. Top it off with a dash of ginger ale and top with your dehydrated fruit.