Spring Wedding Flowers
7th January, 2019
Spring brides rejoice! You are marrying at a time of year when beautiful flowers are in abundance. From the highly coveted peony to the iconic tulip and exclusive Lily of the Valley, there are so many gorgeous spring flowers to showcase on your special day. Wondering which to choose? Be inspired by our roundup of the best spring wedding bouquets and take a look at our list of the top ten spring wedding flowers.
Spring wedding bouquet ideas
Looking for inspiration for your spring wedding bouquet? Look no further! Here, we bring you the prettiest seasonal picks to give you plenty of ideas for your spring wedding.
Pretty pastels
Spring is the perfect time for romantic arrangements in more muted tones. This pretty spring wedding bouquet in pale pastel shades boasts a delicate and feminine selection of spring flowers including china blue hyacinths, Muscari, cream and peach roses and freesias. The hyacinths and freesias will add another dimension to your wedding flowers and leave a beautiful scent at your venue.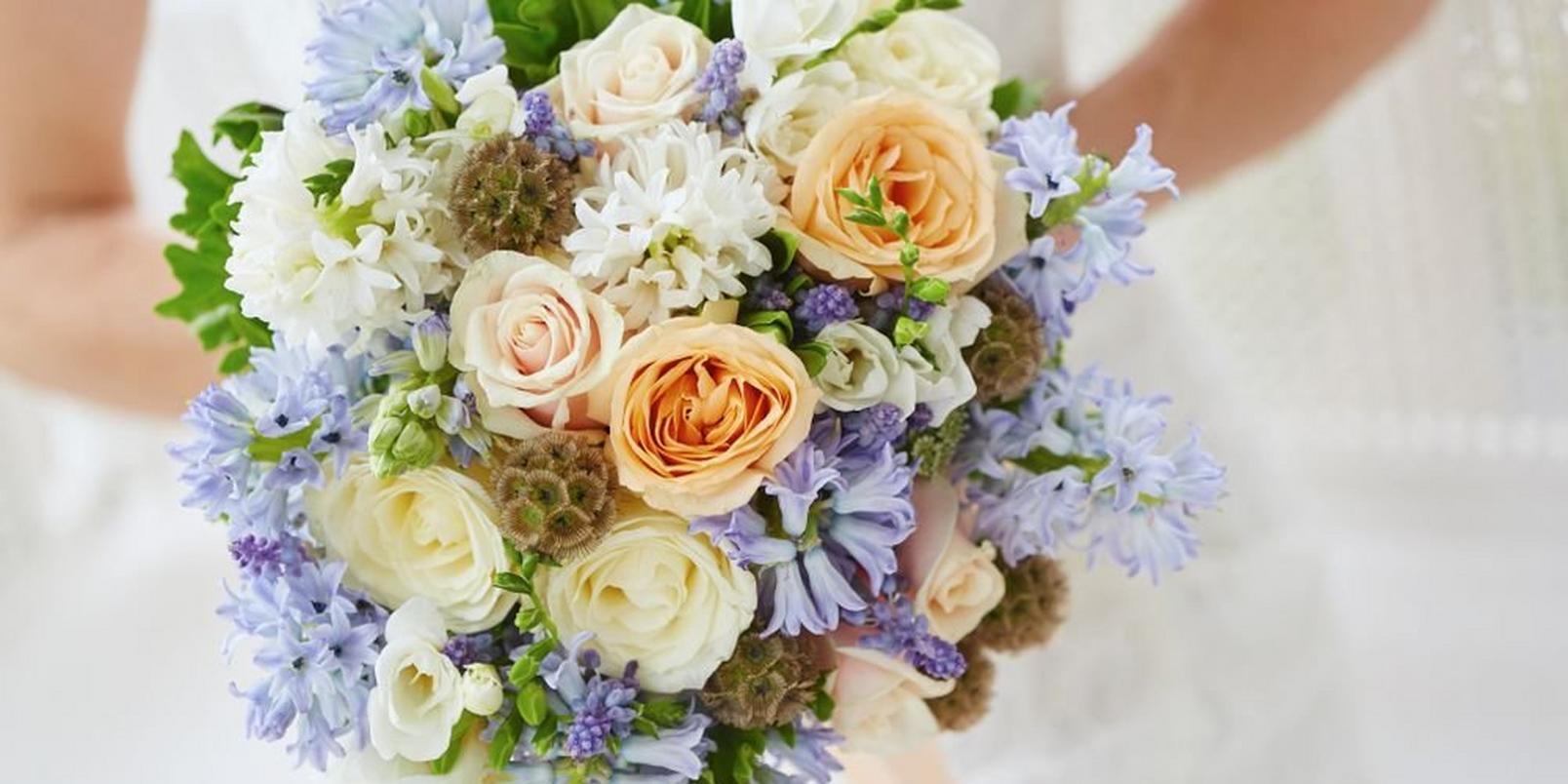 Lemon zest
Take your cue from nature and choose a yellow colour theme for your spring wedding. Partnered with zingy green foliage yellow flowers create a very fresh, zesty look. In this contemporary style bridal bouquet gorgeous sunny ranunculi, craspedia and yellow roses are arranged in a compact posy punctuated with green accents and subtle touches of silver grey.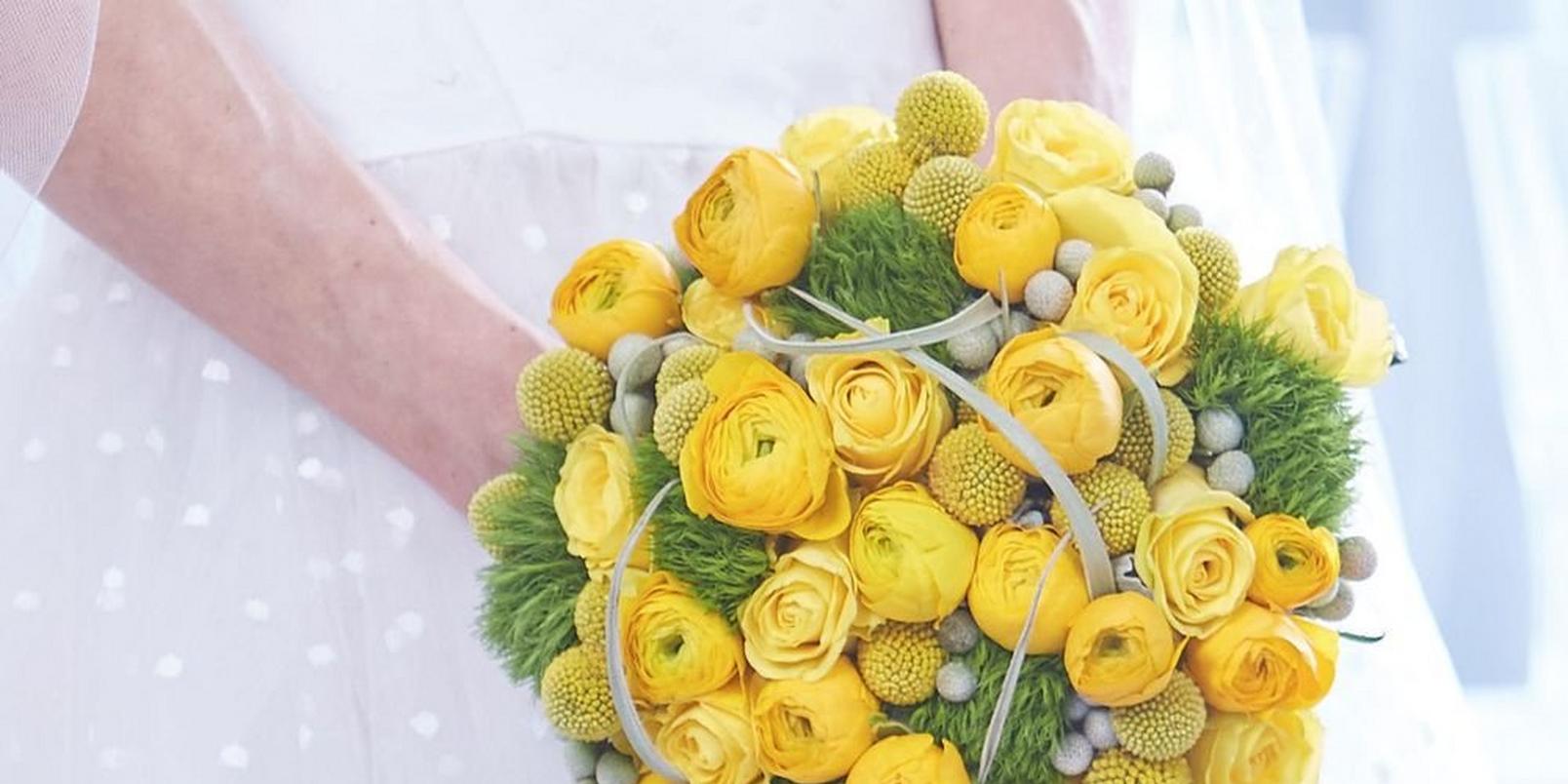 Bright and beautiful
Bright and beautiful
Celebrate your post-winter wedding with a medley of colourful blooms. This rainbow-hued line-up is vibrant and playful with plenty of luscious greenery — just the way we like it. The flowers are a real celebration of the season too. Gorgeous parrot tulips, cosmos flowers and clematis conjure up the image of a spring garden in bloom. As the weather gets warmer, bouquet shapes tend to get looser, helping to achieve that natural style that is so popular with spring brides.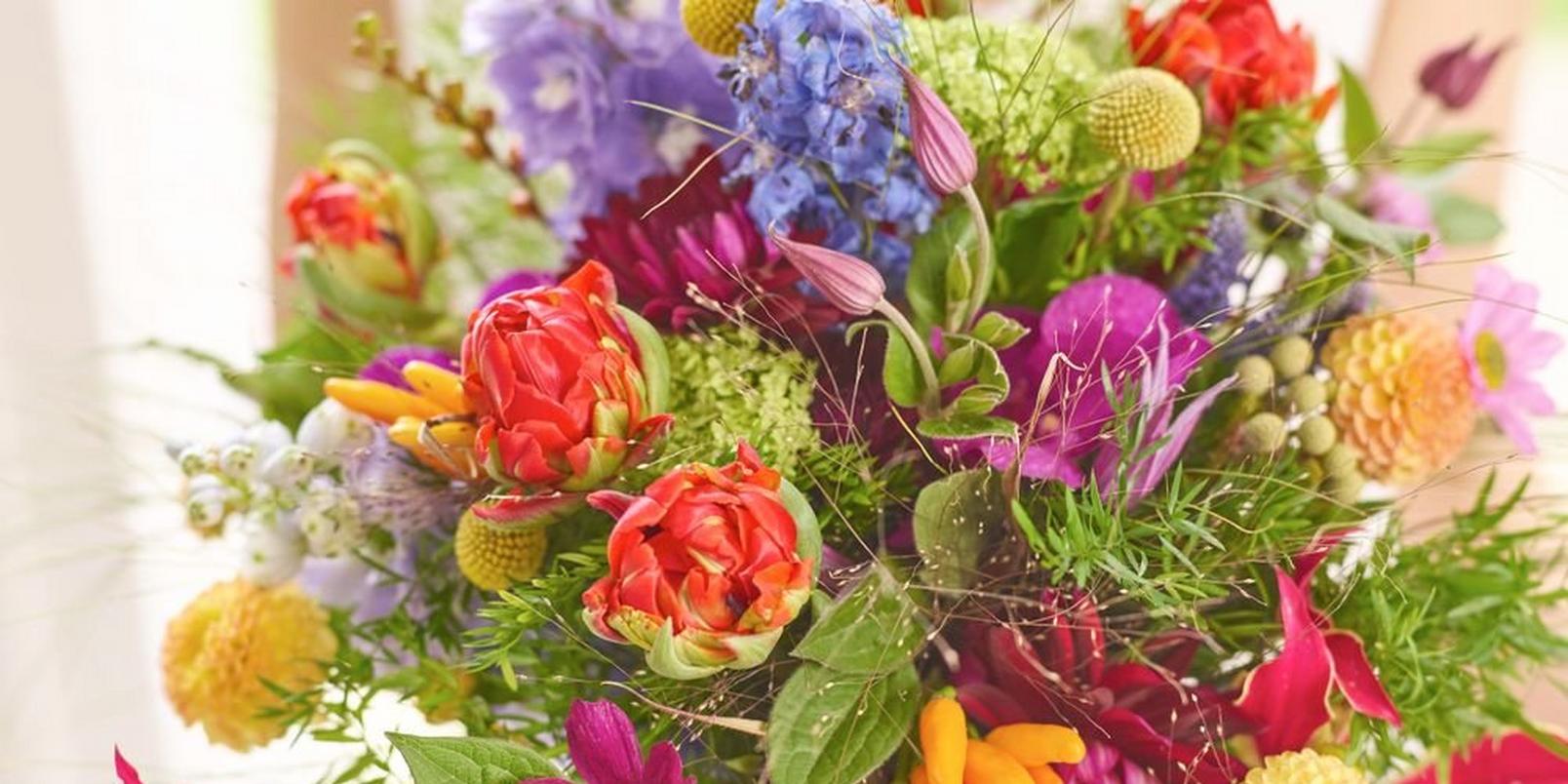 Colour pop
Cool, contemporary and chic this monochrome wedding theme with a pop of pink is perfect for a sleek city wedding in spring. Combining roses, hydrangeas and carnations with fragrant spring blooms such as sweet peas and hyacinths means this pretty bouquet is as fragrant as it is beautiful.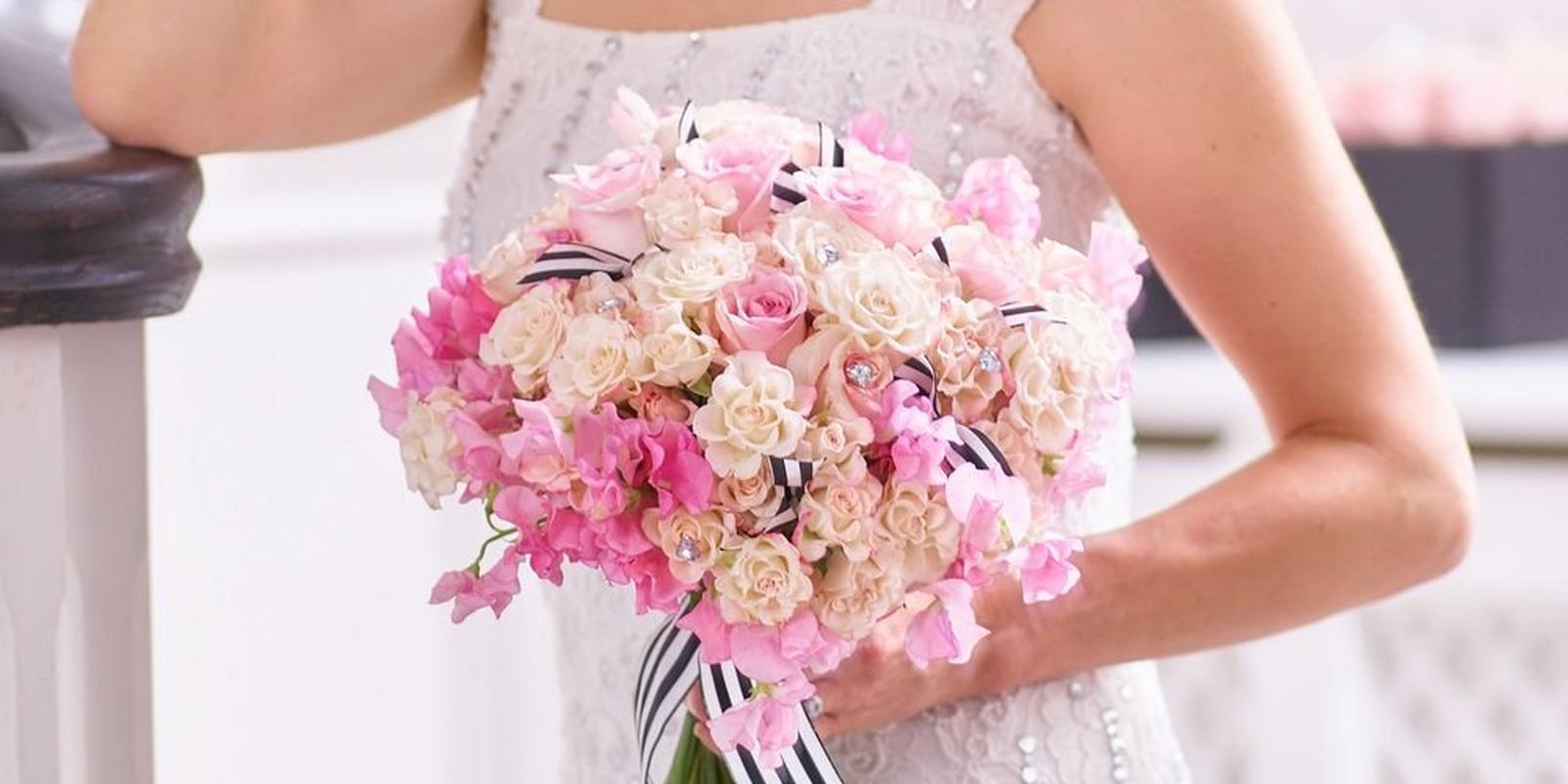 Boho beauty
It's the most coveted flower of the wedding season and it's easy to see why the beloved peony is an all-time favourite for brides. Not only is it the perfect mix of softness and texture, its flower meaning – 'a happy marriage' – could not be more fitting. Combine big blousy peonies with equally charming speciality roses for a full on romantic look. The inclusion of wispy thlaspi gives this picture perfect bouquet a whimsical, bohemian vibe.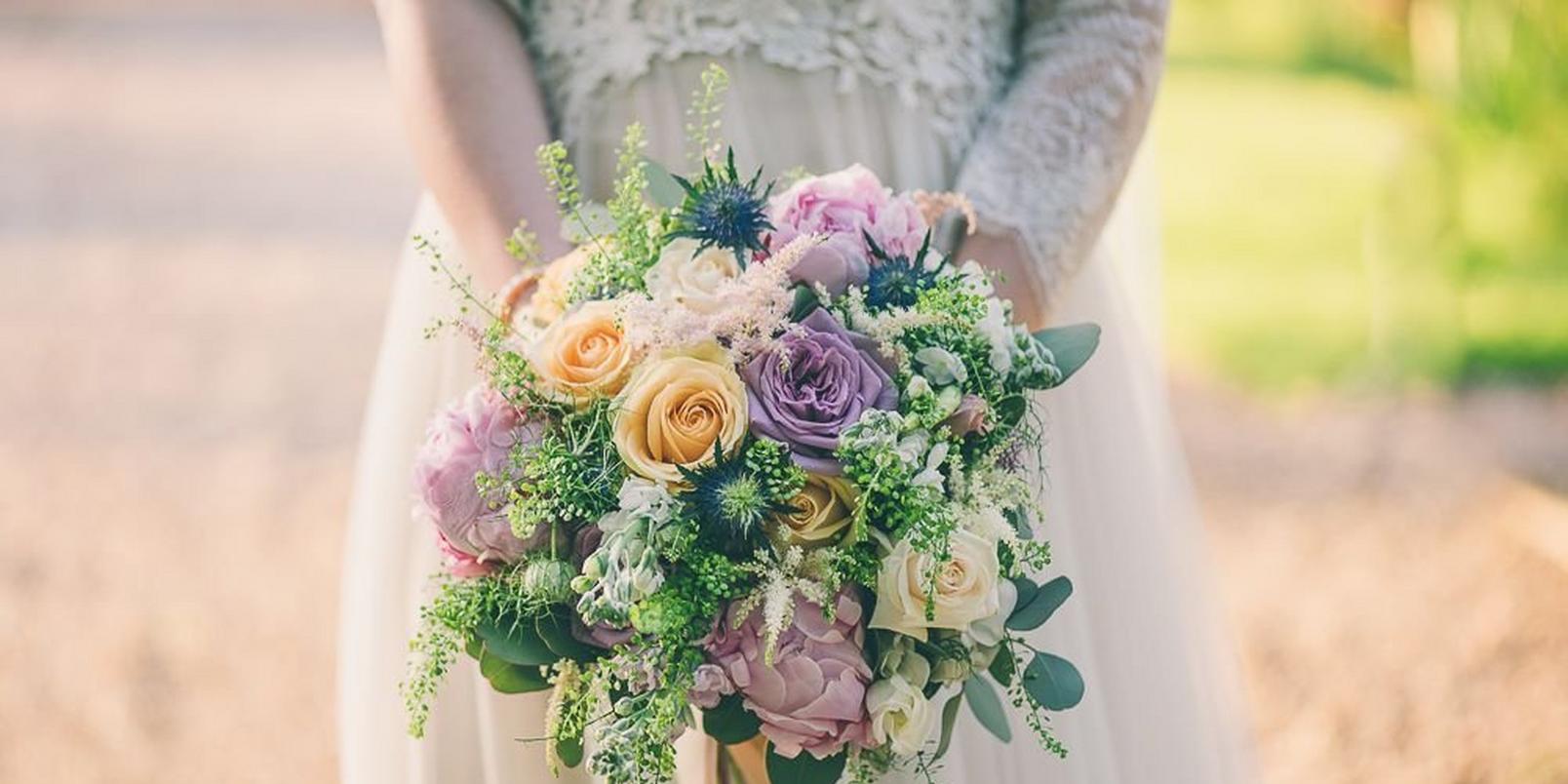 Heavenly roses
With their romantic associations of love and romance, it is no wonder that roses are an enduringly popular wedding flower. For a spring take on a timeless wedding bouquet choose sumptuous speciality roses (we love David Austin varieties) in soft peach and ivory and combine them with elegant Calla lilies and a little greenery. Shower bouquets are back in vogue and we think this beautiful design looks stunning, spilling from the bride's hands.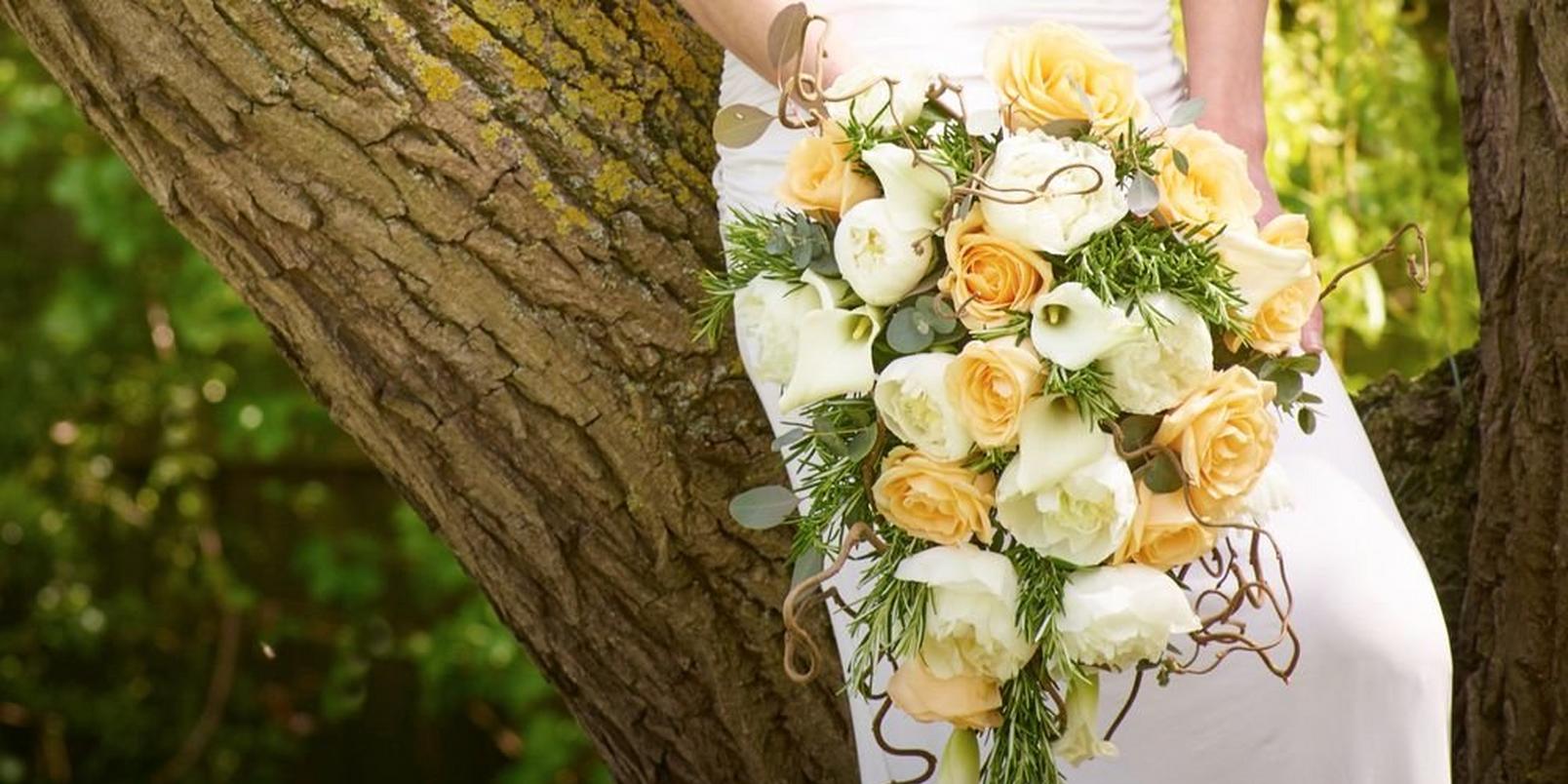 What wedding flowers are in season in spring?
Spring is a wonderful time of year to marry, if only for the beautiful flowers!
If you're saying 'I do' in March, April or May, you'll be spoilt for choice. Some of the prettiest blooms pop up at this time of year. Popular spring wedding flowers include anemones, tulips, sweet peas, narcissi and ranunculus. Not forgetting the wedding flower of the moment – peonies – too. These flowers come in a variety of colours to suit any wedding theme and you can choose whether to mix them up or go for one statement colour.
The other real benefit of marrying in spring, of course, is that most of the must-have wedding flowers are naturally in bloom, meaning they're easier and cheaper to source. To know more about the spring choices you can read our spring flowers guide.
Our top 10 spring wedding flowers are anemones, hyacinth, ranunculus, tulips, sweet peas, peonies, lily of the valley, muscari, lilac, narcissi.
Anemone
Colours White, red, pale pink, cerise, pink, mauve, purple and deep blue
Availability September - May, peaking December - April
Hyacinth
Colours Pure white, cream, salmon, china blue, deep blue, light pink, cerise pink and lilac
Availability November - May
Ranunculus
Colours White, lemon, yellow, orange, peach, gold, pale pink, dark pink, red and burgundy
Availability October - June, peaking December - May
Tulip
Colours All colours except for blue, green and black
Availability October - June, peaking December - April
Sweet Pea
Colours White, cream, pale lilac, purple, pale pink, cerise pink and burgundy
Availability March - August, peaking April - July
Peony
Colours White, cream, rose pink, deep pink, crimson and burgundy
Availability February - July, peaking April - July
Lily of the Valley
Colours Ivory white and Pale rose pink
Availability March - May
Muscari
Colours Pale blue, violet blue and china blue
Availability January - June, peaking February - April
Lilac
Colours Pure white, pale lilac, deep lilac and pale pink
Availability October - June peaking December - April
Narcissi
Colours Pure white, butter cream, pale yellow, bright yellow and gold
Availability November - May peaking January - March
Other flower ideas for a spring wedding
Flowers to wear in your hair
If you love beautiful blooms and aren't content with just carrying them down the aisle, why not wear flowers in your hair on your wedding day? Whether you're dreaming of a being a boho bride or a Grecian goddess there's a flower crown or floral headdress to suit every wedding theme and hair style. Here's some ideas on how to wear flowers in your hair on your wedding day.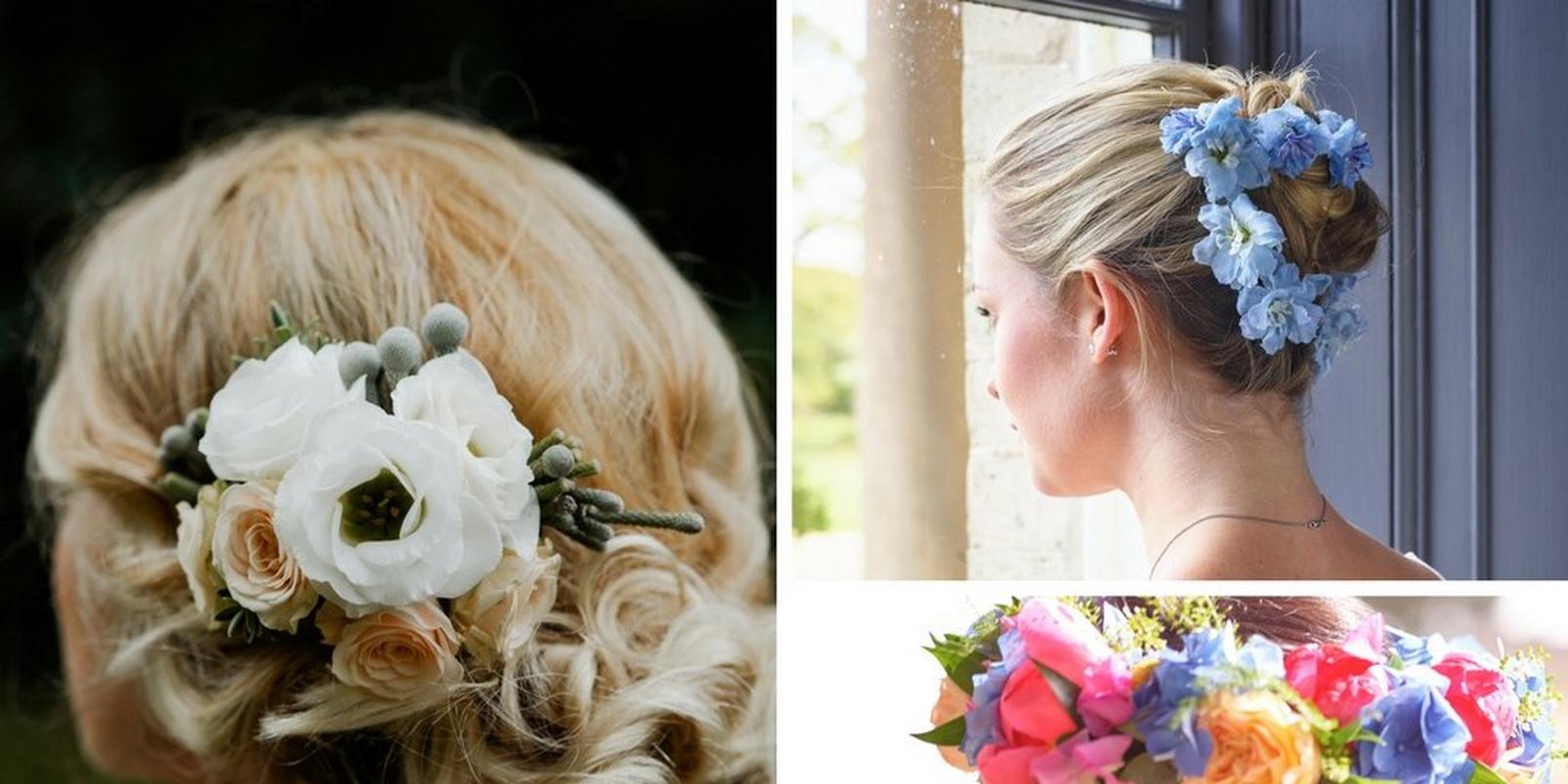 Wedding flower arch
Spring brings warmer days and longer evenings, which means that the wedding party can enjoy time spent outdoors. Enhance the natural beauty of your wedding venue's outdoor space with a wedding flower arch. A beautifully decorated arch is not only a great focal point for the celebrations it makes a real feature for photographs too.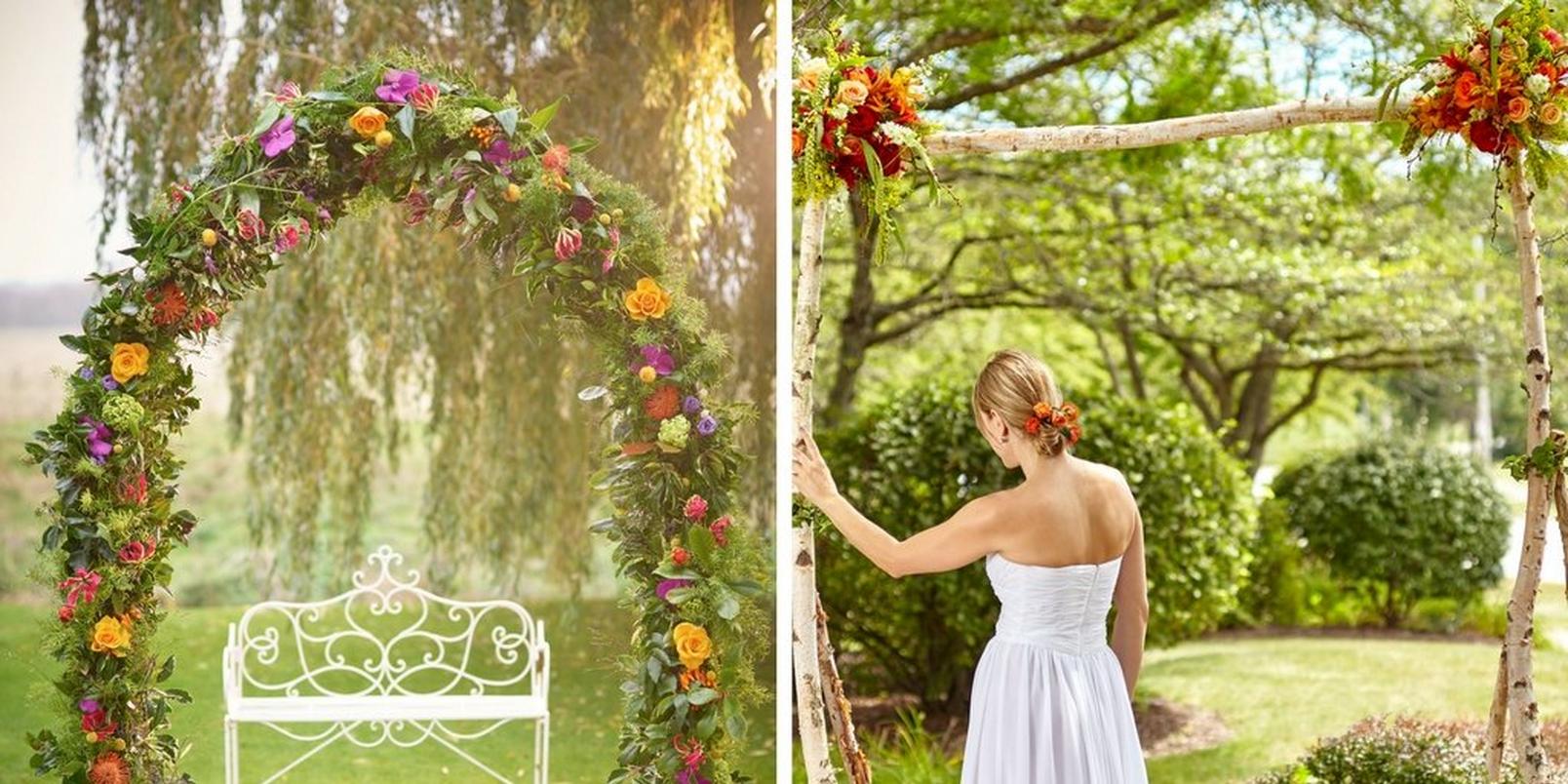 Flowers for the wedding venue
Carry the spring theme through to your wedding venue with an explosion of seasonal blooms arranged on tables in tall glass vases. Look beyond the obvious when thinking about how to decorate your wedding venue. Chair backs, wedding favours, flower walls and floral wreaths are just some of the ways you can use flowers to add the WOW factor to proceedings and set the scene for a real celebration.