10th Anniversary Flowers
Ten years later and more in love than ever. Want to surprise them for your 10 year anniversary? Send a bouquet of fresh flowers and give them those first date butterflies all over again.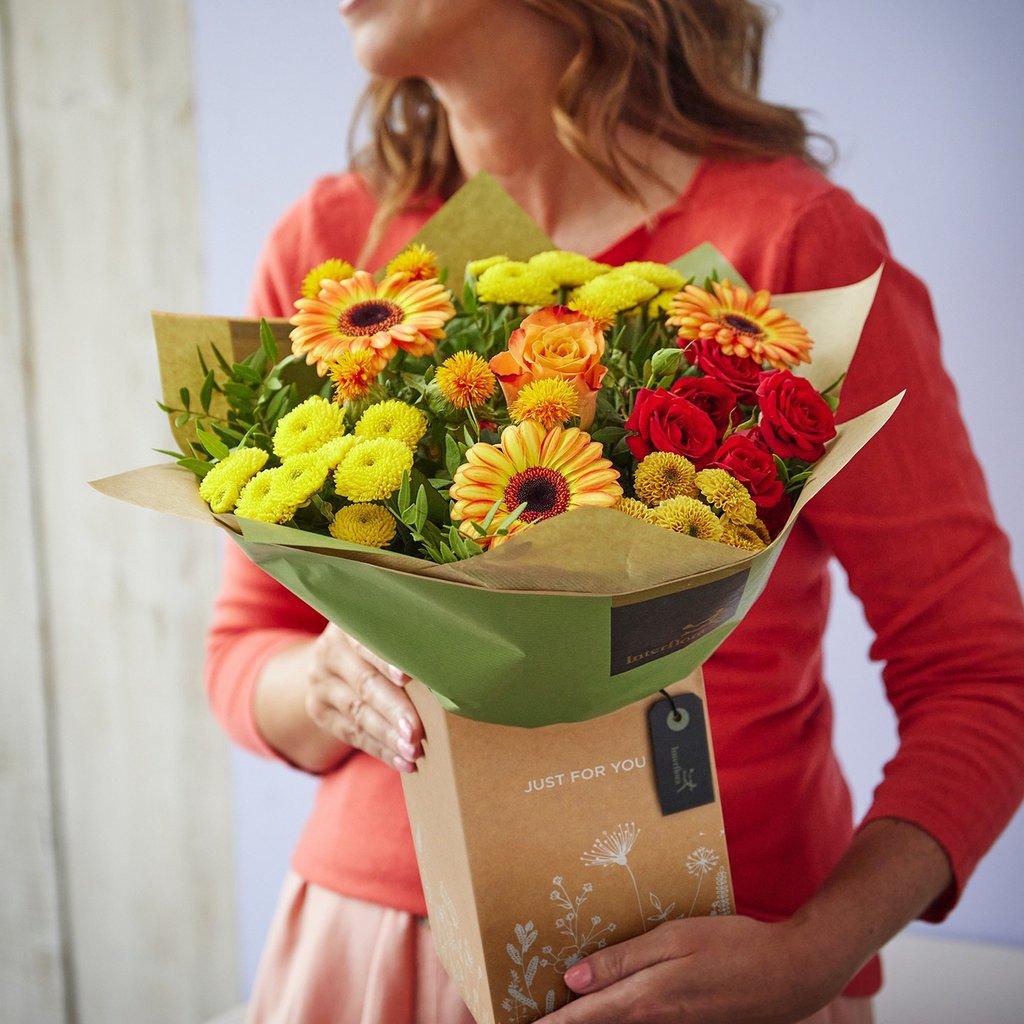 One-of-a-kind bouquets are the perfect way to remember that special day.
Designed and created exclusively for you by our local artisan florists
Delivered by hand
Send personalised flowers to your loved one and trust our florists to make it even more special
FLOWERS TO CELEBRATE 10 FABULOUS YEARS
The wedding might seem like yesterday, but a decade of love deserves something fabulous! For a truly memorable 10 years of marriage, surprise them with a beautiful hand-tied daffodil bouquet – the symbolic flower to mark the 10th wedding anniversary.
We don't just throw any old blooms into our bouquets. Our artisan florists hand-pick the freshest, most eye-catching flowers (we're looking at you, orange orchids!), for swoon-worthy bouquets – perfect for pulling out all the stops on your anniversary.
If you can't make a grand gesture on your ten-year anniversary, when can you? Our arrangements are hand-delivered directly to your door for the ultimate declaration of love. Looking for those finishing touches? Get a bottle of bubbly to go with those blooms in our wine and champagne selection, or browse our range of melt-in-the-mouth chocolates..
Need blooms for a different occasion? We also have a fabulous range of silver, pearl, ruby, and golden anniversary flowers to choose from.
Need your ten year anniversary flowers like, now? Whether you're planning to surprise your other half, or joining your fave couple to celebrate their love, order before 3pm and get them delivered on the same day. We also have lots of next day and nominated delivery options to suit you.
Related Article
10th Anniversary Flowers FAQs
What flowers are traditionally associated with the 10th anniversary?
Daffodils are traditionally associated with the 10th anniversary. They symbolise happiness, renewal, and the promise of a bright and enduring future together.
Can I choose other flowers for a 10th anniversary bouquet?
While daffodils are the traditional choice, you can certainly select other flowers that hold special meaning for you and your partner. Mixing daffodils with your partner's favorite blooms or choosing a bouquet that reflects your unique relationship is a thoughtful gesture.
Can I include a personalised message with my 10th Anniversary Flower gift?
Absolutely! Including a heartfelt note with your 10th anniversary flower bouquet is a wonderful way to express your love and appreciation for your partner. You can also consider writing your own message to make it even more special.