Search for flowers for my date and postcode
Hand-crafted by a local artisan florist in Bedfordshire
Flower delivery for all occasions
Bedfordshire Flower Delivery
Flower Delivery in Bedfordshire
Experience the joy of flower delivery in Bedfordshire with Interflora. Our dedicated team of skilled florists, serving Luton, Bedford, Dunstable, and Leighton Buzzard, create stunning floral arrangements that make every occasion extraordinary.
Whether it's an anniversary, birthday, or a heartfelt gesture, our personalised bouquets convey your deepest sentiments. With a commitment to exceptional service, Interflora brings the beauty of exquisite flowers to Bedfordshire, ensuring every delivery is a memorable and cherished experience. Trust us to deliver your love and make someone's day brighter in Bedfordshire.
About Bedfordshire
Nestled in the heart of England, Bedfordshire is a captivating county that seamlessly blends natural beauty, historical significance, and vibrant market towns. Located just north of London, this picturesque region is a treasure trove of delights waiting to be explored.
One of the county's most enchanting features is its stunning countryside. With rolling hills that stretch as far as the eye can see, meandering rivers that paint a serene landscape, and idyllic villages that exude charm, Bedfordshire is a paradise for nature enthusiasts. The vast greenspaces of the Chiltern Hills and the breathtaking expanse of the Dunstable Downs offer a playground for outdoor activities like hiking, cycling, and picnicking, inviting visitors to immerse themselves in the beauty of the natural world.
Beyond its natural splendor, Bedfordshire holds a rich historical tapestry. The county proudly showcases a plethora of historic landmarks that tell stories of the past. Among these treasures is the iconic Woburn Abbey, a grand stately home adorned with magnificent gardens and even a safari park. History buffs can explore the remnants of Bedford Castle, an ancient fortress that speaks of a bygone era, or wander through the delightful market town of Ampthill, where picturesque parks and historical sites intertwine seamlessly.
Florists in Bedfordshire
When it comes to flower delivery in Bedfordshire, trust our reliable Interflora florists to create and deliver beautiful bouquets and arrangements that leave a lasting impression, we take pride in ensuring that every bouquet is a masterpiece. Count on Interflora for reliable and timely flower delivery, making your loved ones' day even more memorable with the gift of flowers.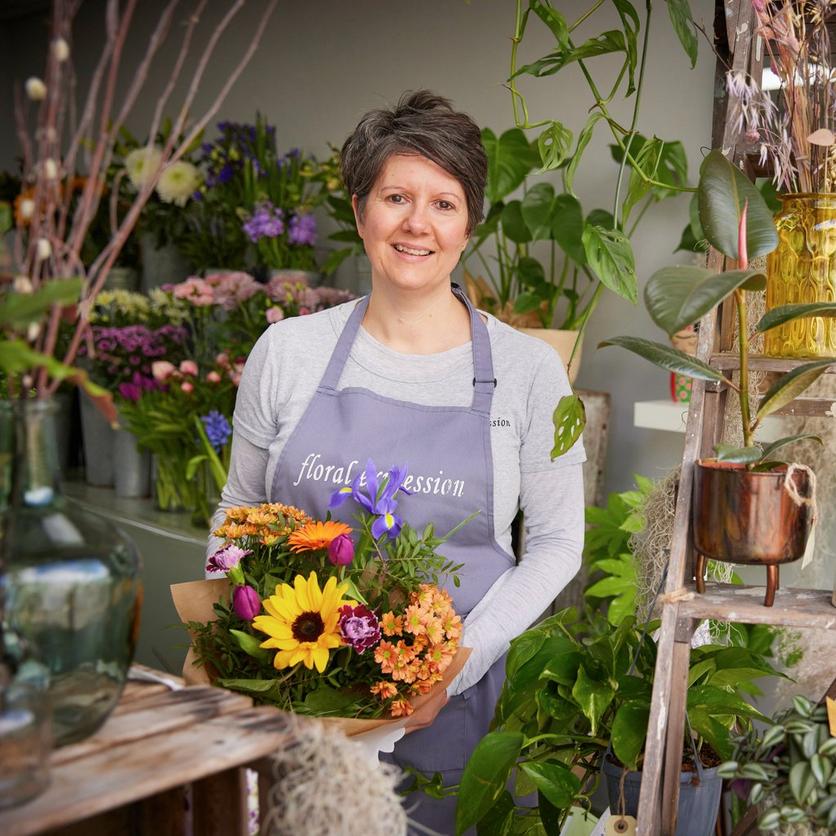 Find a local florist to craft your bouquet
Whatever the occasion, we're here to help. From birthdays to anniversaries or simply just because, we deliver flowers across the UK and even overseas.
Over 900 local florists nationwide
Every bouquet is created by an experienced artisan florist.
No lost bouquets here, these are made to wow them on the doorstep.
We guarantee all our flowers will be fresh for 7 days at least.
Our bouquets are created by local florists. Long live the high street!