Search for flowers for my date and postcode
Hand-crafted by a local artisan florist in Middlesex
Flower delivery for all occasions
Middlesex Flower Delivery
Flower Delivery in Middlesex
For a truly special flower delivery in Middlesex, trust Interflora. Our dedicated Middlesex florists expertly craft stunning arrangements using the freshest, locally sourced blooms. Whether it's a birthday, anniversary, or a heartfelt gesture, our personalised bouquets are designed to convey your sentiments and bring joy to your loved ones. With Interflora's dependable delivery service, their flowers will arrive on time and in pristine condition, creating unforgettable moments in the heart of Middlesex.
About Middlesex
Middlesex, located in the southeast region of England, holds a unique historical significance as one of the ancient counties of England. While it no longer exists as a separate administrative county, Middlesex's legacy lives on through its rich heritage and cultural contributions.
One of the county's prominent features is its proximity to London, the bustling capital city. Middlesex has witnessed the growth and transformation of London over the centuries, playing a vital role in its development. Today, it is considered part of Greater London, encompassing vibrant boroughs like Brent, Harrow, and Hillingdon.
Middlesex boasts a blend of urban and rural landscapes, offering diverse experiences for residents and visitors alike. It is home to iconic landmarks such as Wembley Stadium, renowned for hosting major sporting events and concerts, and the historic Hampton Court Palace, a magnificent Tudor palace steeped in royal history.
Nature lovers can explore Middlesex's tranquil green spaces, such as the vast Richmond Park, where herds of deer roam freely, and the enchanting Kew Gardens, a UNESCO World Heritage Site known for its botanical treasures. The Grand Union Canal, which winds its way through Middlesex, provides scenic waterways for leisurely walks and boating adventures.
Florists in Middlesex
Experience exceptional flower delivery in Middlesex with Interflora. Our skilled Middlesex florists create stunning arrangements with the freshest blooms, handcrafted with care. Trust us to deliver your heartfelt sentiments with precision and reliability, bringing beauty and joy to your loved ones in Middlesex.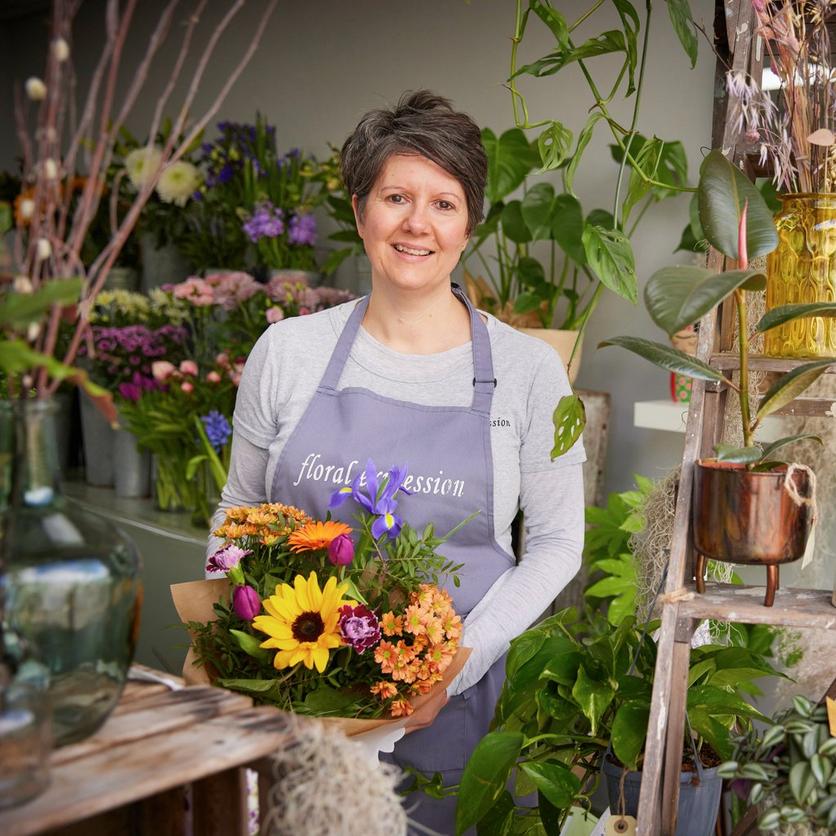 Find a local florist to craft your bouquet
Whatever the occasion, we're here to help. From birthdays to anniversaries or simply just because, we deliver flowers across the UK and even overseas.
Over 900 local florists nationwide
Every bouquet is created by an experienced artisan florist.
No lost bouquets here, these are made to wow them on the doorstep.
We guarantee all our flowers will be fresh for 7 days at least.
Our bouquets are created by local florists. Long live the high street!