Dahlias: Your Ultimate Guide
Darling dahlias, with their perfectly tidy petals that come in almost all colours of the rainbow, have fallen in and out of fashion over the years, but we've stayed loyal to these beautiful blooms. They're just perfect for adding rich colour to a bouquet.
Not convinced? Let's get to know the delightful dahlia a little better.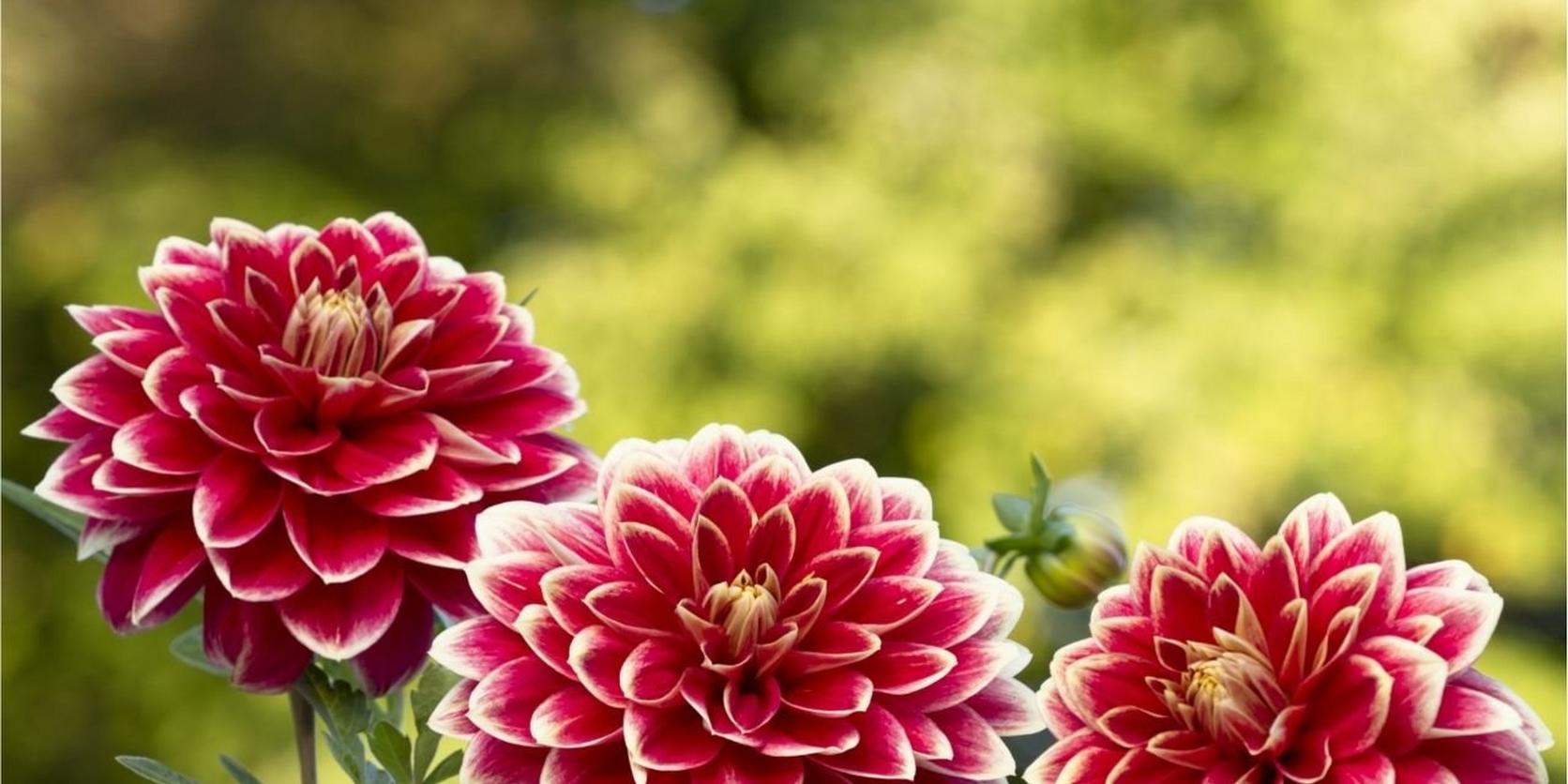 A quick dahlia history lesson
The dahlia started appearing in English gardens in the nineteenth century and steadily grew in popularity. A firm favourite among the Victorians, it came to symbolise dignity – and you can see why with it's neat petals and tall, upright stem. It was also a favourite of Claude Monet who grew many of his own, even trading them with other enthusiasts, as well as painting them. In recent years they've been spurned by gardeners for being a bit fussy and too bright, but there are signs the lovely dahlia is not done yet.
When are dahlias in season?
Dahlias are in bloom from May to about mid-October making them a perfect pick for summer bouquets.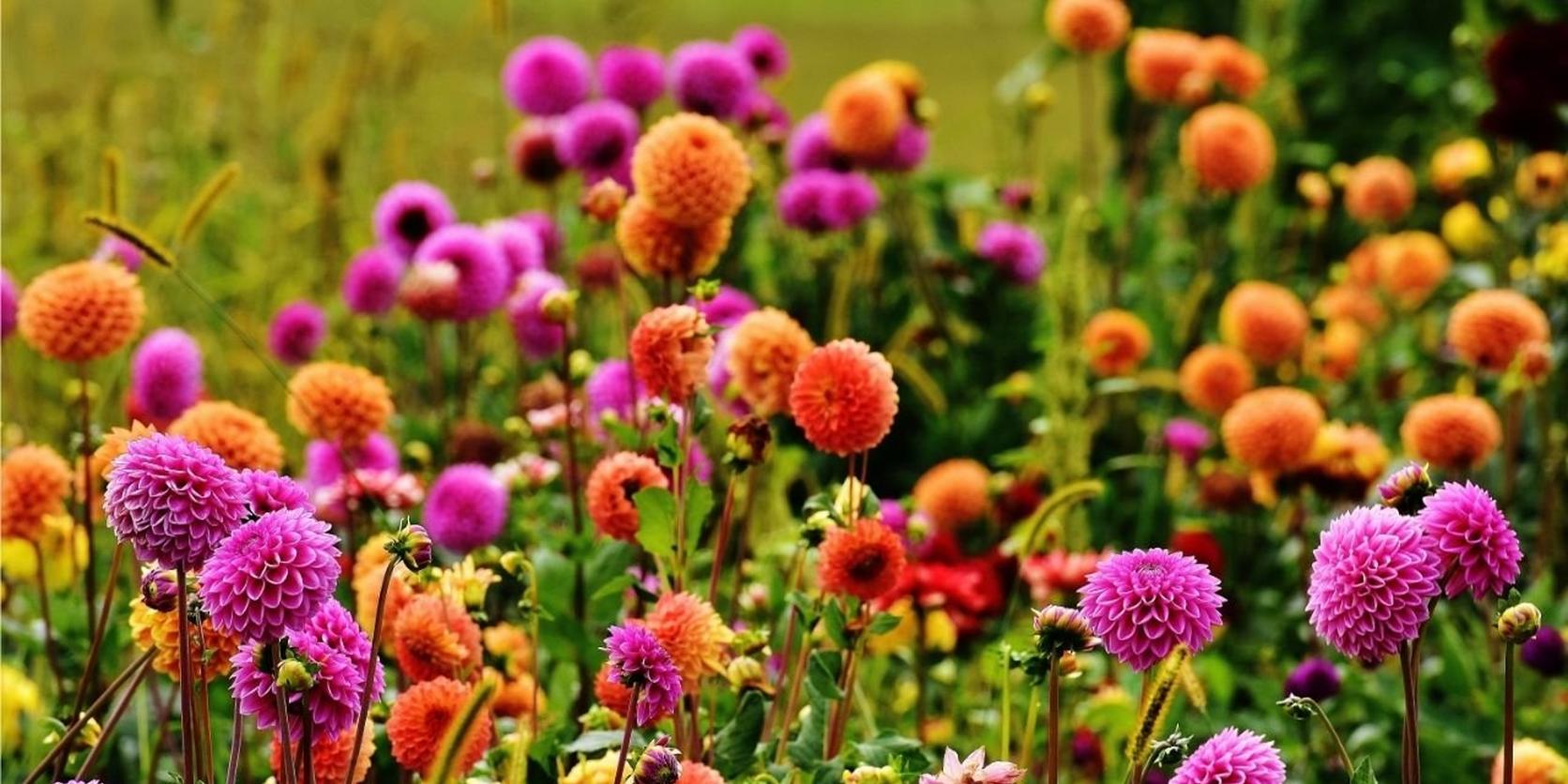 What types of dahlias are there?
Dahlias come in all shapes and sizes, from delicate little pom poms to giant fluffy blooms nearly as big as a dinner plate (the gorgeous 'café au lait' dahlia). They also come in an astonishing assortment of colours. Variety might just be the dahlia's middle name.
What do dahlias symbolise?
Dahlias are said to signify grace and kindness, making them ideal for birthdays, thank yous, or if you want to send someone a pick me up. They're also said to represent a lasting bond and commitment, making them a lovely choice for wedding flowers.
What else is usually included in bouquets with dahlias?
All sorts! Dahlias are such a versatile flower there's a size and a shade for almost every bouquet. We think they work particularly well with other summer stems, including fresh white hydrangeas, peach chrysanthemums and plenty of lush foliage, like ferns.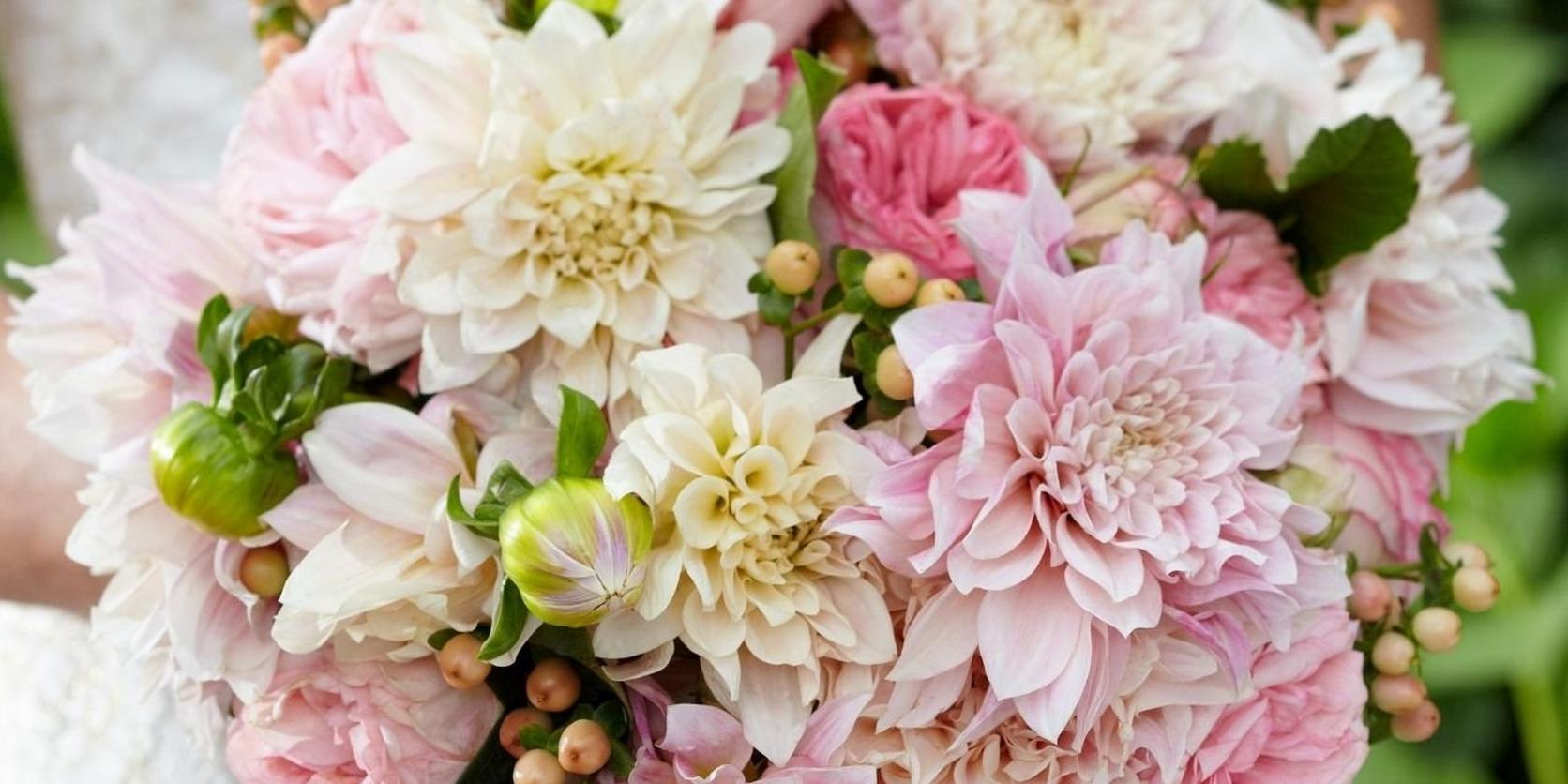 What do our florists make of dahlias?
We asked the lovely Charlotte Davies, a florist and expert in wedding blooms, from Hilary's Floral Design. She told us "in 2021 dahlias will become the flower of choice for fashion forward brides. This fabulously showy bloom comes in a huge range of colours and sizes, making it brilliantly versatile." You heard it hear first brides and grooms!
How do I care for dahlias?
As with the blooms in all our hand-tied bouquets, dahlias need a little help to keep them looking gorgeous. Trim the stems at an angle before popping them in a vase with plenty of fresh water and flower food. If you spot any leaves below the water line, gently strip them away and put them in the compost. You should refresh the water every couple of days or so.
Anything else I need to know about dahlias?
Just one more thing: the Bloemencorso Zundert. It's a huge parade in the Netherlands where local areas make giant sculptures made of dahlias, it takes around 8 million of the blooms to create the incredible display.