The Ultimate Guide to Phlox
With their mounds of beautiful flowers, phlox are a popular choice with gardeners and anthophiles alike. Prized for their fragrance that changes with the temperature, they get stronger when the weather is warmer.
The name 'phlox' means 'flame' and refers to the bright colours of the flowers which are sometimes known as 'flame flowers'.
Phlox meaning and symbolism
There are a number of meanings associated with phlox flowers, most of which are related to the way the clusters of flowers grow at the top of the stems. There is an enduring belief that the fact they grow this way means phlox symbolise togetherness with other related meanings including:
Harmony
Friendship
Unity
Partnership
United hearts
Agreement
Eternal love
For these reasons, phlox are often associated with romantic relationships, but there are some variations depending on the specific colour of the flowers. Their colours range from pale whites and ivories to deeper pinks and purples in various combinations with meanings associated with each shade.
Red phlox is one of the rarest colours of phlox, signifying the unique nature of an instant and enduring connection.
Pink phlox is a symbol of affection, either romantic or between friends, while white phlox is associated with innocence, grace, faithfulness and honesty. Purple and blue phlox are used to signify wisdom, understanding, and spirituality and are symbolic of lifetime love.
Phlox is also culturally significant, appearing in literature dating back as far as the ancient Greeks. In Homer's Odyssey, the sailors have to drop their torches onto the ground that then blooms with red phlox.
Phlox has medicinal properties and has been used in traditional medicine to treat boils and to produce laxative effects.
Phlox facts
Phlox is native to North America and is found in a diverse array of habitats from woodlands to prairies, and even alpine tundra.
Phlox foliage is one of the main sources of nutrition for the larvae of the dot moth and the hummingbird hawk moth as well as deer, rabbits, and groundhogs.
Phlox is the focus of a number of flower festivals, including one called Fuji Shibazakura which celebrates a display of creeping phlox that covers the ground in front of Mount Fuji.
Knights in the Middle Ages would wear phlox flowers on their clothes which they would then remove at the end of an evening and present to the objects of their affection.
A number of Native American tribes traditionally used blue phlox flowers to treat gastrointestinal problems, turned the plants' roots into eye-wash, and made the leaves into a soothing skin treatment.
In the Victorian language of flowers, phlox was a popular choice for bouquets and the message was one of the few that was an overt expression of affection as opposed to most flowers with much more subtle meanings.
Phlox has a number of commonly used names including fall phlox, perennial phlox, panicled phlox, summer phlox, and garden phlox.
There are a number of recognised cultivars of phlox including Star Fire, Velvet Flame, Mother of Pearl, Flamingo, and Alba Grandiflora.
Types of phlox
There are more than 60 different types of phlox, most with star-shaped flowers that grow in clusters, and all varieties are perennial except for Drummond's phlox which is an annual. There are a number of varieties of beautiful flowers that make great bedding plants, effective ground cover, and as a tall focal point for any flower bed.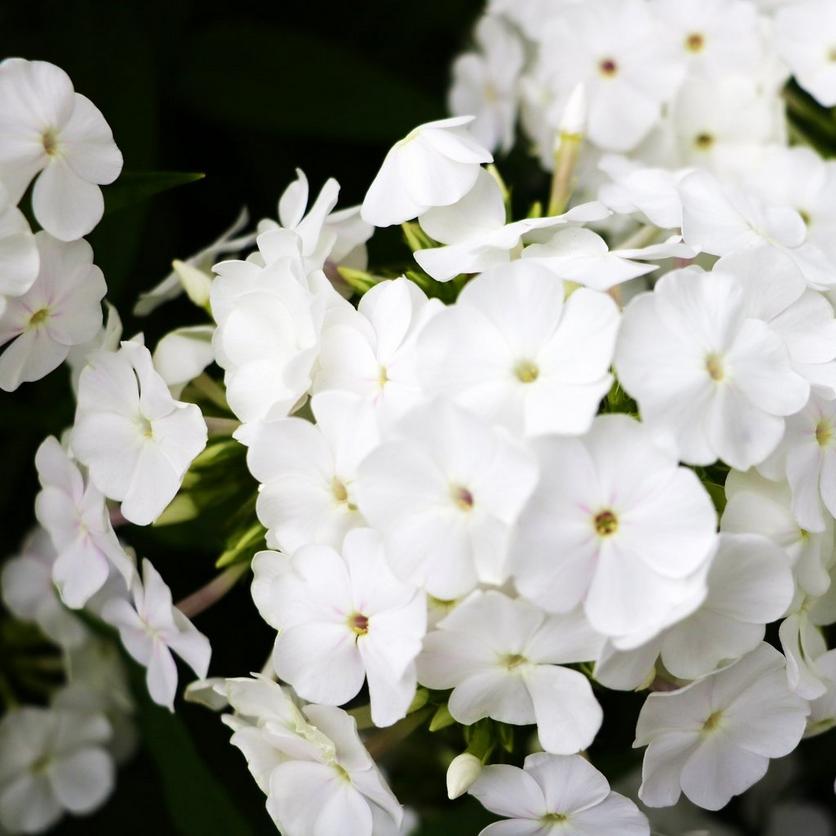 White phlox
White phlox varieties recognized by the RHS, like White Admiral and Peacock White, have received awards. A popular choice for bouquets is White Flame, known for its large white blooms and strong scent. They thrive in herbaceous borders, near paths, and patios, offering both fragrance and clustered blooms. These phlox can grow in partial shade, attract butterflies, and add a captivating touch to floral displays.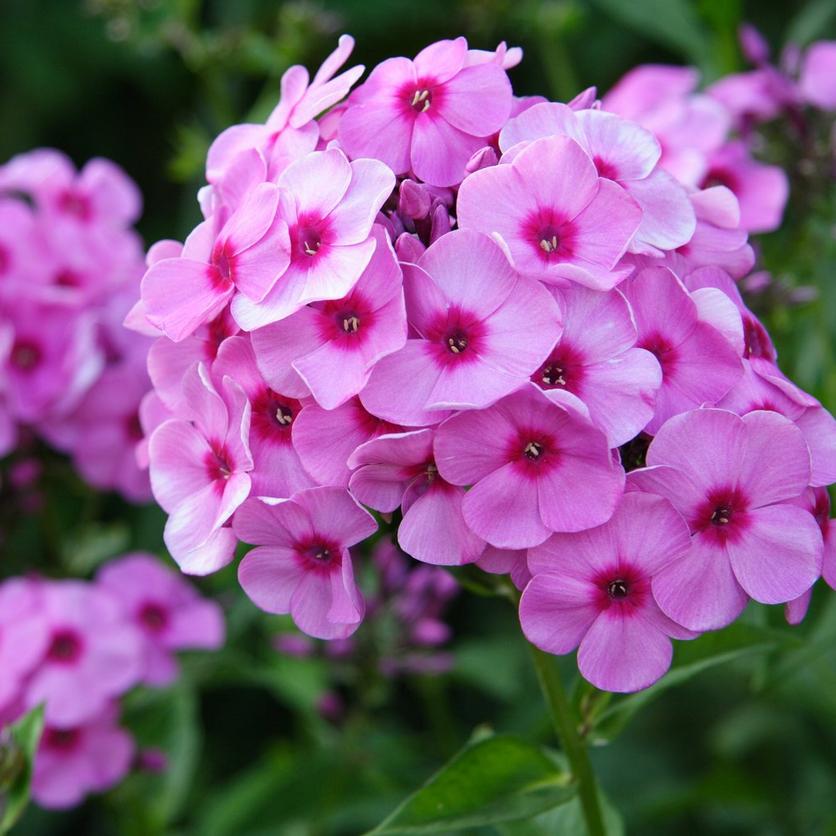 Pink Phlox
Phlox offers a range of pink shades, from delicate to vibrant. 'Cherry Pink' is a popular choice, a long-flowering perennial that flowers from the middle of summer until halfway through the autumn . Varieties showcase different combinations: dark pink centers with paler outer petals, deeper pink petals with pale edges, and even pink centers with yellow outer petals. Clustered or tall stems provide various display options.
How to care for phlox
Phlox are relatively easy to care for if they're grown in the right place. They need fertile soil but there are varieties that grow well in all kinds of conditions, from full sun to partial shade.
Long stemmed

Taller phlox plants need a lot of water to maintain their long stems, but most phlox varieties can survive almost entirely on water from the ground once their roots are established.

Hot Weather

Phlox need a little extra water in hot weather, but this drops off when the flowers have wilted.

Intermittent Watering

Cushion phlox and carpet phlox require even less water and can be grown on rooftops and in rock gardens, so they only need watering intermittently.

Pruning

Taller phlox need pruning once a year in the autumn, and dead stems can be removed in the winter.

Cutting

They can be cut when the flowers are open to add to a bouquet and taller varieties have strong stems that can be used to support plants that need a little lift.
When to plant phlox
Phlox can be planted when the soil is moist and not too cold, in the autumn or the spring. They don't fare well in sandy soil that drains too well but adding well-rotted manure or compost can help create an environment in which the plants will thrive.
Phlox can be grown from seeds by sowing into compost in seed trays or modules, but they can also be bought as plug plants that just need to be planted out into pots and flowerbeds.
Young phlox don't always do well in frosts, so if you want to plant your freshly grown seedlings out, it's best to wait until the risk has lowered and then give them a chance to acclimatise before planting into beds.
When does phlox bloom?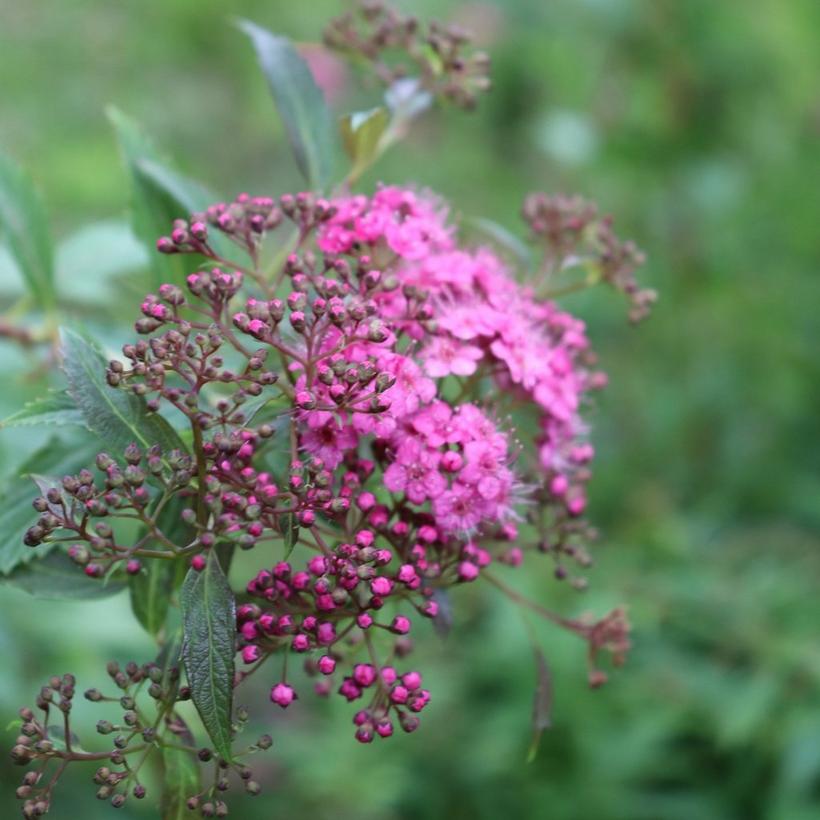 Different varieties of phlox bloom at different times, and as most are perennials, you can enjoy them year after year once you find the right spot for them. Although it's worth checking the particular varieties you want, taller phlox plants tend to bloom in the summer.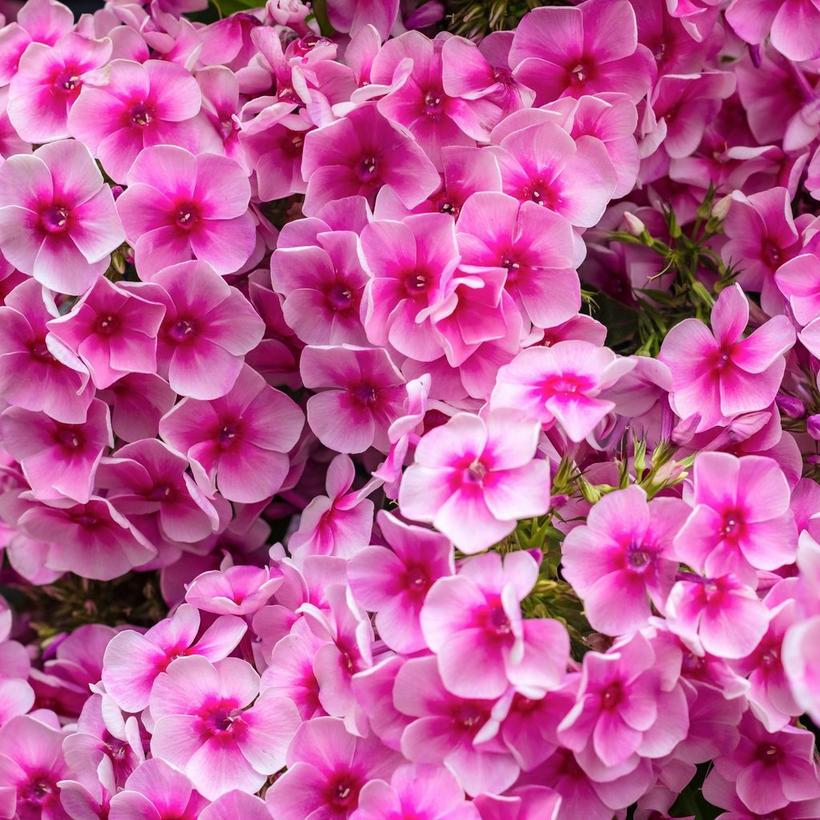 Creating a phlox bouquet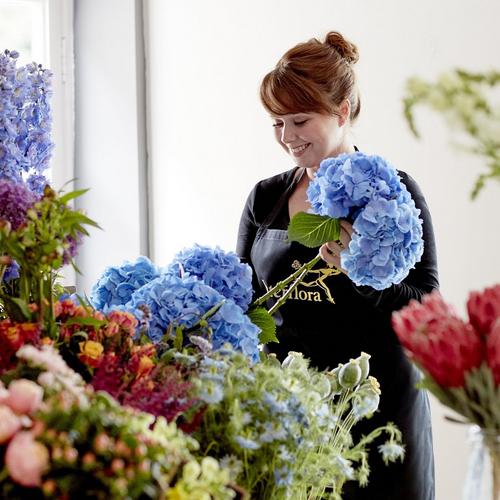 Phlox is a popular choice in cut-flower bouquets as their luscious blooms come in so many colours, making them the perfect choice for a variety of colour schemes. Long-stemmed phlox can add height to a taller arrangement, and the thick stems make them sturdy enough to provide support to other flowers.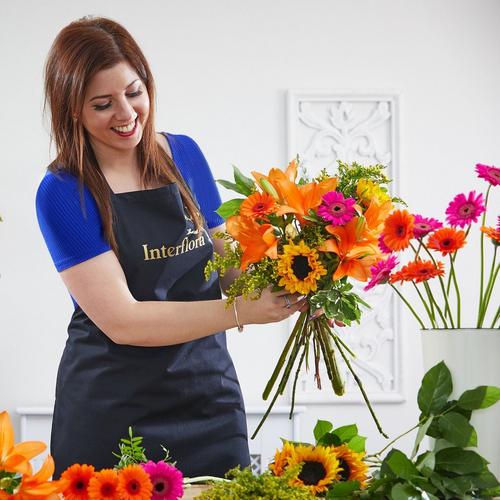 Cut phlox also lasts well and is strong enough to keep its shape for several days, so it can be used to help any arrangement look fresh for longer. The size and shape of the flowers can vary hugely, so one type or another will look good in almost any bouquet or arrangement.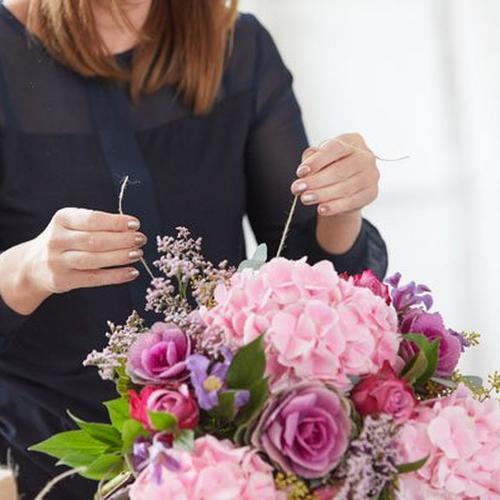 Phlox's clusters of small flowers can be the ideal complement for larger blooms such as lilies, dahlias, and roses. In more dramatic arrangements, phlox can provide a pretty accompaniment to red hot pokers and delphiniums.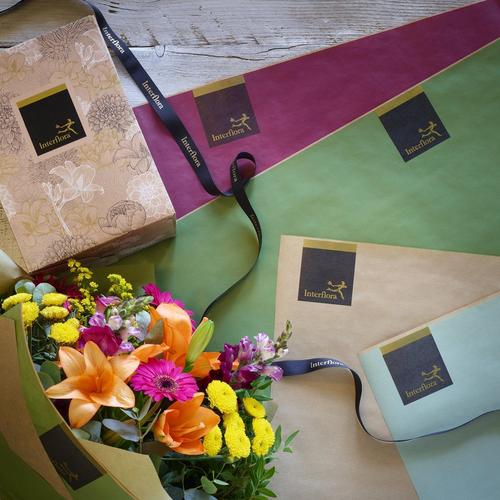 It can also be used in simpler arrangements alongside grasses, and the choice of colours and flowers means that phlox can be a focal point or a volumising addition to the foliage. For anyone who appreciates the language of flowers, it can be used to symbolise the traditional virtues of love and friendship in a bouquet designed to convey affection.