A Complete Guide to Yellow Roses
For centuries, roses have brought joy and earned admiration across the globe. Renowned for its fragrance and splendour, this classic flower comes in a variety of colours – each with a different meaning. Yellow roses brighten any bouquet, symbolising friendship, happiness and spirituality.
Find out all there is to know about these beautiful blossoms, from their history to the best care and decoration tips.
What do yellow roses mean?
Yellow roses date back to the 18th century when they grew wild in the Middle East. The sunny petals were used for confetti, decoration and medicinal purposes, and were crossbred to produce various species of yellow roses.
Since then, the yellow rose's meaning has transcended cultures. During the Victorian era, yellow roses were used in special bouquets known as tussie-mussies as a way of communicating with an admirer that you were only interested in friendship. Early Japanese and Korean cultures depicted the flower as a sign of jealousy, infidelity and mistrust.
Today, yellow roses represent friendship and love – meaning that when you give them to someone you're letting the recipient know they're truly special to you. Similar to pink roses, these golden blossoms are incredibly versatile and are the perfect choice for just about any occasion. A vibrant yellow rose bouquet can make the ideal present for a friend on their birthday, or as a thoughtful get-well gift to lift the spirits. They also make a great decoration for a wedding or even as part of a memorial wreath for a funeral.
Types of yellow rose
The cultivation of yellow roses has produced a range of different varieties to enjoy. From lustrous ambers to pale sulphurs, here are some of the most popular types of yellow roses.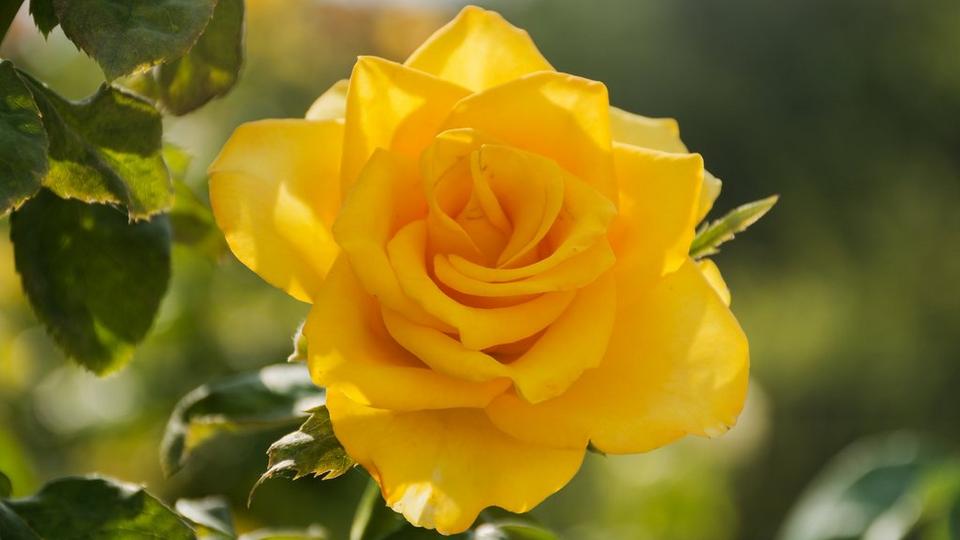 Rosa 'Graham Thomas'
Also known as Ausmas, this popular climbing rose has smooth green leaves and double-petalled blossoms of a deep yellow hue. These carry a rich tea fragrance and can be grown as a border rose from summer to autumn.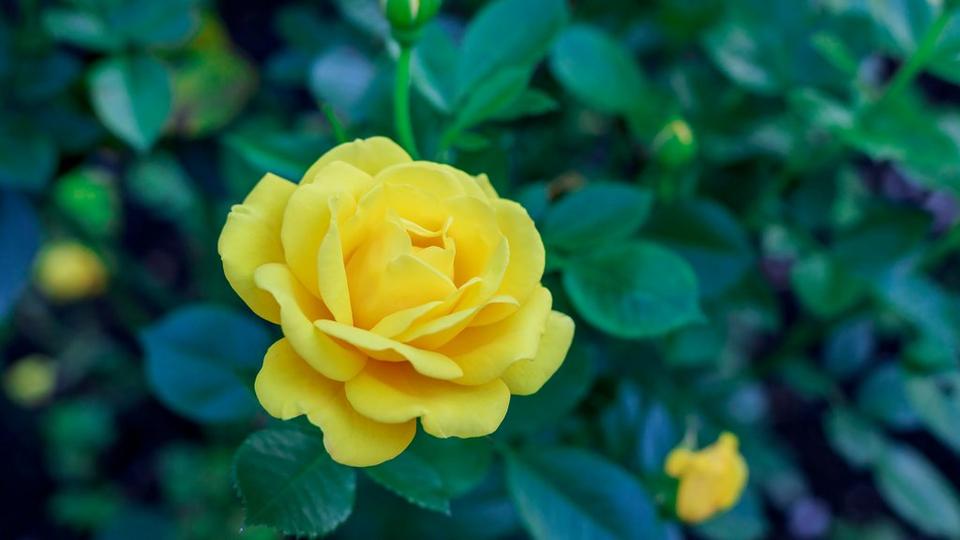 Rosa 'Elina'
Characteristically pale with large yellow blooms and a golden centre, this strong bushy shrub rose carries a mild citrus fragrance. This variety has plentiful reddish foliage when young and thrives best in small gardens.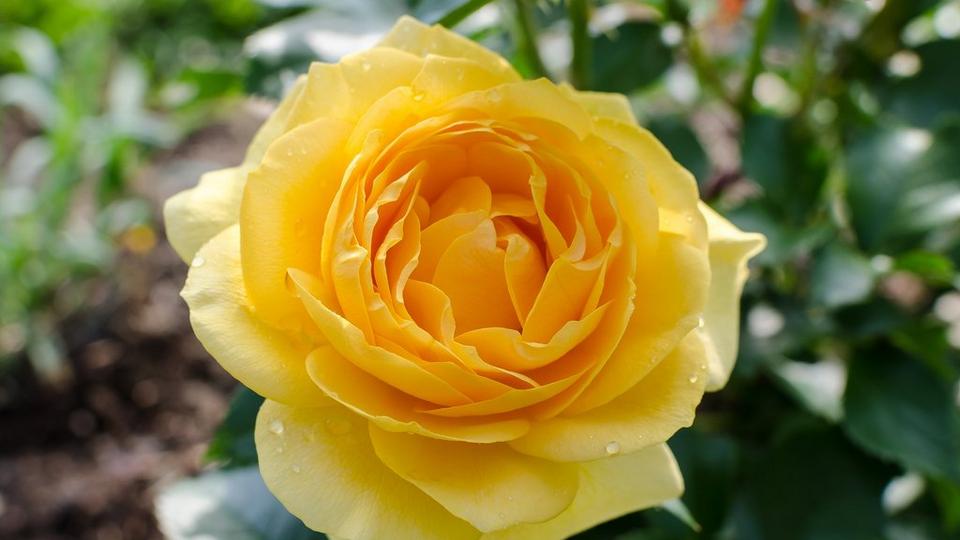 The Pilgrim
Unique and striking, the petals on this beautiful flower start as a cup shape and unfurl into flat rosettes to resemble a pom-pom. The flowers radiate a soft yellow with paled edges and have a medium-strong fragrance.
How to care for yellow roses
The beauty of yellow roses is that they require minimal effort to bloom. Still, if you're fortunate enough to receive a yellow rose bouquet, it's important to know how to properly care for them.
Clean your vase with warm soapy water. Debris from previous flowers could contaminate the water and shorten the lifespan of your yellow roses.
Fill the vase with lukewarm water and add flower food suitable for cut roses.
Diagonally cut the stems by a few centimetres and place your yellow roses in the water. This will allow the flower's stem to absorb fresh water more easily.
Change the water every few days and re-trim the stems to maximise vase life. Roses will wilt rapidly if resting in stale water, so remove any dead leaves as soon as possible.
Store your yellow roses in a cool, shaded area in indirect sunlight. This should help the blooms to exceed their vase life of 7-14 days.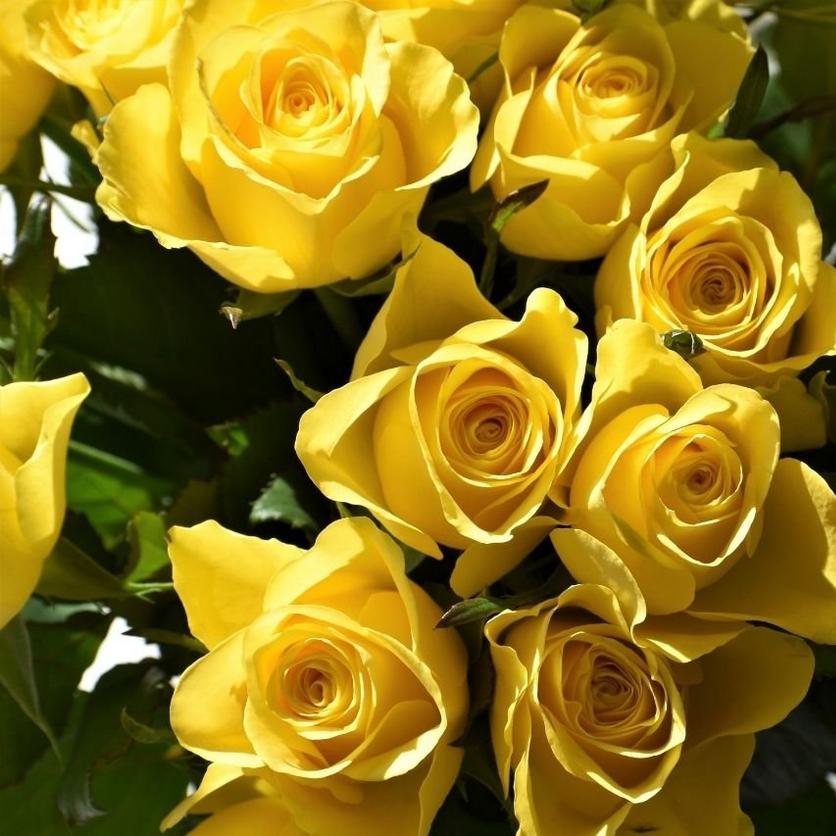 Using yellow roses to decorate
As one of the most recognisable flowers in the world, yellow roses make for some beautiful decorations no matter the occasion. Pair them with white roses, greenery and gypsophila to create a stunning centrepiece fit for the bride and groom's table.
These radiant blossoms are guaranteed to brighten any home as well. Placing a vase of yellow roses your home's entryway could transform your house into a welcoming and sunny living space. They also look stunning as a dining table centrepiece, or on bedside tables.
But you don't need a full bouquet to make an impact. Just a single rose in a handled pitcher, vase or mason jar can add a serene touch to any home. Go a step further and remove the yellow rose petals from the stem and sprinkle them across the dining table against a white tablecloth for a special occasion.
Crafting a yellow rose bouquet
Yellow roses pair well with just about any flower. Depending on the flower arrangement, a yellow rose bouquet can make a grand gesture or be the perfect understated token of affection. If you're looking to build the perfect yellow rose bouquet, we have five steps to consider:
Choose the arrangement
Start by deciding on the flower arrangement design. You'll need to consider the theme, occasion and the colour scheme. How many yellow roses will you use? Will they be in the centre of the bouquet, or will form border the complementing flowers? What pattern, shapes or sizes are you going for?
Consider the vessel
The size and shape of your vase or container will have a big impact on your yellow rose arrangement. Roses are top-heavy and may require a weighted vessel. The standard glass vase is ideal for this, but you could also use a woven basket for added texture. For arrangements like this you would need to line the basket with a plastic container, disguising it with foliage to complete the look.
Incorporate greenery
Greenery such as fern fronds, eucalyptus and ivy make a great base for your arranged flowers. Creating an inverted triangular shape using the stems will give your arrangement both a vertical and horizontal presence. Remember to recut the stems before adding them to the vase/container.
Add focal and filler flowers
Focal flowers typically make up the majority of the bouquet since they are the largest buds. Consider using an odd number of yellow roses to appear non-symmetrical. Next come the filler flowers – smaller textural elements that fill the rest of the arrangement. They can be in clusters of three or five to complement the yellow roses. Spring bulbs, alliums, lilies and foxgloves all make great choices.
Add the finishing touch
Finish off your glowing arrangement with floaters or delicate blossoms like yarrow, baby's breath, or sedum. These are usually added last to avoid being squashed by heavier buds. Once it's arranged to your liking, be sure to give the bouquet a light spritz for that finishing dewy glow.