Wedding Flower Ideas for the Summer Bride
1st May, 2019
Summer is a wonderful time of year to tie the knot, not least because some of the most sought after flower varieties are at their naturally best and most beautiful. If you're getting married at this time of year, see our seasonal guide to summer wedding flowers and discover the latest trends from our expert florists.
What wedding flowers are available in summer?
Agapanthus
Peonies
Roses
Stocks
Hydrangeas
Dahlias
Sweet Peas
Nigella
Wedding flower ideas for summer
Bright and Beautiful
This summer we're seeing an explosion of colour with brides daring to choose a beautifully bright and bold scheme for their wedding day flowers.
It's a playful look that's full of optimism and works particularly well when brought to life with seasonal flowers such as peonies, hydrangeas, dahlias and nigella.
Dress your ceremony room to impress with flower arches, decorative chair backs or pew ends and bring some of that glorious summer colour inside.
For brides, the trend of wearing flowers in your hair is set to continue with flower crowns being top of wish lists. Ask your florist to guide you on which varieties are best suited for this purpose and don't forget to order a sample for your hair trial.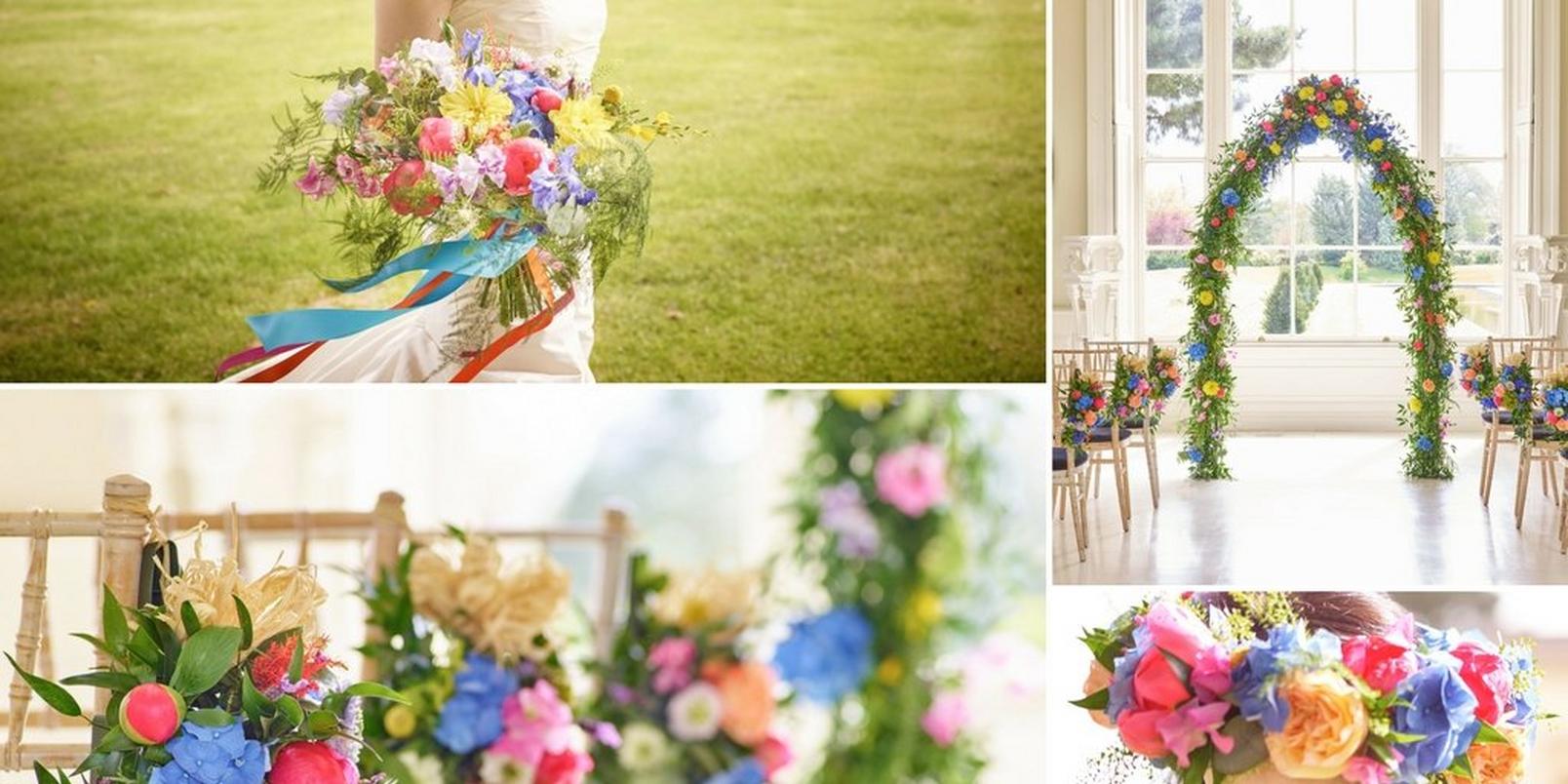 Tropical
Whether you're getting married at home or abroad an exuberant, tropical wedding theme is perfect for the bride who wants something a bit different for her big day.
Tropical flowers, by their very nature, are bold and flamboyant, so they lend themselves beautifully to large and show-stopping designs.
To get the look ask your florist to incorporate strelitzia, ginger and heliconia into your big day blooms. Gloriosa and Calla lilies are also good choices for hand-held bouquets as they add structure and texture to designs. The inclusion of props such as shells, sand and cocktail umbrellas help to carry this theme.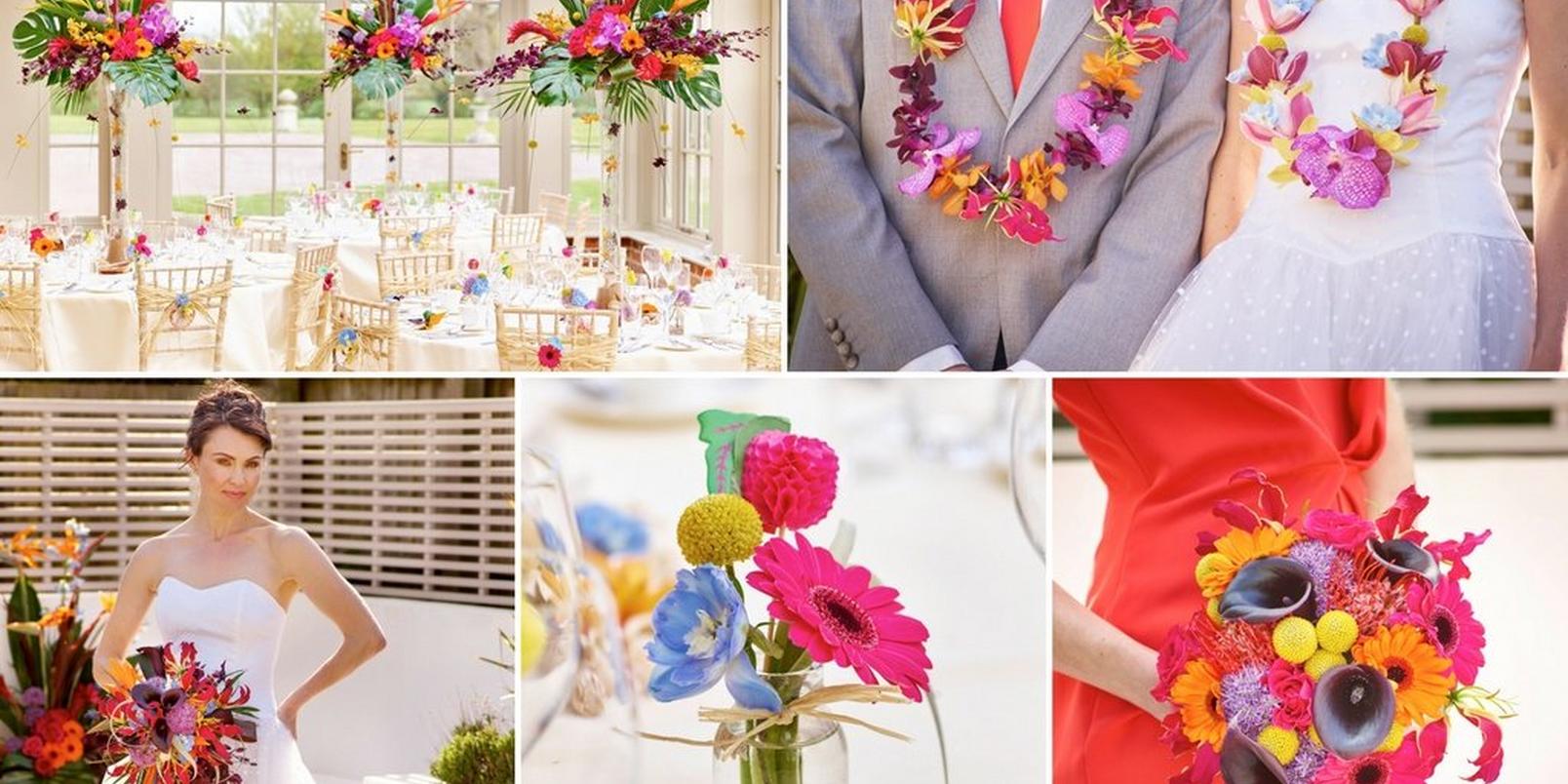 Grown Up Glamour
For a sophisticated take on summer wedding flowers choose a purple colour palette. This wedding colour scheme is very much on trend for 2018 with Pantone having named Ultra Violet as their Colour of the Year.
The look is bold and distinctive but can be softened by asking your florist to include varying tones, hints of pink and shades of lilac.
Using large-headed varieties like hydrangeas and peonies builds impact for large, sumptuous arrangements, while the addition of mirrored accessories and scattered jewels provides a glamourous finishing touch.
One great idea for your bridesmaids is to give them personalised bouquets which have been designed to allow their individual personality to shine through. For example, if your Maid of Honour's favourite flowers are dahlias, why not incorporate them in her bouquet?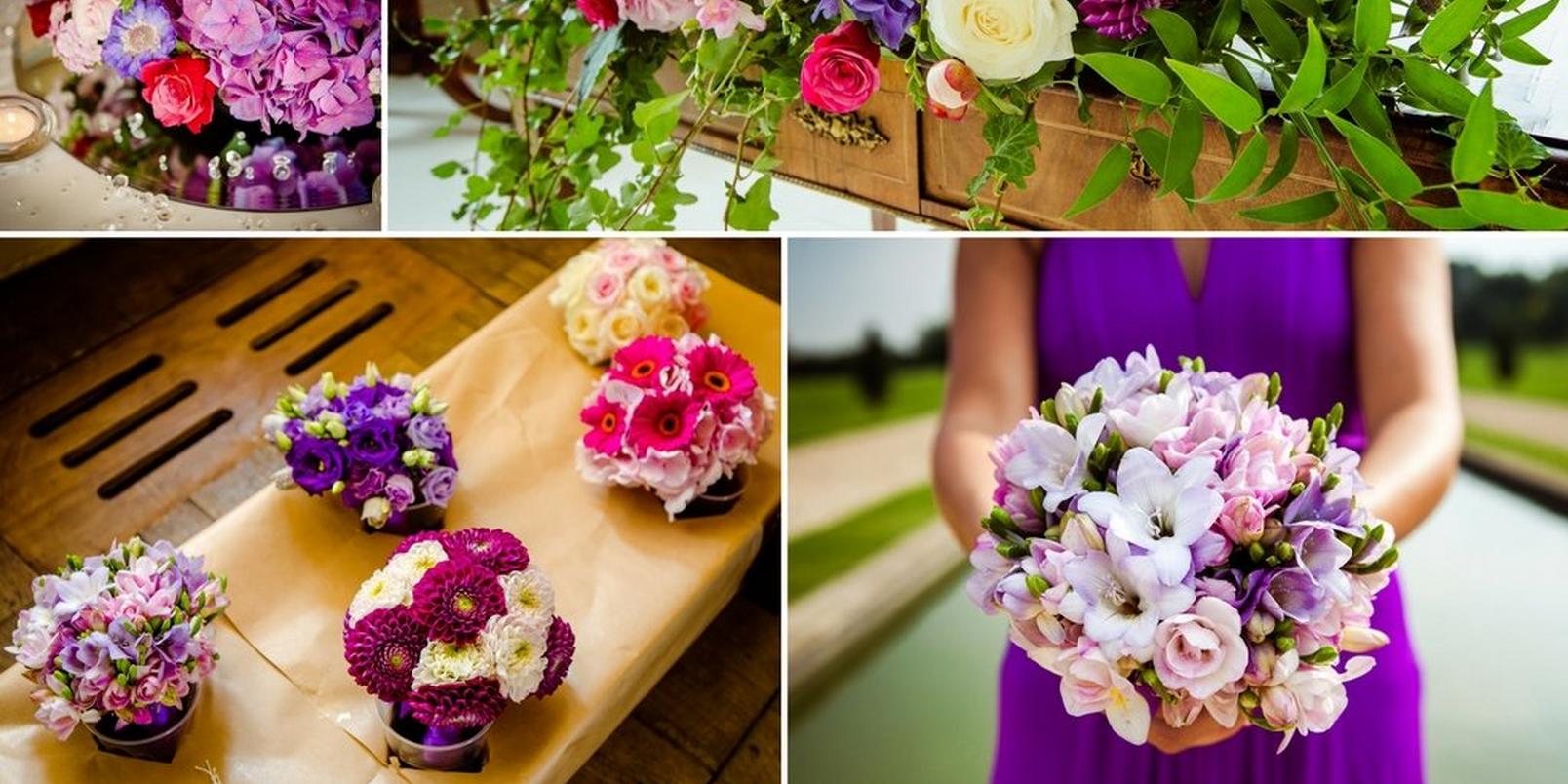 Pretty Pastels
Pink and blue, offset with metallic rose gold and copper tones, is certainly a strong combination for weddings this summer, if not this year!
Whole bridal parties are being decked out in variations of the theme pairing bridesmaids in pink dresses with groomsmen in on-trend blue suits.
To get the look for your wedding day flowers ask your florist to combine pastel pink and soft blue flowers in loose arrangements with lots of fabulous foliage for a more formal take on the 'just-picked' look that has been popular in recent years with the surge of vintage inspired weddings.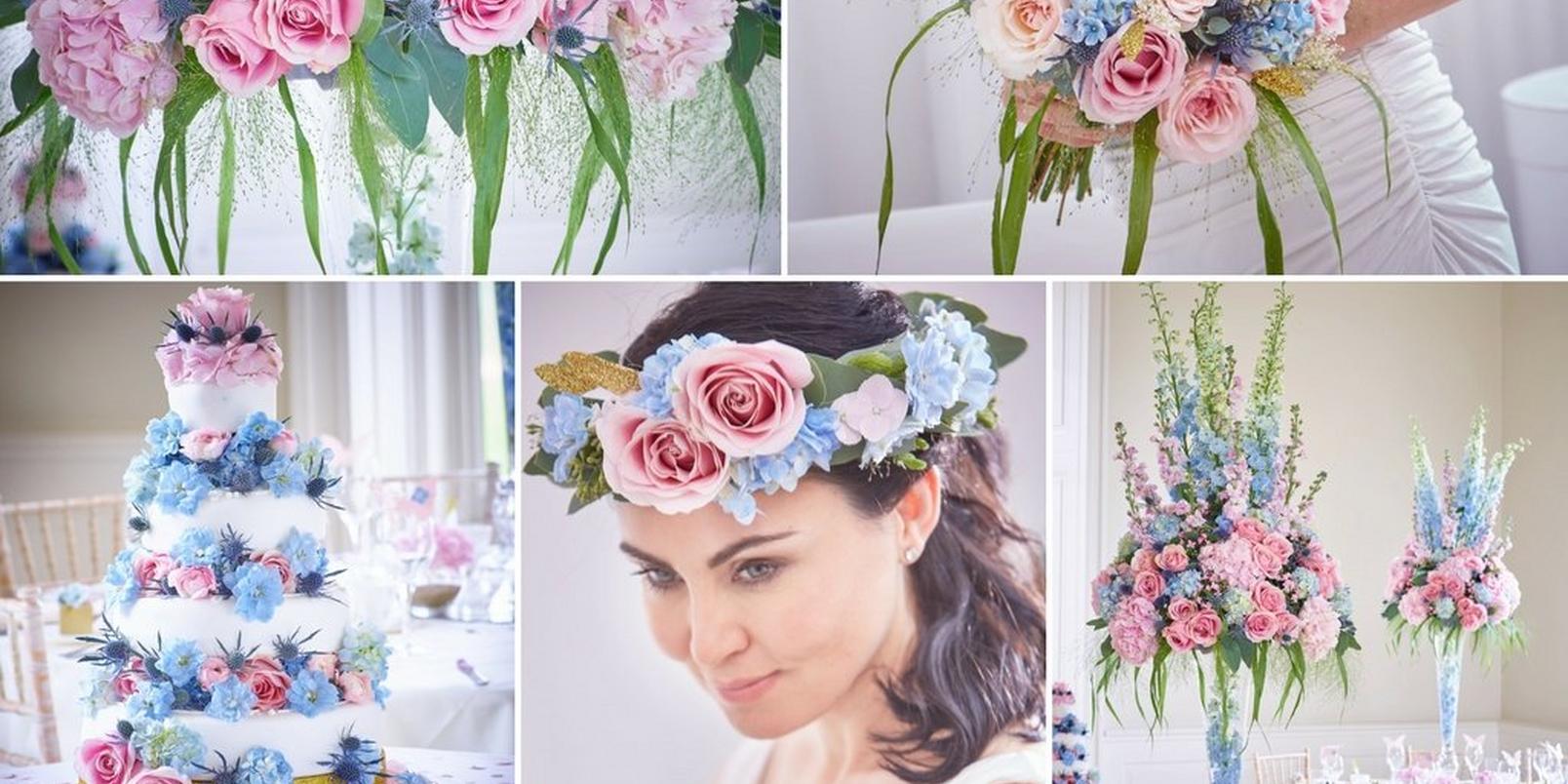 Ask the expert
I'm getting married in the middle of July. Which flowers are in season for a summer wedding?
Peonies are enduringly popular with summer brides. Not only do they represent a happy marriage but they have a beautiful blousy look which is so in vogue at the moment. In terms of other varieties, for a bouquet that smells as beautiful as it looks, you can't go wrong with a combination of sweet peas, nigella, roses, dahlias and hydrangeas.
I'm planning a tropical theme for my beach wedding but only have a small flower budget. How can I get the look for less?
To achieve a tropical look, you don't necessarily have to include lots of tropical flower varieties. By choosing less expensive, more readily available flowers in hot, exotic shades you can create the same effect. Try placing duo stems in miniature bottles filled with sand. Another idea is to consider giving your bridesmaids a statement corsage to wear in place of a bridal bouquet. This will ensure your tropical theme is carried through and will look fabulous on the pictures too!
I'd like to decorate the ceremony room a little differently and need some inspiration. Help!
Flower walls are big news on the wedding scene right now, made popular by celebrity brides like Kim Kardashian. If you don't have an A-List budget then a floral arch with co-ordinating pew ends (or chair backs) creates a beautiful focal point for your ceremony room and a great photo opportunity! They work just as well for outdoor ceremonies too.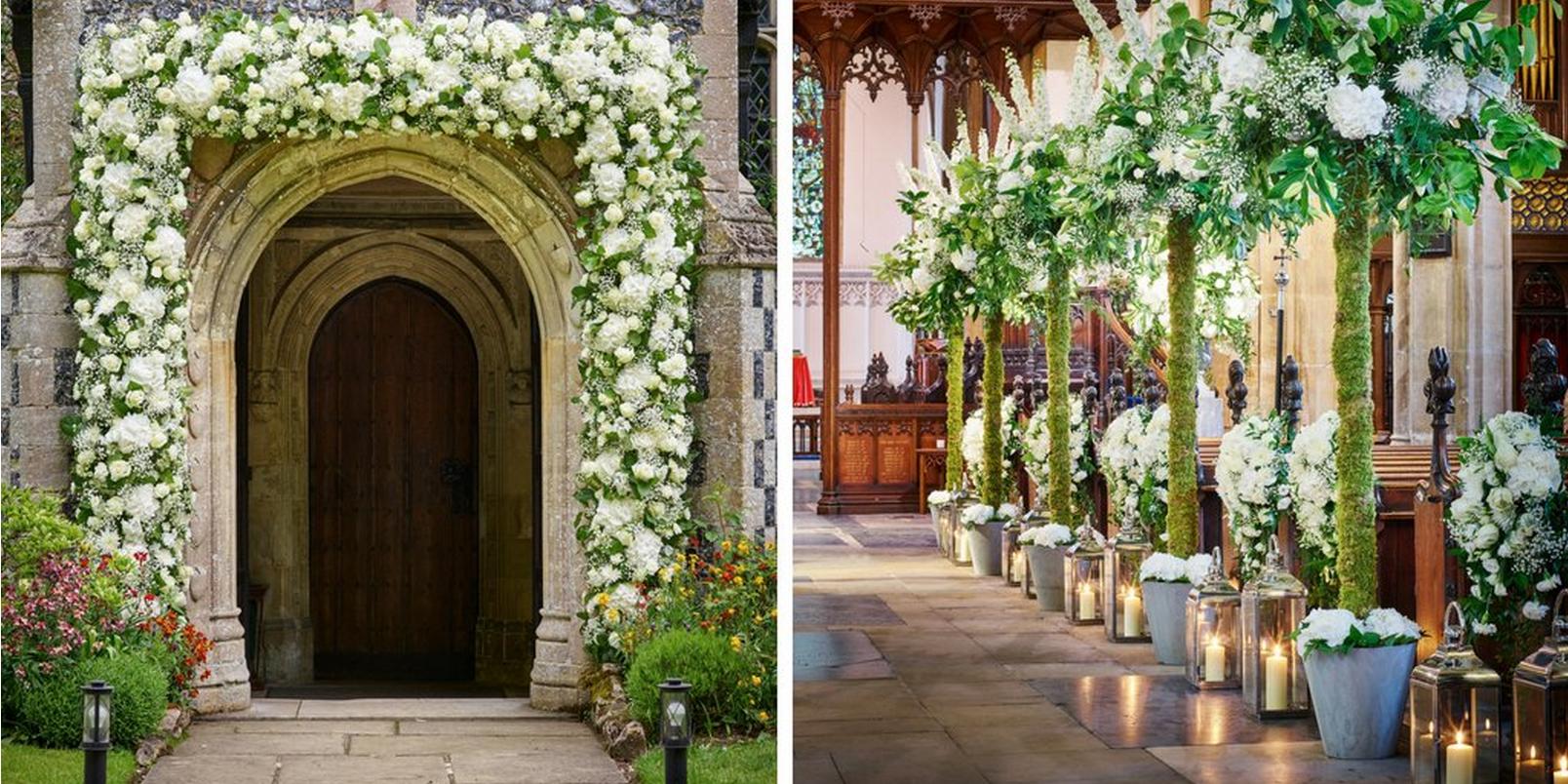 How do I keep my bridal bouquet looking fresh on my wedding day?
The warmer summer weather does bring with it challenges when it comes to keeping your wedding flowers looking their best. The best advice is to have your flowers delivered on the morning of your wedding day and keep your bridal and bridesmaid bouquets in a cool, shaded place whilst you get ready. During the day, when you no longer need your flowers to hand, pop your bouquets into vases of water- you could even double them up as decorations on the cake or gift table. If you plan to wear flowers in your hair, keep a spray water bottle on hand and give your flowers a light misting every couple of hours.