Wedding Cake Ideas with Real Flowers
26th September, 2017
More and more brides are choosing to use beautiful, fresh flowers to decorate their wedding cake and with good reason. Not only do they help to tie your wedding décor together, a few carefully chosen blooms can take a wedding cake from the mediocre to the magnificent.
Looking for ideas on how to decorate your wedding cake with real flowers? Let our expert florists inspire you.
Cascading Beauty
With its beautiful cascade of sumptuous roses and lisianthus this cake (below left) looks almost too good to eat. The design has been created using a combination of two-tone Miss Piggy roses and Sweet Avalanche roses in shades of peach and pink. This style of decoration is particularly effective on cakes with a good number of deep tiers but it can be expensive, depending on your flower choices and the amount of flowers needed. For brides on a more modest budget use more ribbon and fewer flowers to create a similar look for less (below right). Ask your florist to design a cake topper for the top tier and scatter rose petals around the base. It's a cheaper option but no less stylish.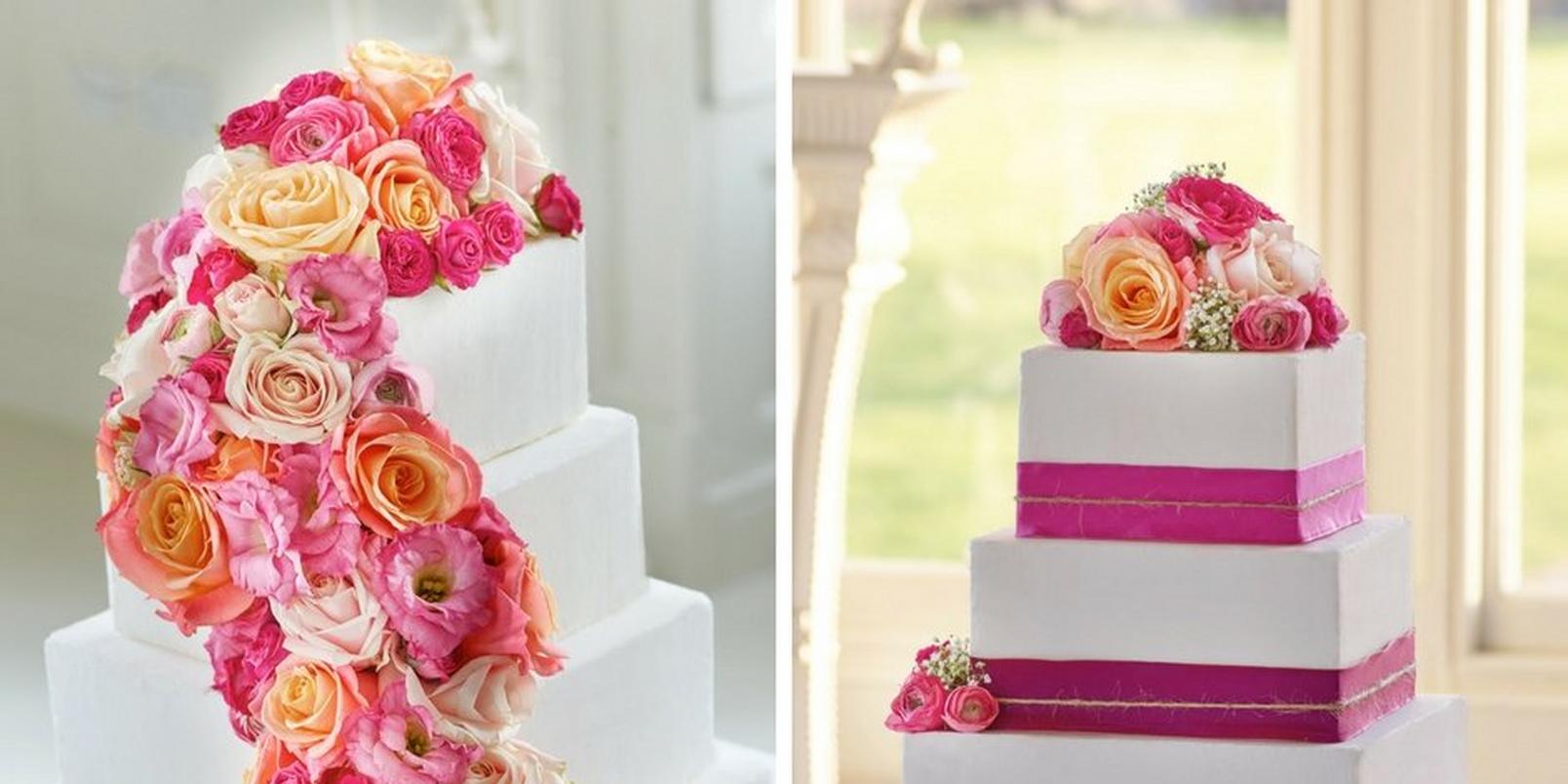 Fab Foliage
Some brides are shunning flowers altogether on their wedding day in favour of herbs and foliage. Get the look by using succulents and textured plant material to decorate your wedding cake. In this design each tier is edged with hessian and lace, before being decorated with sprigs of wheat and foliage. The inclusion of rosemary and dried bunches of lavender add a fragrant touch to this unique wedding theme.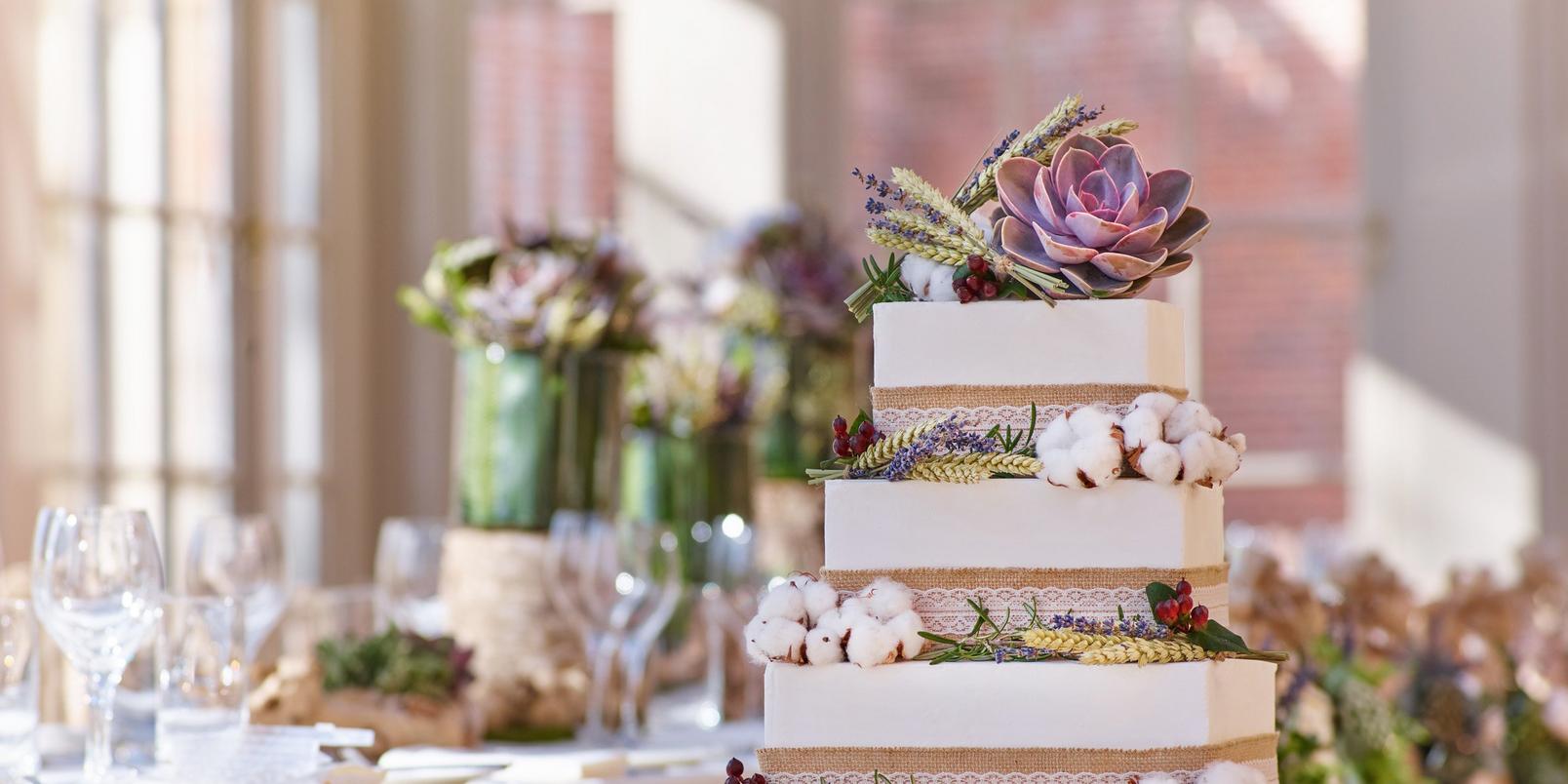 Pastel Perfection
A real show-stopper, this four-tier cake (below left) is made up of alternate layers of fresh flowers and iced sponge. The cake topper is a sophisticated combination of hydrangea and eryngium, with a single pink rose taking pride of place in the centre. Nestled between each tier are individual blue delphinium flower heads and gorgeous pink David Austin roses. Beautifully constructed with incredible attention to detail, this is one wedding cake design that will get your guests talking.
Just as irresistible as the big budget version, this more modest design (below right) shows how just a few well-chosen flowers can transform your wedding cake. Each tier has been wrapped with pink satin ribbon and decorated with delicate blue muscari and heads of eryngium. The base of the cake has been given added interest with large-headed pink Avalanche roses and a scattering of rose petals and confetti.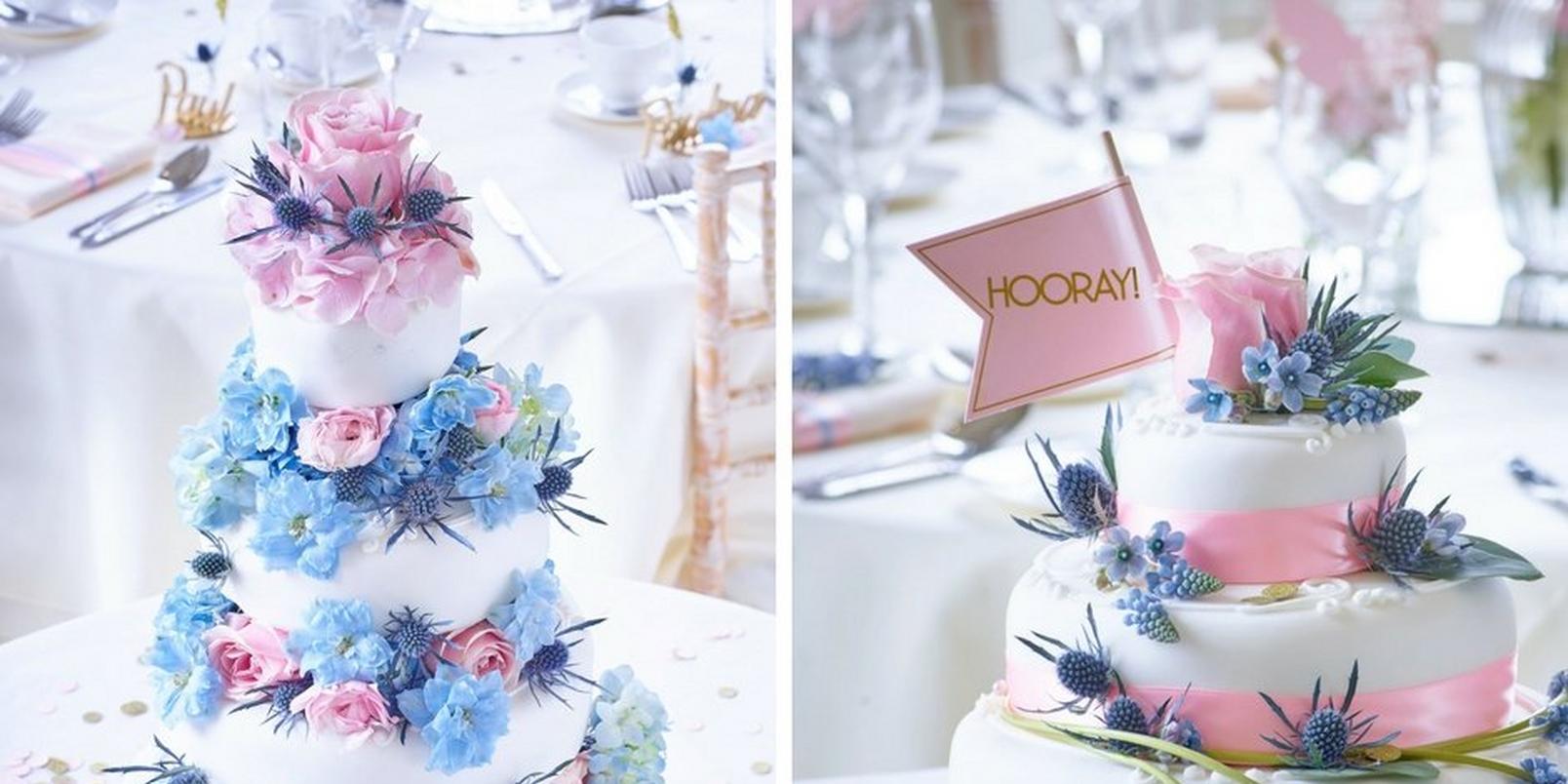 Timeless Elegance
Crisp white wedding flowers are a sophisticated choice and look glamourous when combined with grey-green foliage. Each tier of this towering wedding cake is decorated with a sprinkling of delicate white blooms while the classic pairing of roses and lilies create a sense of timeless elegance. A statement succulent plant is the perfect crowning glory. Picture perfect!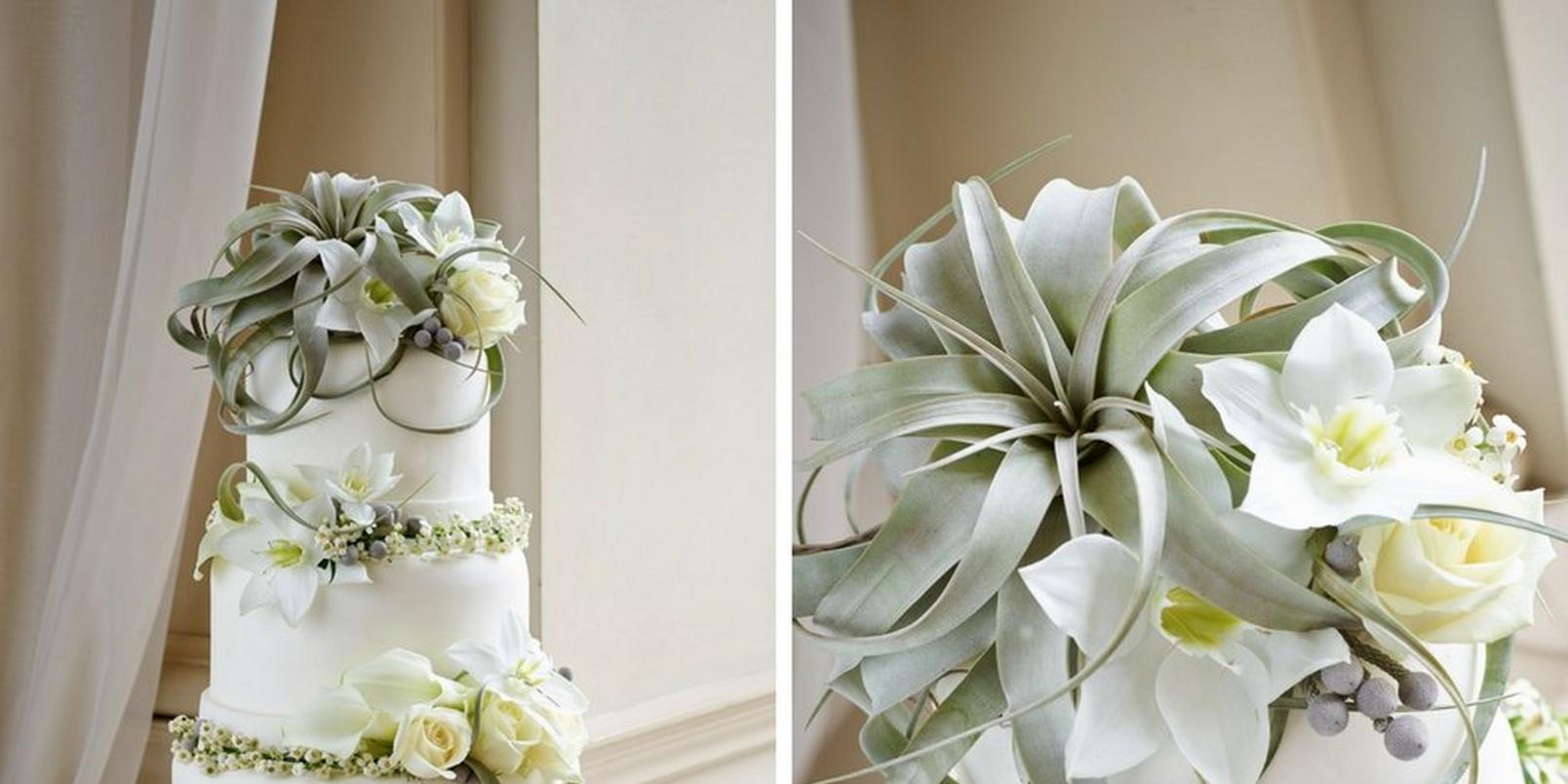 A touch of the tropics
This gorgeous design shows how the simple addition of fresh flowers can take your wedding cake from the so-so to the oh-so-fabulous. Here a plain iced wedding cake has been transformed by a wrap-around of tropical blooms including exquisite orange cymbidium orchids and fiery red nerines. The perfect choice for an exotic or beach wedding.