The World's Most Beautiful Flowers
26th August, 2020
What you consider to be beautiful may not quite match up to another person's expectations, but when it comes to flowers it's safe to say they're all contenders.
If we were to set up a flower beauty pageant, we'd have a pretty hard time picking a winner (and flowers also aren't that great at wearing a sash!).
From the oh-so-instagrammable peony to tulips that herald the beginning of a new season, here are our top 12 most beautiful flowers that you can enjoy by the vase full (we'd be here all day if we were to name them all!)
Most beautiful spring flowers
Those early days of spring are just wonderful – when the temperature starts to creep above 10°C and you no longer have to grimace when you hear that click of the heating turning on.
Spring is a sign of new life and change with greenery and colour exploding everywhere. With this in mind, here are just some of the most beautiful flowers to enjoy during this season.
Daffodils
We get to enjoy daffodils for just a fleeting moment but wow are they beautiful. These sunshine yellow blooms are icons of the flower world as they're instantly recognisable and are believed to symbolise rebirth and new beginnings – perfect for spring when we're all ready to retire our winter jackets and for a change in the weather.
These unmistakable flowers grow around the world, from Europe to South Africa and across the Mediterranean. Daffodils are also the national flower of Wales and are used to celebrate the country's patron Saint – St David – when the 1st of March comes around each year.
When gifting daffodils to loved ones, remember to always present them in a bunch. There's an old wive's tale that claims a single daffodil is an omen of bad luck! So, we say, the more the merrier!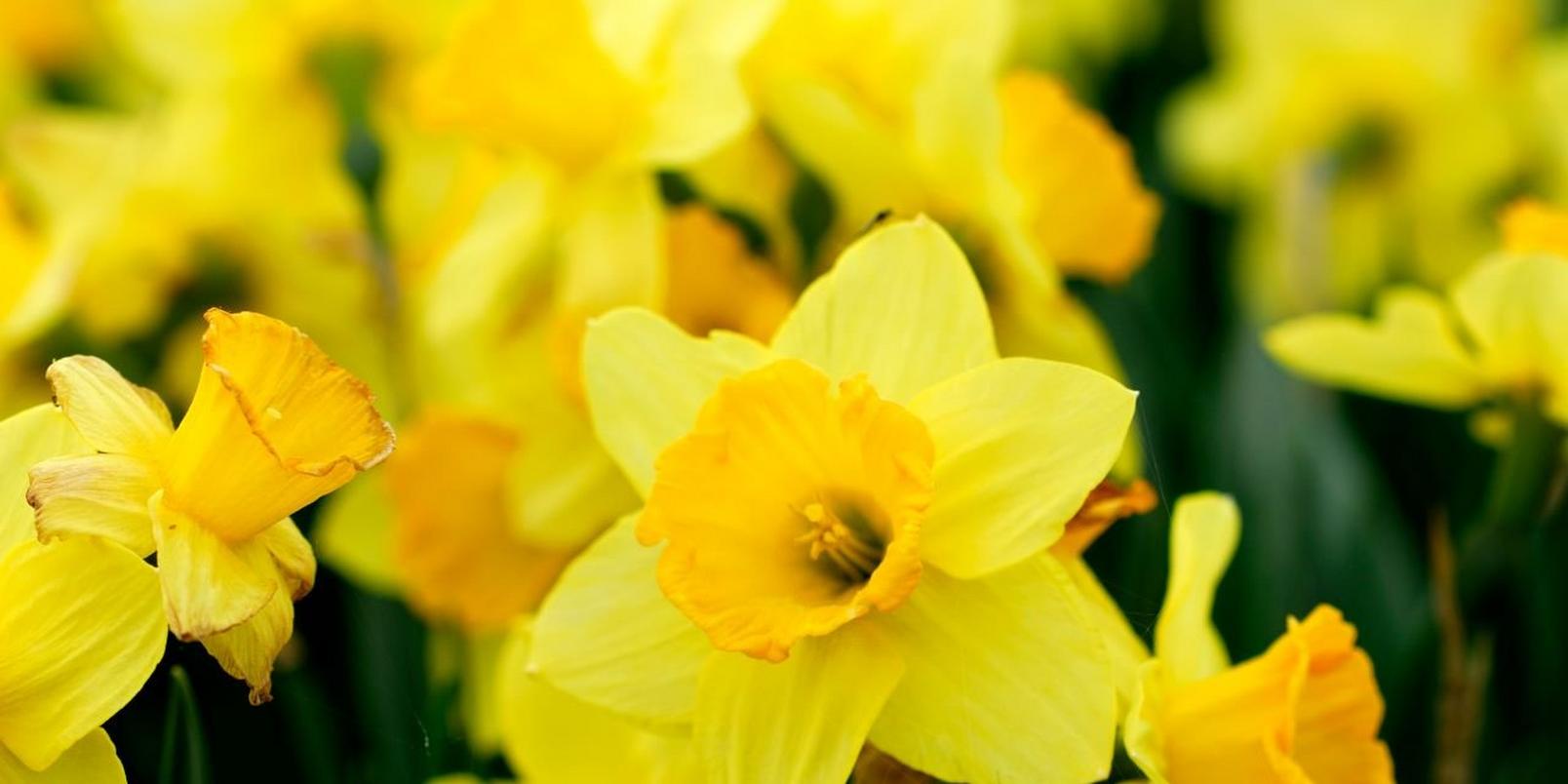 Tulips
You can't put a price on the beauty of the simple but elegant tulip but in the 17th century these beautiful flowers were worth more than gold!
Even now, the love for these colourful blooms hasn't gone anywhere. Row upon row of gloriously coloured tulips push up from the cool ground in Holland each year and look incredible in those spring bunches that we feature in our home.
There's no denying that tulips are one of the most beautiful flowers out there with single coloured varieties available as well as multicoloured hues for when you can't make up your mind. Sunshine yellow tulips bring an instant smile to our faces while vibrant orange shades are the perfect choice for a friend as they represent warmth and affection.
If you're in the doghouse, a bunch of white tulips is said to symbolise asking for forgiveness. We reckon you should throw in some chocolate too, just to be safe. Tulips even bloom in shades of black – the perfect flower for those of us still living our best emo lives.
Iris
When we see iris flowers we're reminded of the fun talking variety in Alice in Wonderland, with their yellow innards that look like a sweet face and tongue. Many of us recognise the irises that bloom in stunning shades of violet-blue with delicate petals that unfurl into three from the centre.
As well as the popular purple and yellow variety, irises also grow in white, yellow and blue shades. The flower has ties to Greek Mythology and the goddess of the same name, who acted as the tie between heaven and earth. It's said that iris flowers were planted on graves to call upon the goddess to guide loved ones to heaven.
Most beautiful summer flowers
Summer is when we enjoy some of the most beautiful flowers in all their glory. The long days and warm nights allow most varieties to grow without delay, ready for us to feature in vases on the kitchen windowsill or in bouquets in pride of place on the mantelpiece. Here, we've featured three of the most beautiful flowers that you can enjoy during the summer.
Peonies
Blink and you'll miss them – peonies only hang around for around four months of the year but are an always beautiful early summer flower. When we think of peonies, we conjure images of bikes with baskets and brown paper wrappings holding a big bunch of these beautiful flowers together.
You can enjoy these puffed up blooms between April and even up to July with many people choosing to feature them in their bouquets for those exciting early summer weddings.
If you're a guest at a wedding – or several summer weddings if all your friends seem to be tying the knot – peonies are a good choice as a gift, as they're said to represent a happy marriage.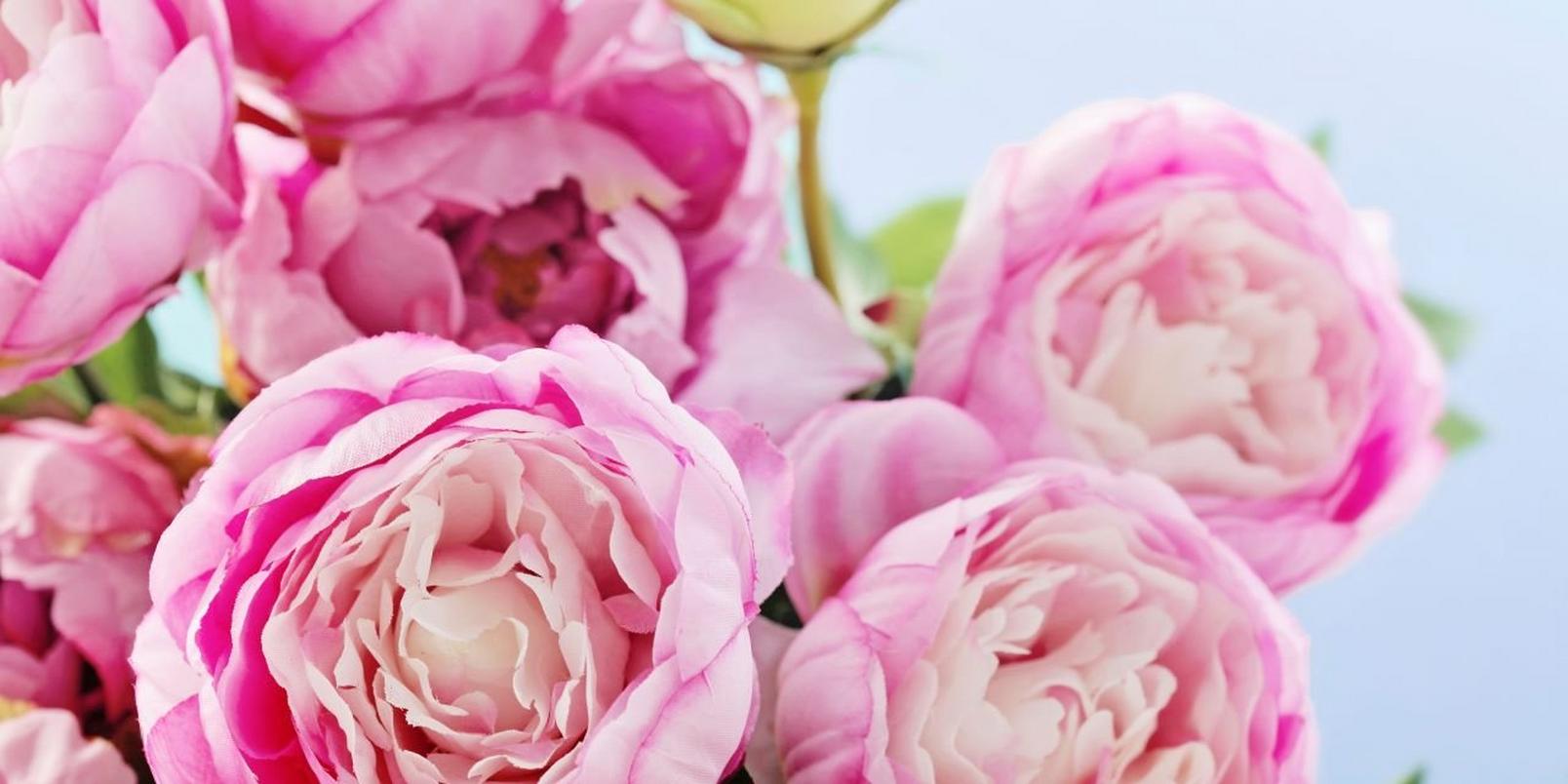 Oriental lilies
With a scent so powerful it could knock your socks off, oriental lilies are a favourite for the bold floral arranger. They're also one of the most beautiful varieties of lilies with their striking, oversized pink petals. Oriental lilies create a stunning display mid to late summer, adding a splash of colour to those sunny months.
This flower is also referred to as a stargazer lily, as – unsurprisingly – its open petals remind us of a star. While it won't grant any wishes, it does make for the perfect birthday gift for a close friend born in the summer. However, be careful if the recipient has dogs or cats, as these flowers are toxic to furry friends.
When these flowers aren't featured in a stunning bouquet, you'll find them growing up to 6ft tall and are believed to have been blossoming in gardens in Japan and Korea for over 3,000 years.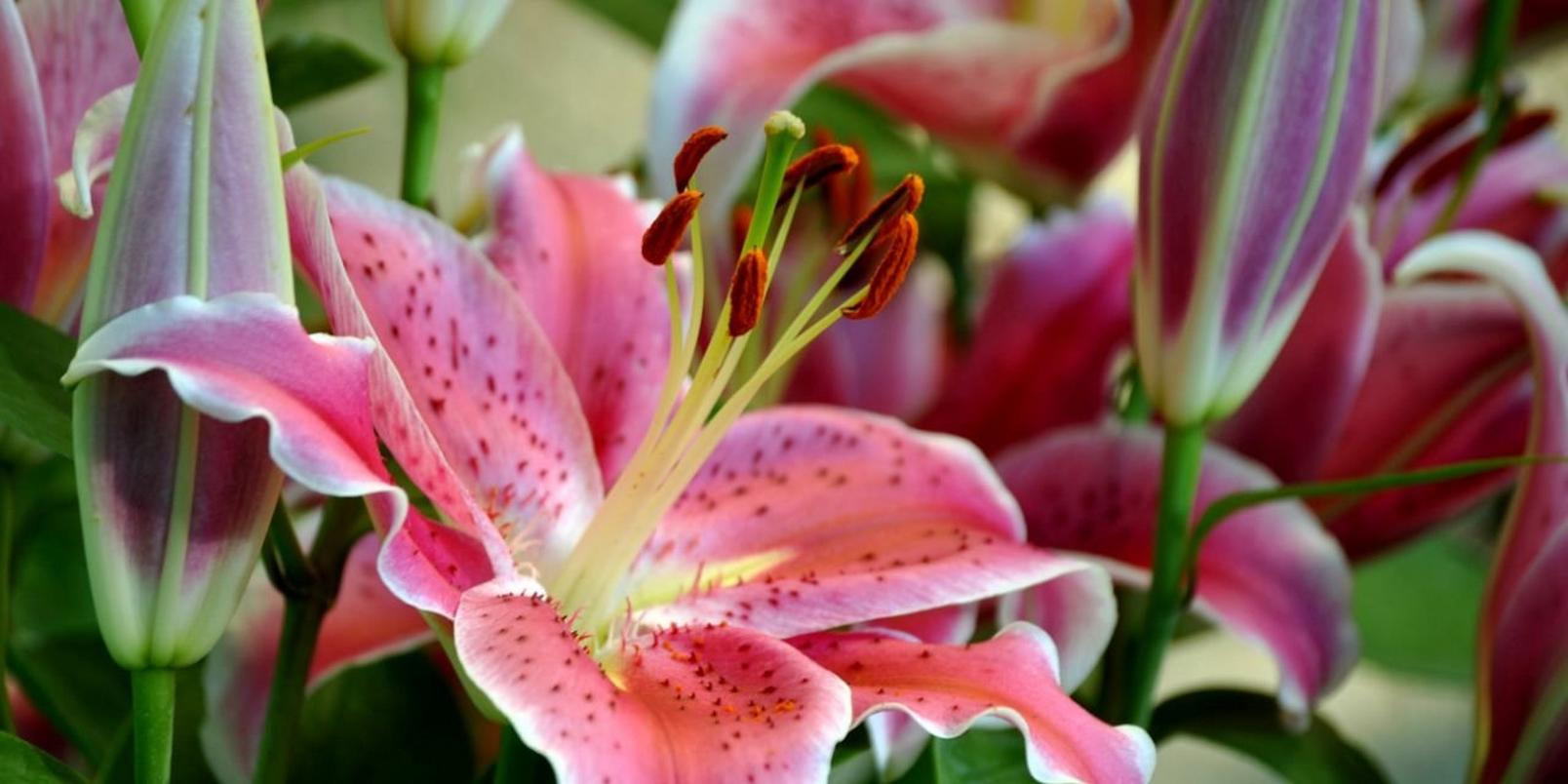 Gladiolus
Sometimes referred to as the 'sword lily' gladiolus makes for a cutting display in any bouquet or floral arrangement. Their long shape means they act as the perfect floral centrepiece – with no need for any backup from foliage or other blooms.
You'll notice the flowers grow in tight buds all the way up the stem before erupting and unfurling, like expanding foam escaping its container. Gladiolus grows in a wide range of colours too, from fiery oranges to moody purples to lusty reds that could rival any rose.
Due to their similarities in shape and size to a sword, it's said that gladiators in Roman times wore the flower's tubers (also called corms) in a necklace around their neck to protect them while in battle.
We're not sure the gladiolus could have stood up to a tiger when it entered the ring but it's safe to say these beautiful flowers have been spreading their message of strength for centuries.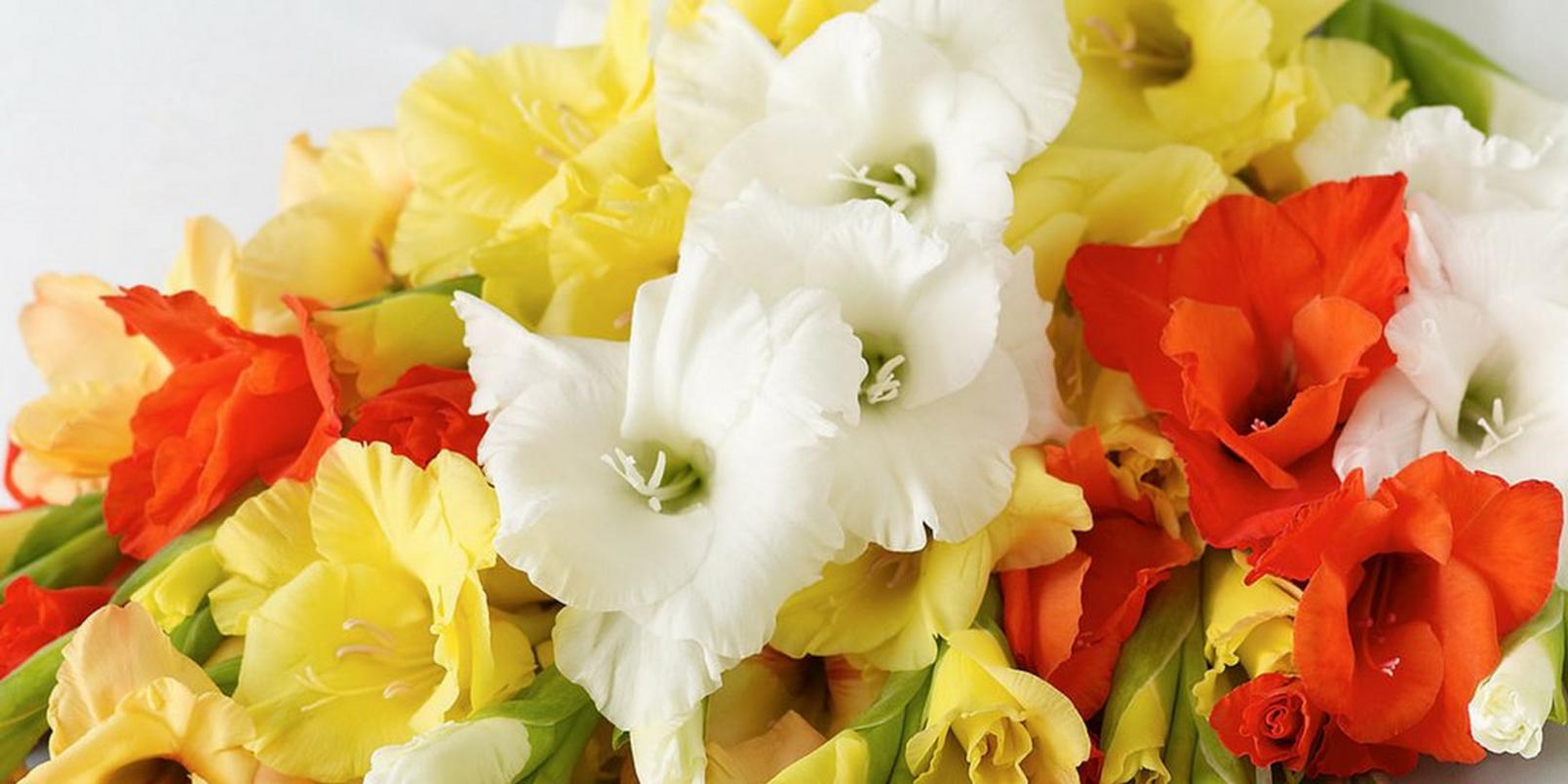 Most beautiful autumn flowers
Autumn may feel like a time when flowers are winding down and prepping for winter but there are still some beautiful flowers blossoming. While we've rounded up our favourite autumn flowers here, we've gone on below to feature some of the most beautiful from that list that look stunning in seasonal bouquets or your back garden.
Dahlias
As summer draws to a close and we look forward to those shorter autumn days of cosy nights in and celebrations such as Halloween and Bonfire Night, dahlias are truly in their prime. These striking flowers steal the show in any bouquet and there are so many colours, shapes and sizes to choose from.
If you're looking for something a little wild, opt for a cactus dahlia with its fun 'spiky' petals. They're the perfect autumn flower as their splayed out shape reminds us of fireworks, adding an explosion of colour to any floral arrangement or flowerbed.
Pompon dahlias are perhaps the most striking, with near-perfect, sphere-shaped flower heads and petals that curve inwards. If you're a Disney fan, you'll be reminded of the iconic Epcot Spaceship Earth ride that takes place in the oversized sphere at the park. Oh to be donning some Mickey Mouse ears and exploring Disney World – we can almost smell the funnel cake!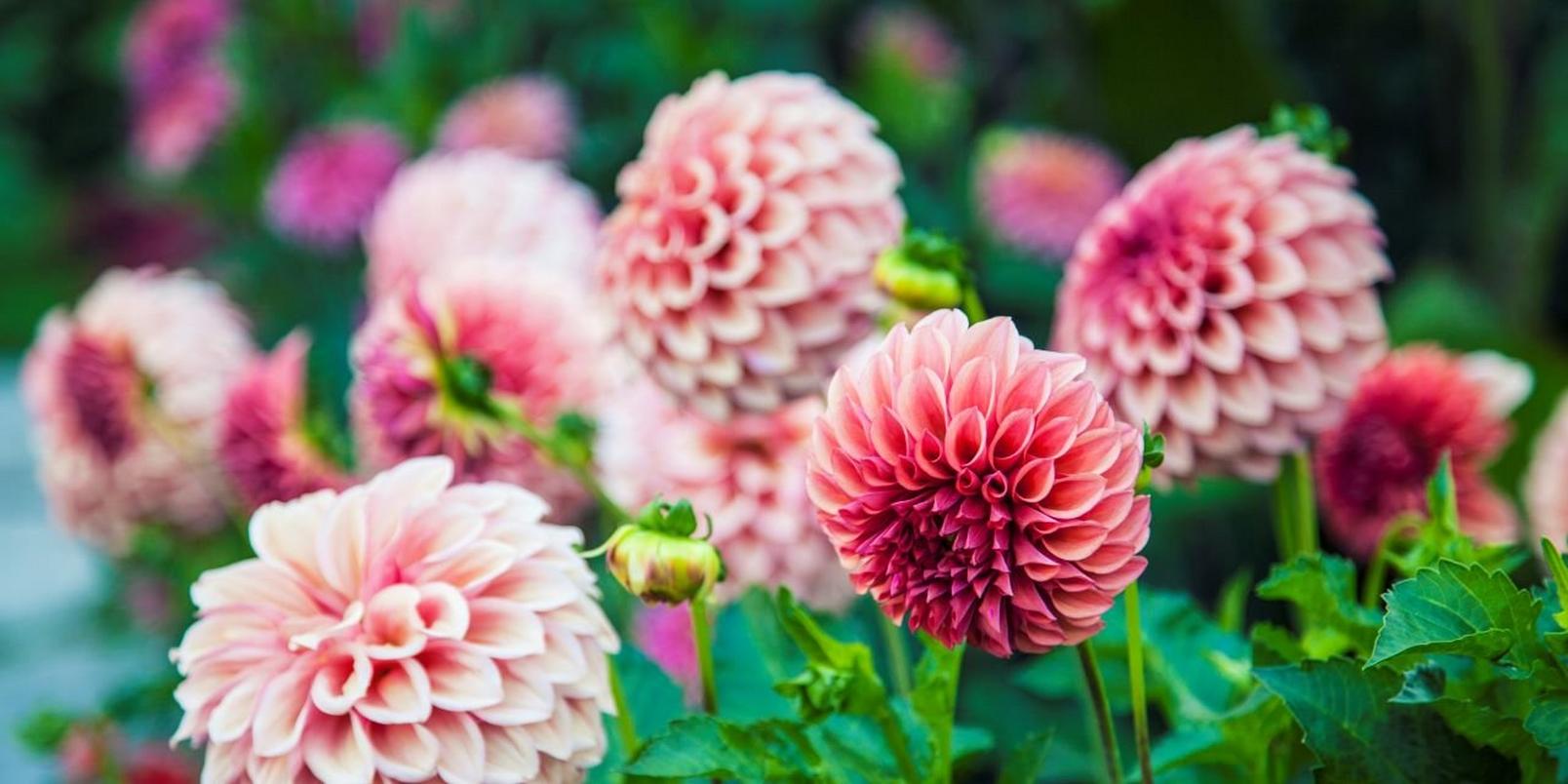 Celosia
Celosia is a firm favourite among our florists who affectionately refer to this striking but rather unusual flower as "brains" (it's easy to see why, right?)
Celosia grows in a wide variety of stunning autumnal shades from burnt oranges to deep maroon hues and yellows so bold they'd rival those on the changing autumn leaves. Celosias are also referred to as cockscomb, which is said to be because their shape is reminiscent of a cockerel's head and the fleshy crest that sits proudly on top.
You'll find it surprisingly difficult to stop yourself from touching this fluffy flower, we don't blame you for wanting to stroke its unusual fuzzy head should you receive some in a bouquet.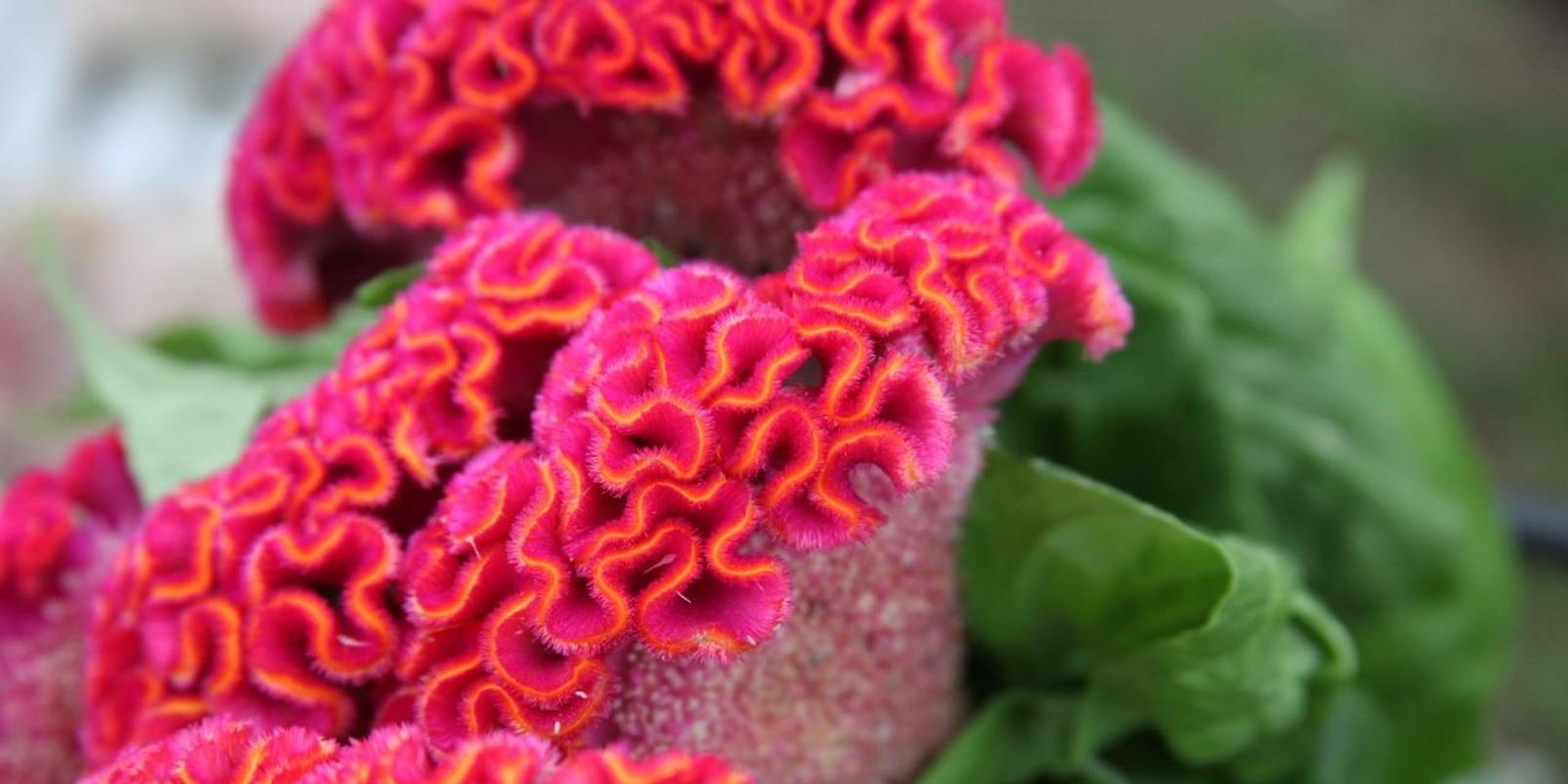 Kniphofia
Bonfire Night has nothing on the flame-like appearance of these stunning flowers.
Kniphofia – also known as the flame lily or red hot poker – grows in vibrant traffic light style red, orange and yellow colours. The flowers' shape and many rows of tight buds make us think of corn on the cob, although we don't recommend you throw these on the BBQ!
Kniphofia grows tall in gardens up and down the UK and we recommend featuring cuttings in amongst autumnal bouquets that include vibrant yellow and purple flowers.
The more you cut kniphofia as it blooms, the more flowers you get. It's the hydra of flowers but not the scary, many-headed monster type – more a vibrant display of colour and beauty that keeps coming back for more.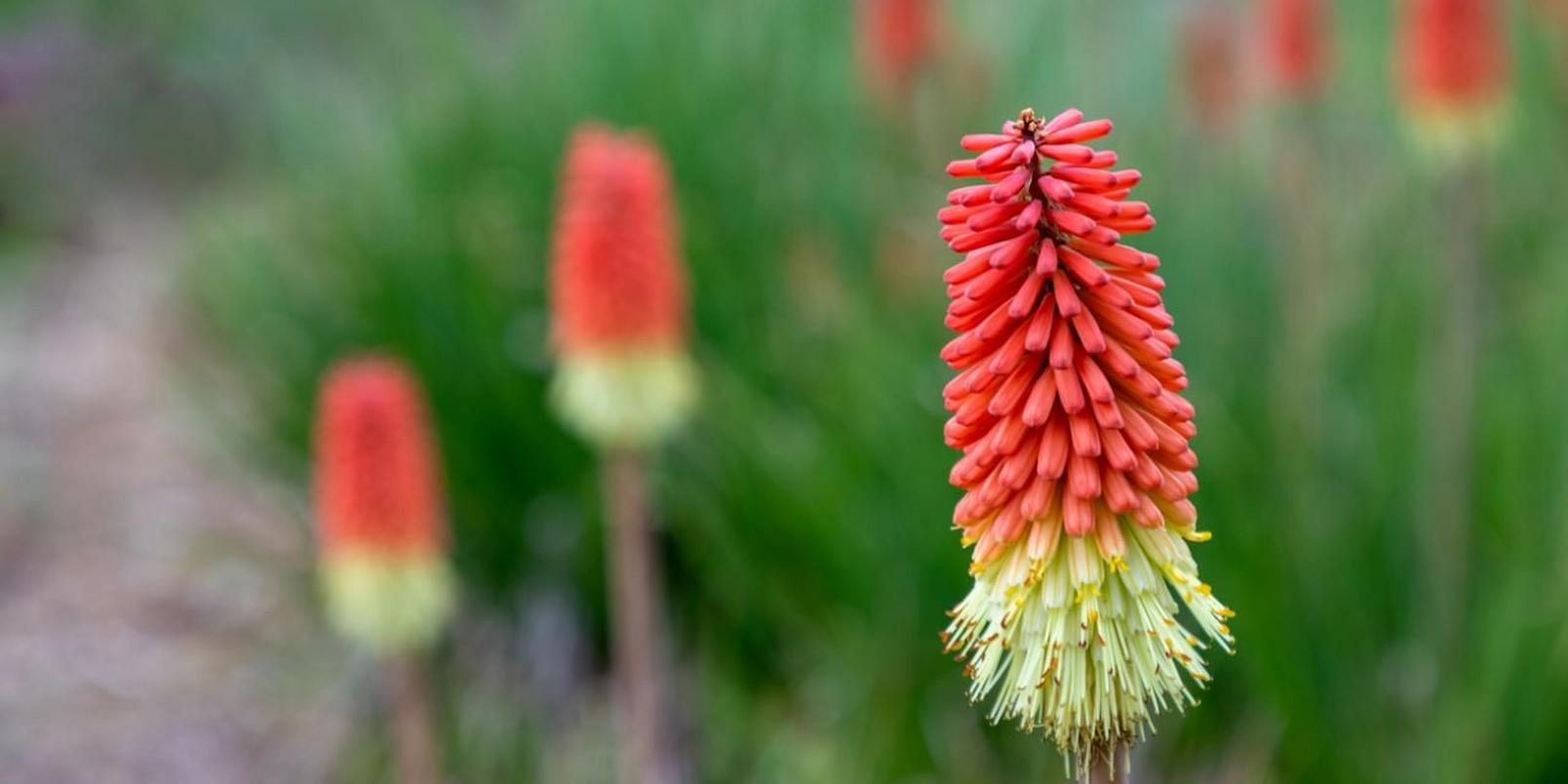 Most beautiful winter flowers
Winter may be a time where the earth feels a little barren and cold but there are still plenty of beautiful flowers to enjoy during those darker days. Some are hardy enough to venture out of the soil and into the snow, while others blossom all year round and are staples in bouquets whatever the weather.
Eryngium
Eryngium isn't a classic beauty but its appearance is striking enough to make it a wild card in any flower beauty pageant. This flower is also affectionately known as sea holly, likely because of its spiky petals and ocean-inspired colour palette.
While in bloom, eryngiums colour changes like one of those mood rings you perhaps had as a child. First, you'll spot their vivid blue colouring then over time this will change to a rich, dark green and finally a soft brown – perfect for late autumn and early winter.
Eryngium flowers are pretty tough, they can stand up to elements and even harsh conditions such as sea salt spray. Their prickly flower heads ensure they don't end up some passing animal's dinner but they're a favourite amongst bees and other insects.
Anemone
Dainty anemones – also known as the winter windflower – would likely be the judges' favourite in a beauty pageant. These delicate flowers always sit pretty, whether that be in the winter months in your garden or brightening up your home in a tall vase.
The species of anemone that unfurls its petals in the cooler months (anemone blanda) is blue or violet in colour, tapping into that winter colour palette. It reminds us a little of the aster flower, minus the vibrant yellow centre.
This anemone gets its name from the Greek for mild or charming (blanda) while 'anemos' means wind. However, there are over 120 varieties of this flower and each one is just as beautiful as the next.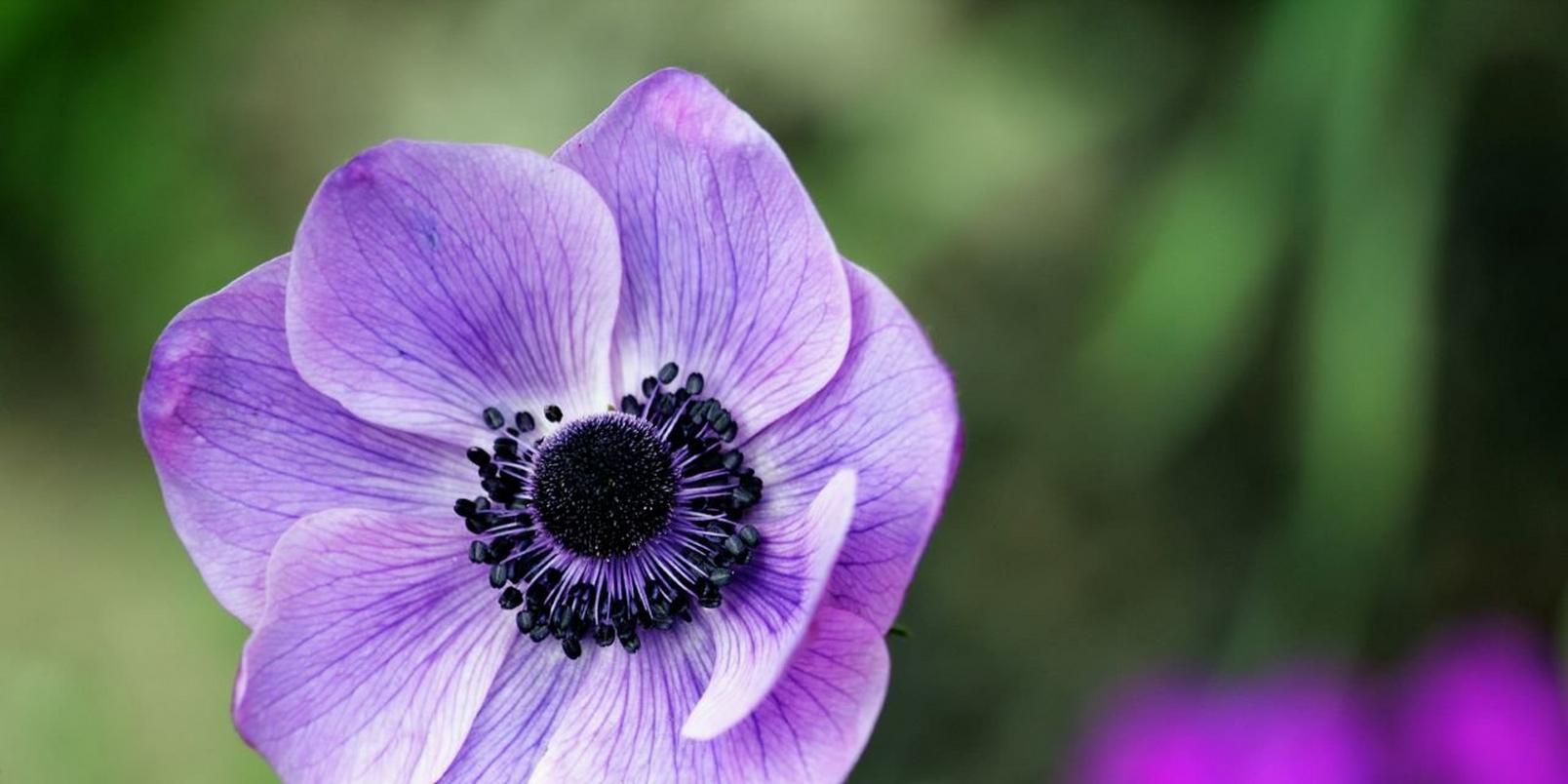 Amaryllis
A popular gift at Christmas time – usually chosen as an alternative to the usual poinsettia – amaryllis blooms in a spectacular festive colour palette of brilliant reds and snowy whites. Like an overconfident shepherd in a school nativity, these flowers steal the show in any festive bouquet with their oversized heads.
It's safe to say though that an amaryllis is for life, not just for Christmas – bulbs have been known to live for up to 75 years, producing vibrant flowers year after year! Plus, when the flowers bloom, they can also last for up to six weeks. This is a flower that requires some commitment and we're more than happy to put a ring on it.
Amaryllis is said to have earned its brilliant red colour from the Greek myth of Amaryllis and Alteo. Amaryllis loved Alteo and to win his affections she was encouraged to stand at his door each day and pierce her heart with a golden arrow.
It's definitely bolder than swiping on Tinder but it wasn't until a flower grew from her blood that she finally got her man. We don't recommend this method of wooing someone but you could give them an amaryllis flower to let them know you care.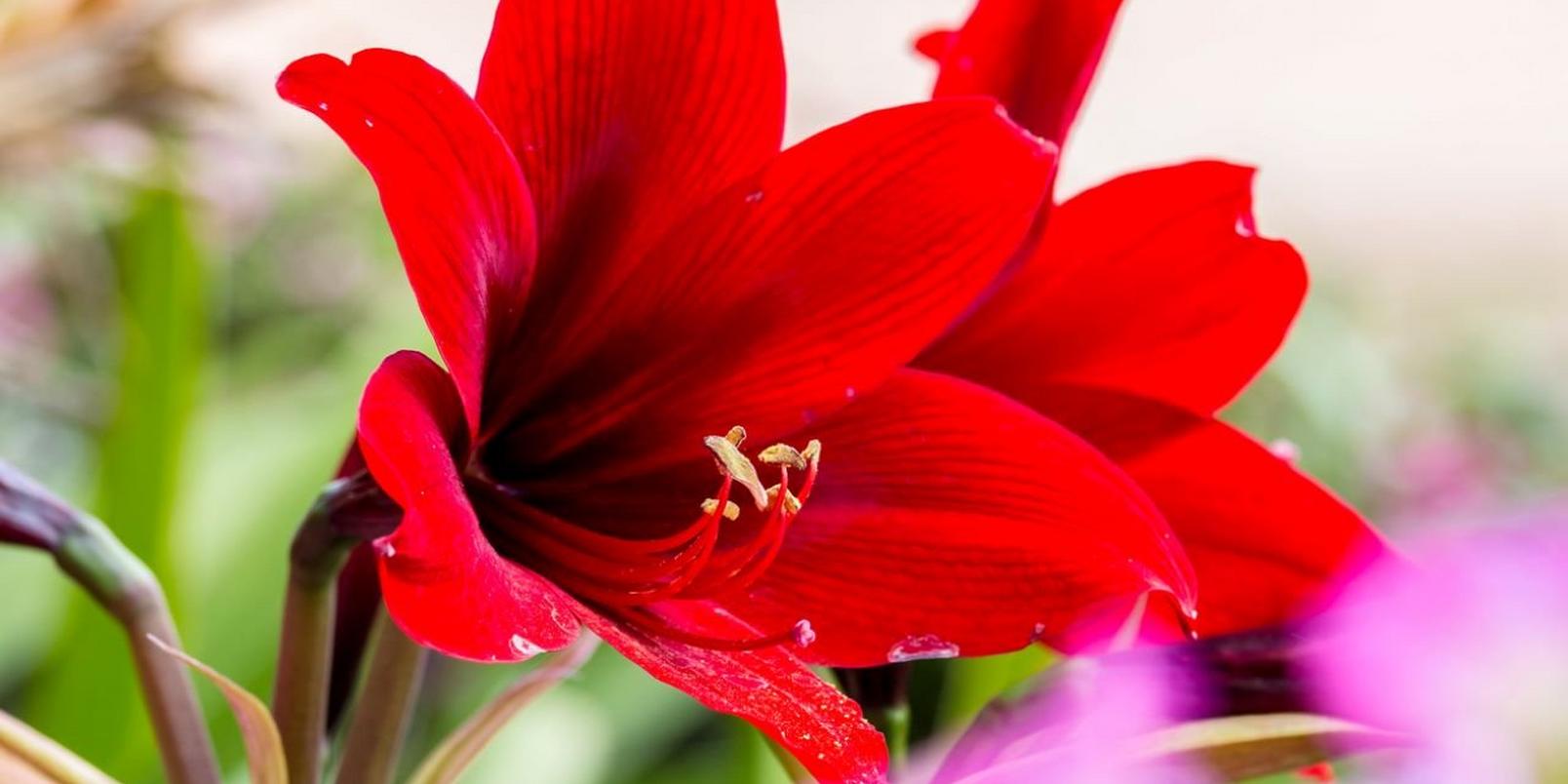 The winner – The most beautiful flower
Okay, so we said there couldn't be a winner if we were to enter all the flowers in the world into a beauty pageant – but...that's not entirely true.
There's one flower that is always striking in beauty, strong in meaning and loved around the globe. The rose. Even its petals are beautiful on their own, scattered across a date night table set up or leading a blushing bride up the aisle.
Roses are the very definition of beauty and love with their luxurious layers of petals that are silky soft to the touch. As well as the ever-popular red variety, roses also grow in pure shades of white, sunny yellows and pinks so bold they could definitely make the boys wink.
A single rose looks incredible but feature this flower in a large bunch and you have a display that could win anyone over. Plus, no two roses are the same (a little bit like our bouquets) – each flower is uniquely beautiful with petals that unfurl however they please.
Feeling clued up on some of the most beautiful flowers to consider for your next bouquet? Whether you're sending a gift in spring or looking for a way to add some summer vibes inside your home, consider these incredible blooms.