Birthday Decoration Ideas
9th December, 2023
When it comes to birthdays, you want the birthday decorations to be as special and unique as the person of the hour. Luckily, you can find plenty of birthday decoration ideas and inspiration growing in the garden. Even if you're not the green-fingered tight, or are limited on outdoor space, flowers can be a cost-effective but grand way to lift your next celebration.
Adding flowers to your birthday table decorations and overall theme is a wonderful way to throw in a splash of colour, a touch of beauty, and a whole lot of personality. From rustic and rural foliage to elevated floral elegance, there's just the right flower out there to take your birthday decorations to the next level.
Flower decorations to make your birthday a bonanza
Whether you're celebrating a blossoming baby for springtime, or a cosy winter birthday, there's always a flower in season that can help get everyone in the mood to celebrate. And, with a birth flower for every month, it's easy to pick the perfect petals for your party.
Flower arch
There are usually two types of party guests: the early buds and the late bloomers. However, with a breath-taking flower arch to greet your invitees, everyone will be arriving in style.
Perfect for spring socials and summer soirées, this is one birthday decoration idea that is easy to make yourself: all you need is a free-standing frame, cable ties or twine, and your favourite foliage to perfect this floral decoration. Make sure to choose a mix of big blossoms and petite petals to cover the arch.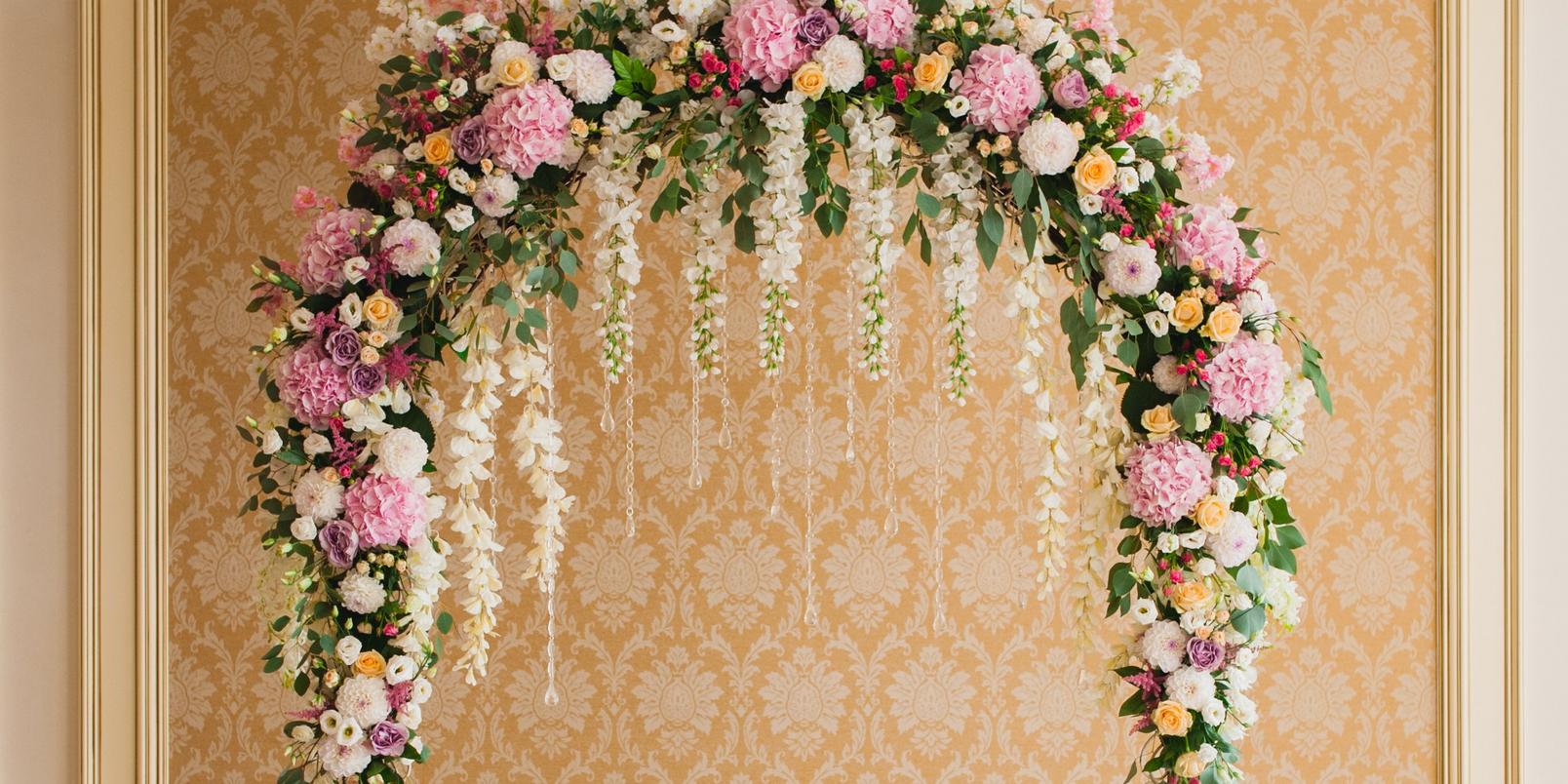 Flower photo wall
A picture is worth a thousand words, but flowers can carry a thousand meanings, so why not commemorate the special day with a photo taken in front of your bespoke flower wall?
Cram the flower wall full of roses for a surprise party your other half won't forget anytime soon, or dapple daisies of different sizes on the wall for some elegant floral decoration that's perfect for spring. This project requires a little bit more elbow grease, and some plywood and power tools, but it will all be worth it when you say "cheese" in front of your handmade flower garden.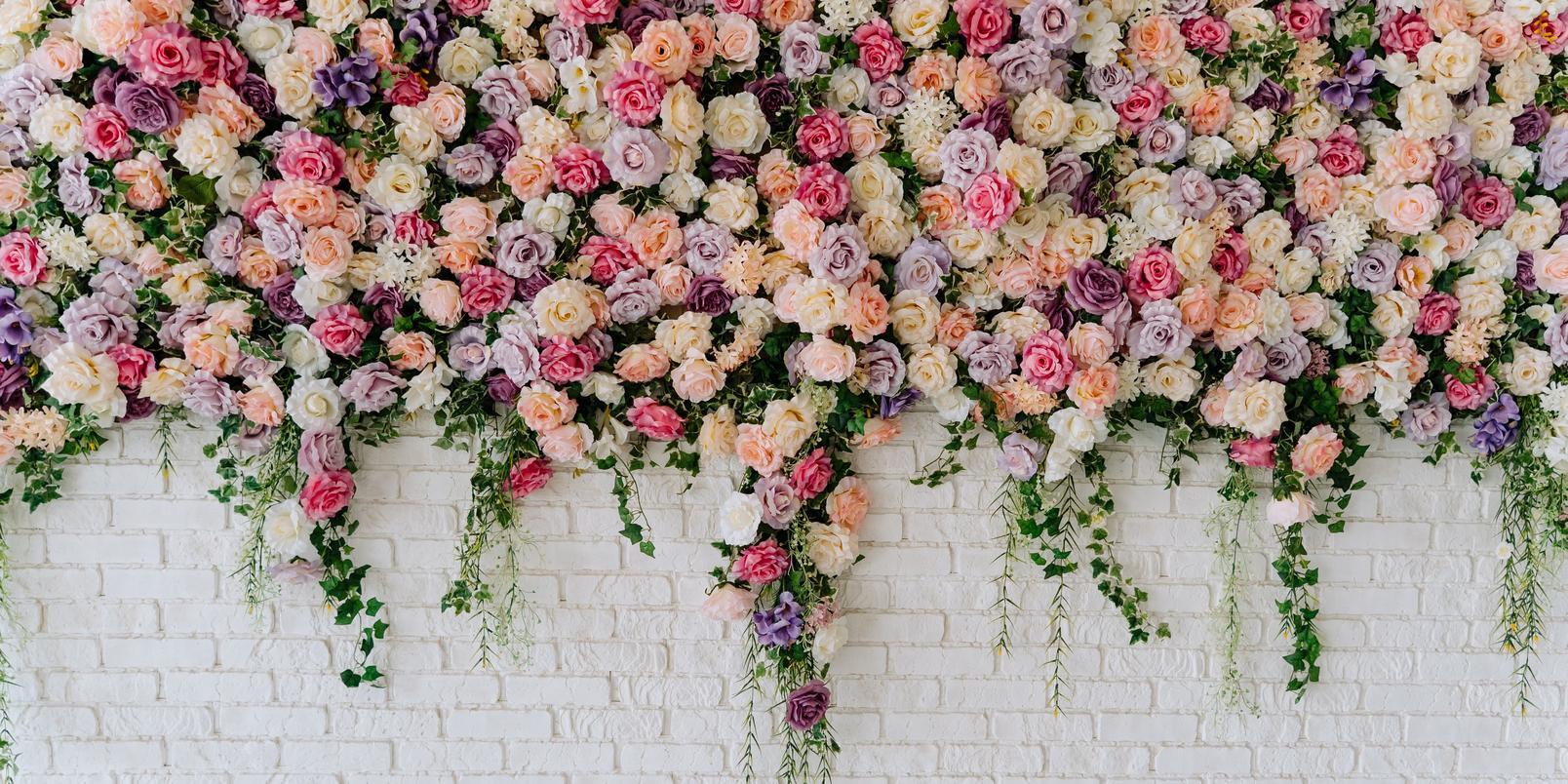 Flower garlands
Drape them, hang them, wear them: flower garlands are a simple but effective way to make beautiful flower decorations a part of your birthday on a budget. There are loads of flower garlands available for sale featuring fresh, faux and dried flowers, but you can also make your own. With just a little ribbon, florist wire and whatever blooming beauties you want, you can create dazzling birthday decorations that will light up any space.
Birthday table decoration
If you really want to go the extra mile, the flowery fun doesn't have to finish there. Keep the theme blooming with floral table decorations.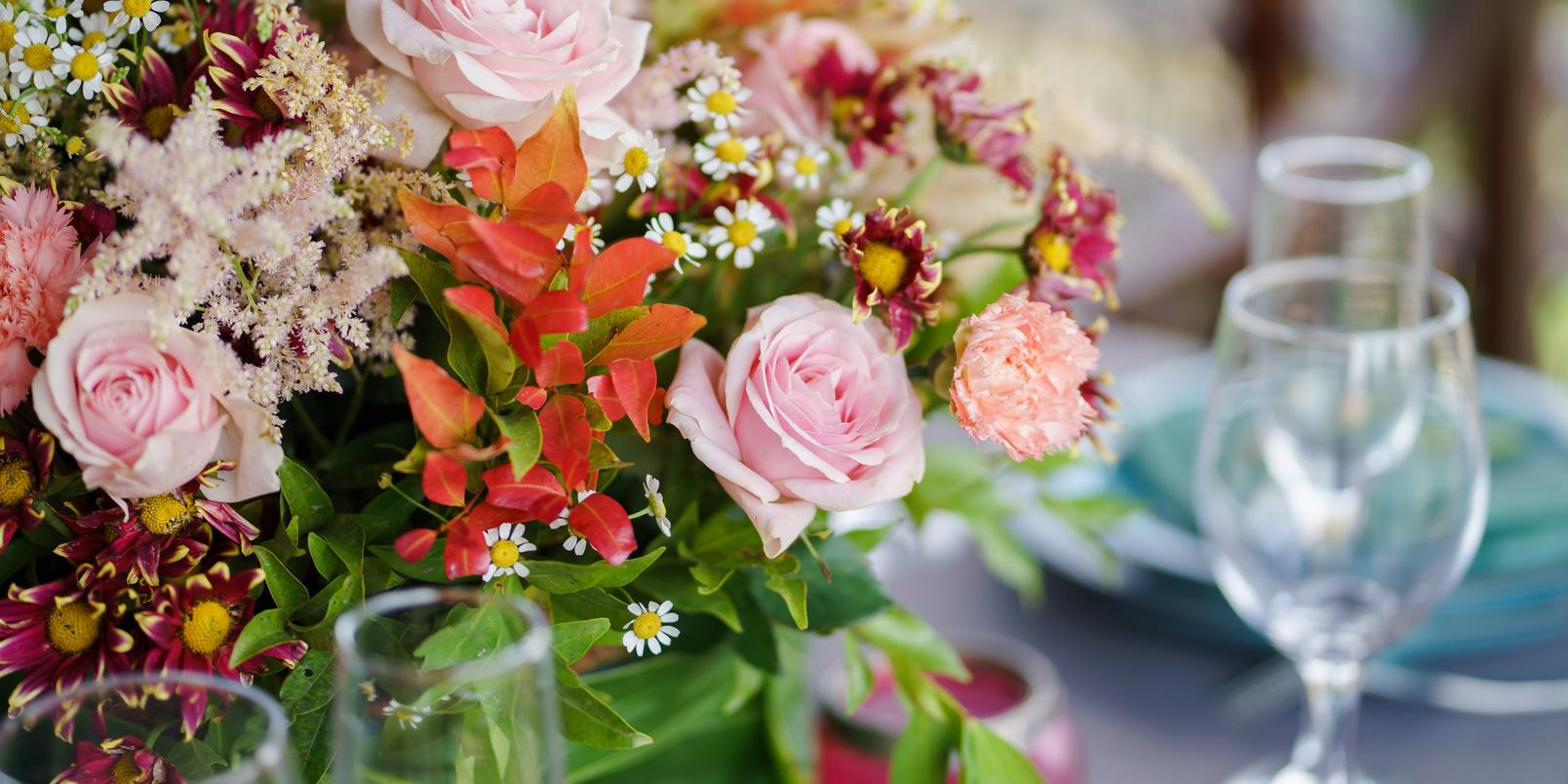 Floral centrepieces
An elegant centrepiece isn't just something beautiful for your guests to look at while they drink and dine, it can also be a great conversation starter. Whether you choose to arrange them artfully in a vase or transform them into a wonderful wreath, this simple flower decoration will tie your theme together nicely. Choose flowers that are symbolic to the birthday person or look for seasonal bouquets that match the colour scheme and time of year.
Flower confetti
There's no such thing as over-the-top when it comes to celebrating someone special, so let them know how fabulous they are with flower confetti. Not only is flower confetti completely natural and good for the environment, but it's a really fun way to create some fun photos and keep the party going. Plus, it's easy to make.
Simply dry out the petals of your chosen flower in the microwave and store somewhere cool and dry until you need them. Rose petals are popular for creating large confetti, while lavender is a good choice for smaller, aromatic confetti.
For the element of surprise, leave each guest a packet of confetti in their seat to be thrown at the birthday person later in the evening. You can also use flower confetti to decorate your tables, adding a splash of colour and class.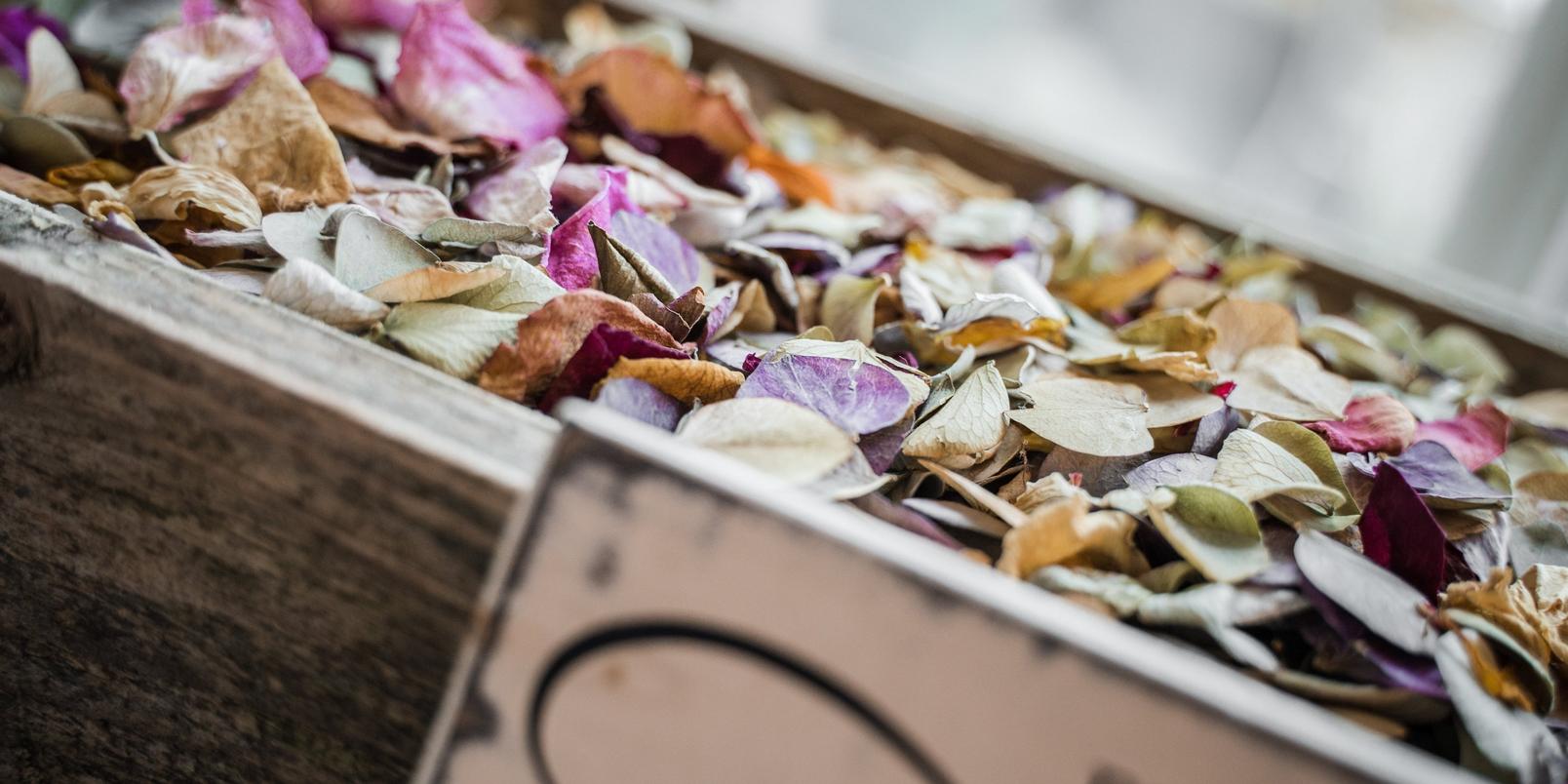 Pressed flower place cards
If you're celebrating a particularly important birthday, the sky's the limit when it comes to thinking up fun birthday table decorations. Special occasions like these are the perfect opportunity to go all out with beautiful pressed-flower place cards for each guest. Not only do they help you keep track of the organisation, but they're a cute keepsake that every guest can treasure.
To make your own pressed flower place cards, all you need is some acrylic frames, a paint pen, and whatever flowers you desire – pansies, violets and sunflowers are popular choices. Once you have pressed your flowers, simply sandwich them between the acrylic frames and write your guests' names on top.
Extra floral decoration ideas
You've come this far, let's go full flower power! Fresh flowers, paper flowers, edible flowers, a flowery dress code – the floral decoration ideas are endless!
Paper flowers
This is a great birthday decoration idea for the kids to get involved with. Making paper flowers is easy and fun to do and is a great low-budget way of maintaining the theme and squeezing as much beauty into the celebrations as possible. Use wallpaper, tissue paper, newspaper or even paper plates to craft these unique decorations.
Floral table names
If you're planning an especially big bash, then it might be fun to create a garden of guests. Send out a floral dress code for the party and name each table after a specific flower. Then, theme the place cards and floral table decorations around that. Plus, these flowery table names and outfits might come in handy later on if you have any party games planned.
Flower birthday cake
Everyone knows that the cake is the focal point of the birthday party, so incorporate a floral birthday cake with the rest of the flower decoration ideas. Make the cake in the shape of a flower, decorate it with fresh or fondant flowers, even use flowers to flavour it – this is a delicious way to stick to the theme.
Every occasion deserves to be celebrated with flowers, so using them in your birthday decoration ideas is a fabulous way of showing someone you care. If you're looking for more inspiration on how to celebrate a birthday, why not start by gifting a beautiful bunch of birthday flowers and show them how special they are.