Flower Birthday Cake Ideas
10th December, 2023
Let them eat cake! Well, who are we to argue? When it comes to birthday cake, everyone has a different favourite. Some people like to keep it simple, while others want to make a statement – just like with flowers.
Incorporating flowers into your favourite type of birthday cake can turn it into a real showstopper and allows your personality to blossom on your cake. Whether you want to decorate your cake with flower toppers or add some floral flavour, there's a whole garden of floral cake ideas to be explored.
Cake flowers – what you need to know
There are endless ways to use cake flowers: preserve them, crystallise them, use them to add flavour to the sponge. However, you need to make sure that you have the right flowers for the job. Not all flowers are edible, so be sure to do some research into edible flowers before you make them a part of your floral birthday cake.
If you're using fresh flowers on your cake, it's best to buy ones that have been organically grown. Better still, grow them yourself in your back garden – that way you know they haven't been treated with any pesticides. Make sure to wash them gently but thoroughly to remove any lingering dirt or insects. Giving them a quick rinse can also help prevent their colours from running into the cake.
If you're buying flowers, be sure they are fresh the day you intend on using them to stop them from discolouring or wilting.
Cake flower toppers
From children's parties to a special 70th, using flowers to top your birthday cake adds something a little different. Choose your favourite flower to sit on top of the cake, or even use one from your bunch of birthday flowers.
For a simple but effective design, choose flowers in whatever colours you like to sit on top of the cake. Wash and trim them so just the petals and a short part of the stem remain. Wrap the stem in floral tape and then let your creativity flow. Colours that contrast against your cake can make it pop, while shades that complement the cake can give an elegant and sophisticated look.
Why not attach your chosen flowers to some silver craft wire or a gold hoop? You can create a halo wrapped in lavender or a heart dappled with pansies. Or plant your own flower garden with daisies, dahlias and roses sprouting through green straws on top of a chocolate frosted birthday cake.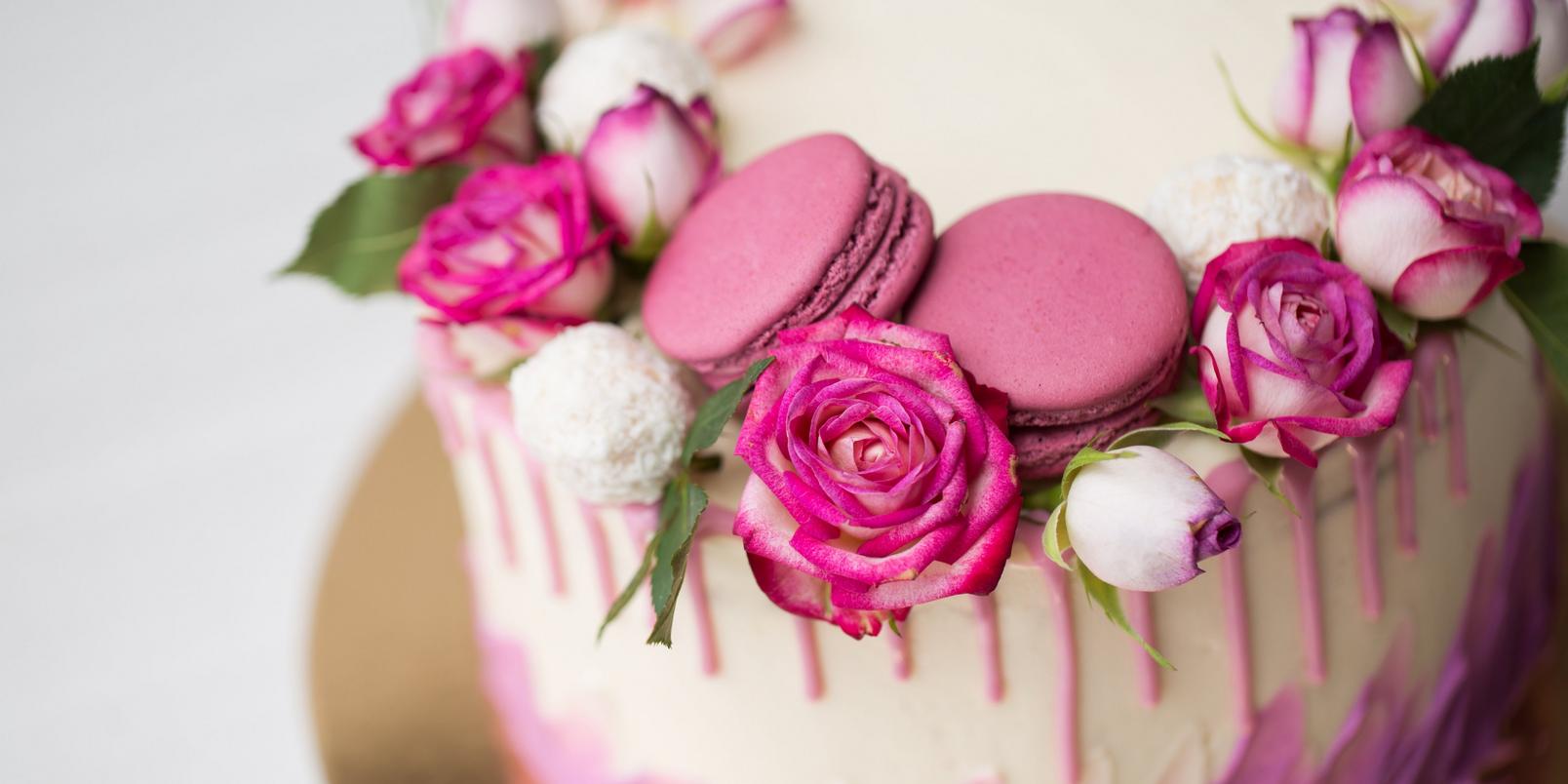 Fondant flowers
If your favourite flower is out of season, simply create it yourself by decorating your birthday cake with fondant flowers. You don't have to be Britain's next best baker to make fondant flowers and they can make a tasty impact on your cake.
The simplest and most popular fondant flower to make is the rose. Delicate, dainty and delicious, fondant roses add a splash of romance to any birthday cake. Plus, they come in a range of colours when they're grown in the garden, so they will always fit the party theme.
If you feel like more of a challenge, you can buy floral cutters and sugarcraft tools from specialist baking shops to create more intricate fondant flowers, such as peonies, sunflowers and lilies. Just add food colouring to your fondant to create the colours you want. For an extra burst of flavour, mix vanilla extract or lemon oil to your fondant flowers.
Bringing pizzazz to naked cakes
We love naked cakes. Soft sponges and colourful layers do all the talking. However, nothing tops a naked cake better than some delicate flowers to tie the look together.
Fresh flowers are best to complement a naked cake as their natural beauty offsets the rustic and pared-back appearance of the cake. If you're using berries to flavour your cake, why not choose flowers in delicate shades of pink and red to match the colour of the icing? For vanilla, flowers in any shade will add bursts of colour to your birthday cake.
Instead of a topper, having fresh flowers cascading down the sides of your naked cake is a great way to make your birthday cake stand out from the rest. This looks especially effective on tiered cakes – plus it has the extra bonus of hiding any cracks or uneven sponge.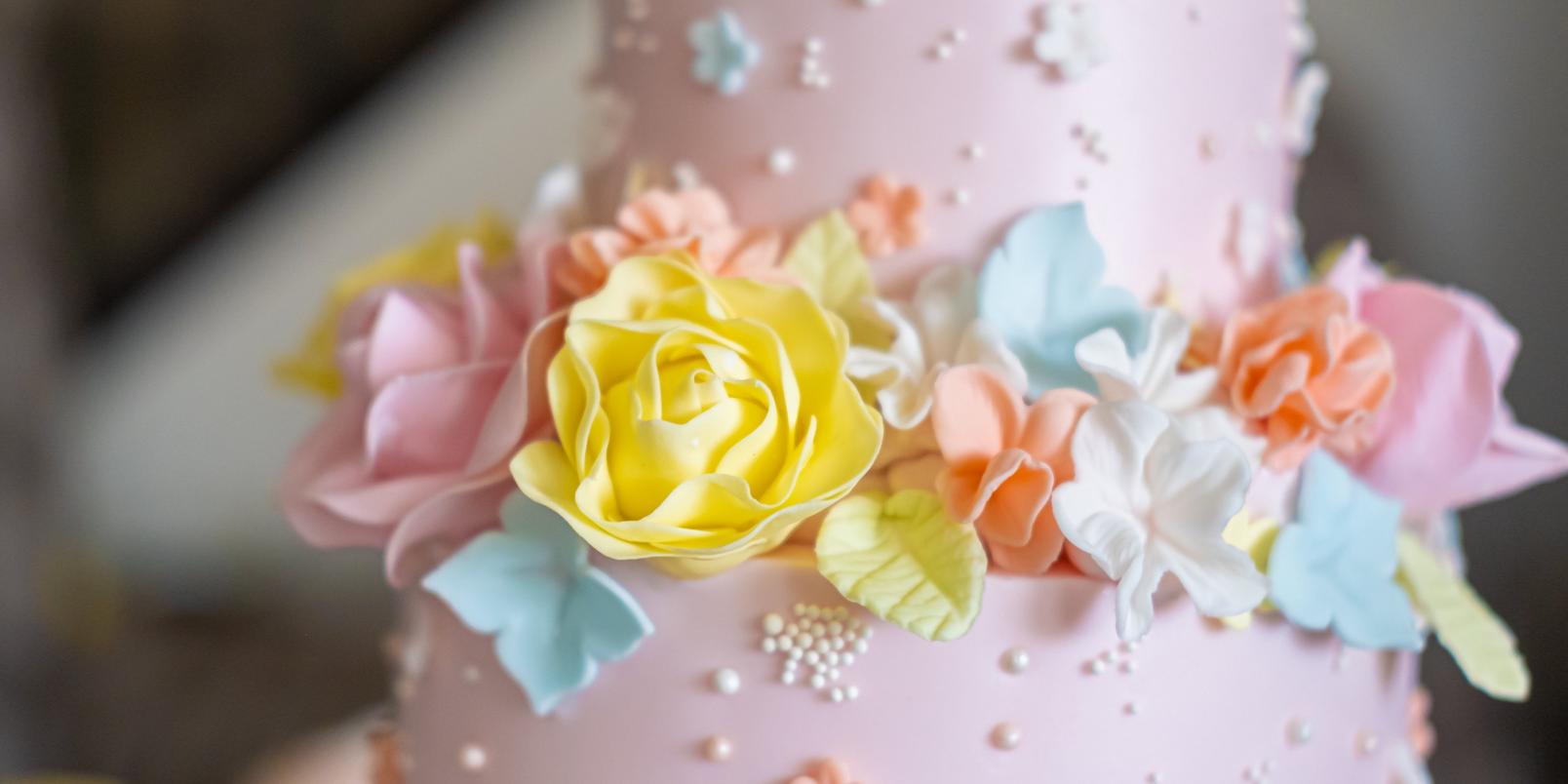 Flower meanings
We all know flowers can say much more than words, but did you know that every month has its own birth flower too? Just like star signs or birthstones, birth flowers send their own special message and can add a thoughtful touch to your flower birthday cake.
For those born in August, cascade gladioli down the side of the birthday cake to represent their strength, integrity and generosity, while decorating with violets will symbolise virtue, modesty and humility for February birthdays.
Of course, if they're born in a month where their birth flower is inedible (sorry March babies) there are plenty of other flowers to decorate their cake with. Orchids are an excellent choice: not only do they come in a range of stunning colours, but you can eat them too. In fact, they're where vanilla comes from.
If you want your flower birthday cake to have a special meaning for someone in particular, choose yellow orchids for your best friend's cake flower topper, white for your child's first birthday, or purple for an admired grandparent.
Floral flavours
To really stand out from the crowd, why not incorporate flowers into the flavour of your birthday cake?
Lovers of Turkish delight might want to infuse their sponge with rose water and take their tastebuds on a trip down memory lane. Decorate with soft pink fondant flowers or even crystallised rose petals to complete the birthday cake of their dreams.
For a French fancy, lavender is another floral flavour that you can mix into your birthday cake. The delicate taste of the lavender goes well with something sharp like lemon and allows you to decorate your cake with fragrant sprigs of lavender interspersed with vibrant zest.
Elderflowers make ideal flowers for cakes because of their delicate beauty and distinctive flavour. If you're a cocktail lover, then soaking your sponges in elderflower liqueur can add a real punch to proceedings, while keeping the decoration sophisticated and subtle.
Preserved flowers
Preserved flowers can be just as effective as fresh flowers on a cake. If your favourite flower is out of season, or you want to repurpose those wedding flowers you saved from your bridal bouquet, then they can become a beautiful cake topper for your next big birthday.
There are many ways to preserve flowers, and all of them are straightforward to do. Flowers that have a special place in your heart can be used again and again once they have been preserved.
However, for a more delicious twist on preserved flowers, why not crystallise your own petals? This keeps them looking their best for longer, so even out of season flowers can be crystallised and kept for up to a year, as well as adding flavour and texture to your floral birthday cake. Try it using mint leaves, rose petals or apple blossom.
It can be hard coming up with fresh birthday inspiration every year, but flowers really are the gift that keeps on giving. From a birthday bouquet to a deliciously decorative flower birthday cake, consider making flowers a regular part of your celebrations.