8 wedding flower trend predictions for 2021
24th December, 2020
With many 2020 celebrations disrupted due to coronavirus 2021 is set to be a busy year for tying the knot – pandemic permitting of course. So, what gorgeous blooms are we expecting to see gracing aisles and bouquets? We had a chat with a few of our artisan florists to find out what flowers they think will be big on the big day.
#1 Micro weddings with meaningful arrangements
All the cancellations and postponements of 2020 means many couples are now more focused on what really matters: a celebration of love with their nearest and dearest. That, plus possible restrictions on gatherings, means we expect to see more micro weddings in 2021. But that doesn't mean micro flowers. Instead, we expect couples to put even more thought into their blooms – making sure they're meaningful and appropriate for creating an intimate atmosphere.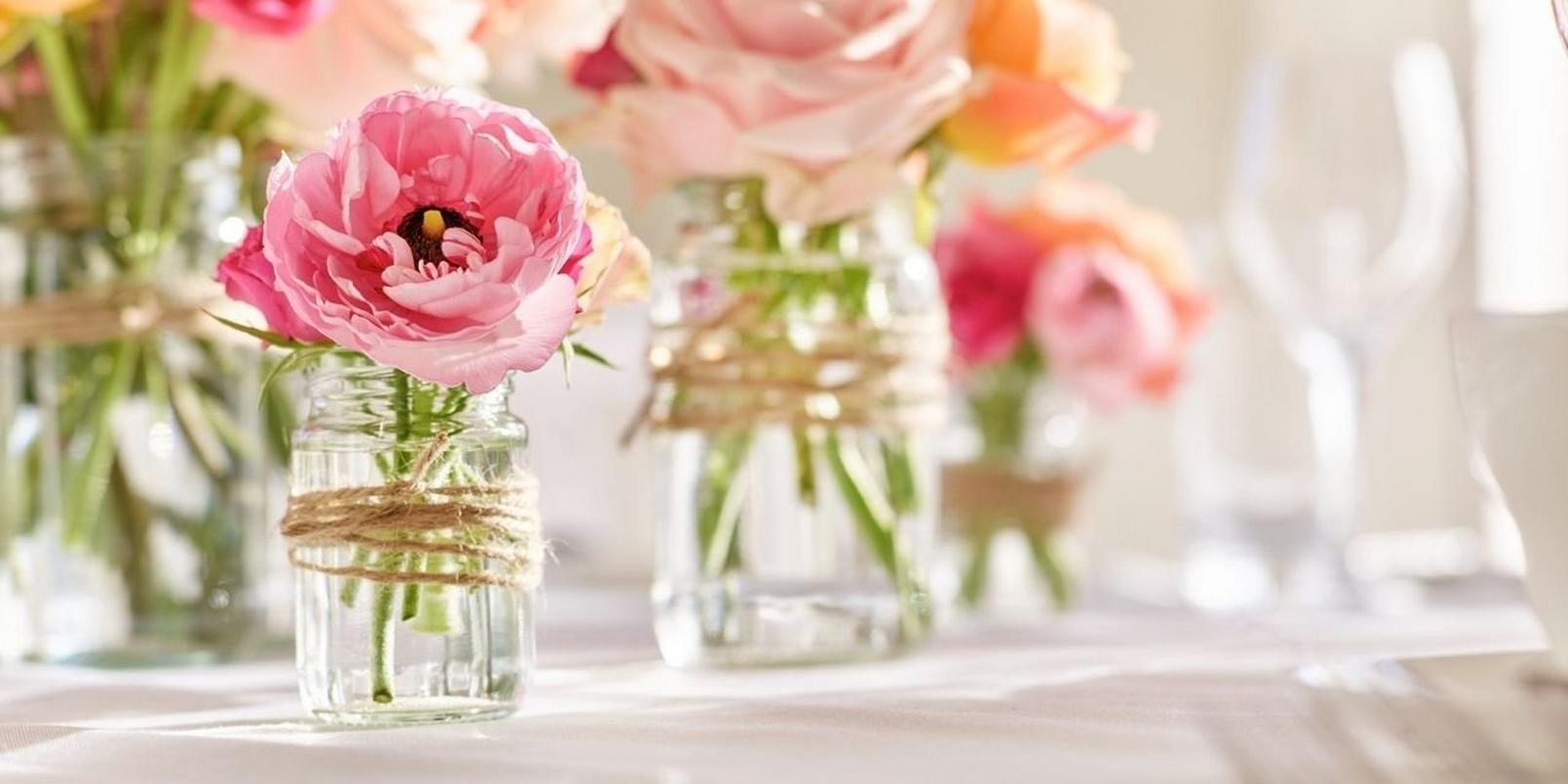 #2 Macro weddings where more is more
In the other camp will be couples who had their wedding dreams dashed in 2020 so they're planning to go bigger and better in 2021. At these celebrations more is more.
Steve Betts, from Urban Design Flowers in Birmingham told us "We're expecting to see some real floral fairy tales with blooms absolutely everywhere – from show-stopping table centres to striking floral arches as couples strive to put on the party of the year."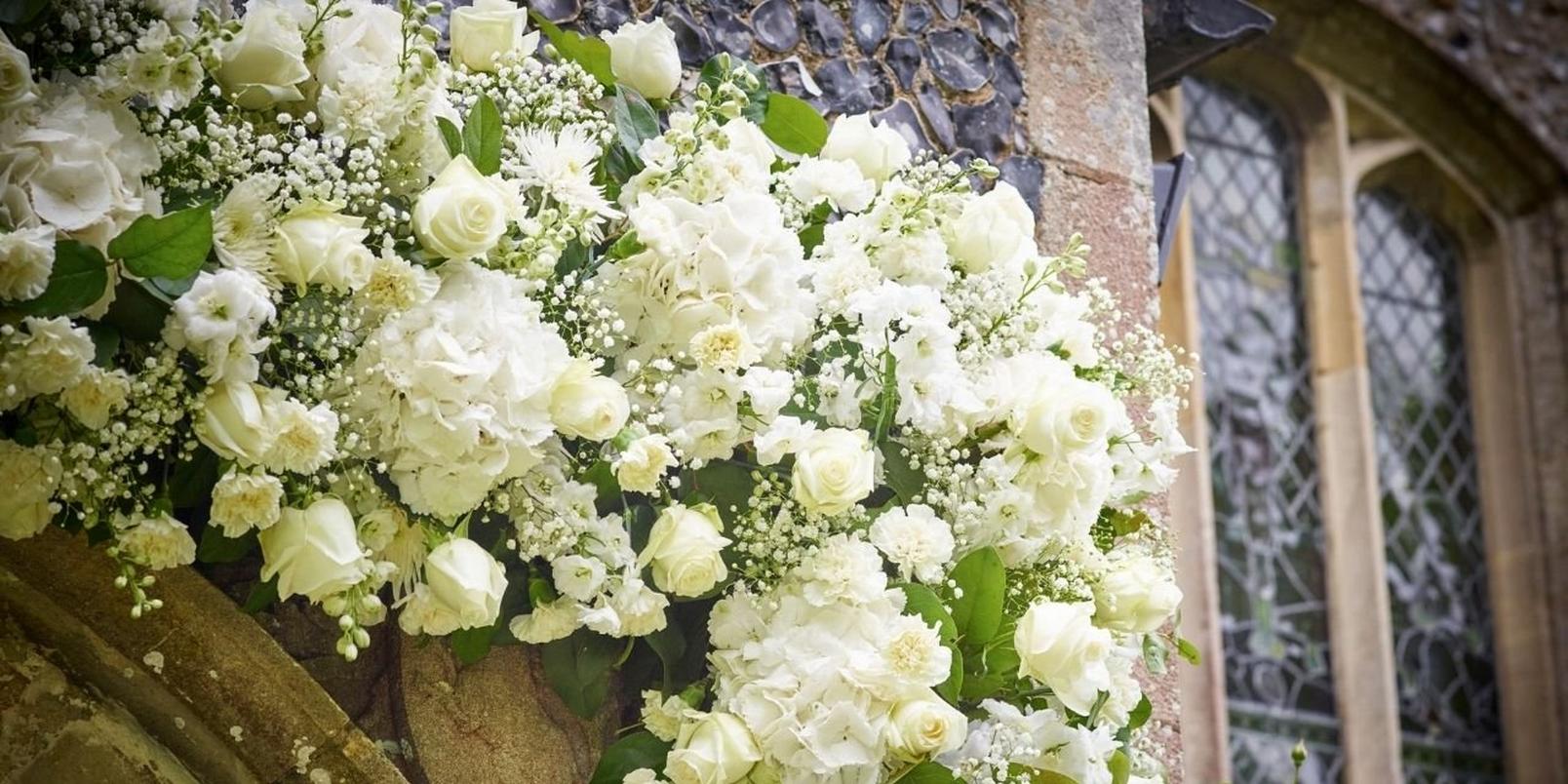 #3 Pantone Colour of the Year
The colour gurus at Pantone have picked two colours they think we'll be seeing more of in 2021: Ultimate Grey and Illuminating (an uplifting shade of yellow).
For a wedding the Pantone colours make a striking combination, perfect for setting a stylish and elegant tone that's still joyful. Couples wanting to make use of the colours of the moment could feature yellow stems like gerbera, sweet-scented mimosa, and sculptural crapsedia, offset with silvery-blue stems and foliage (think eucalyptus or Stachys).
Our in-house florist Vicky said: "Any bride looking to embrace this colour trend with beautiful flowers will be spoiled for choice. Yellow ranunculi are always a fan favourite amongst winter and new year brides. Their plump petals make them a bit of a halfway house between peonies and roses. Tying the knot later in the year? Yellow delphiniums will add height and drama to table arrangements whilst a flower wall filled with yellow garden roses and orchids will make a fabulous backdrop to your big day photos."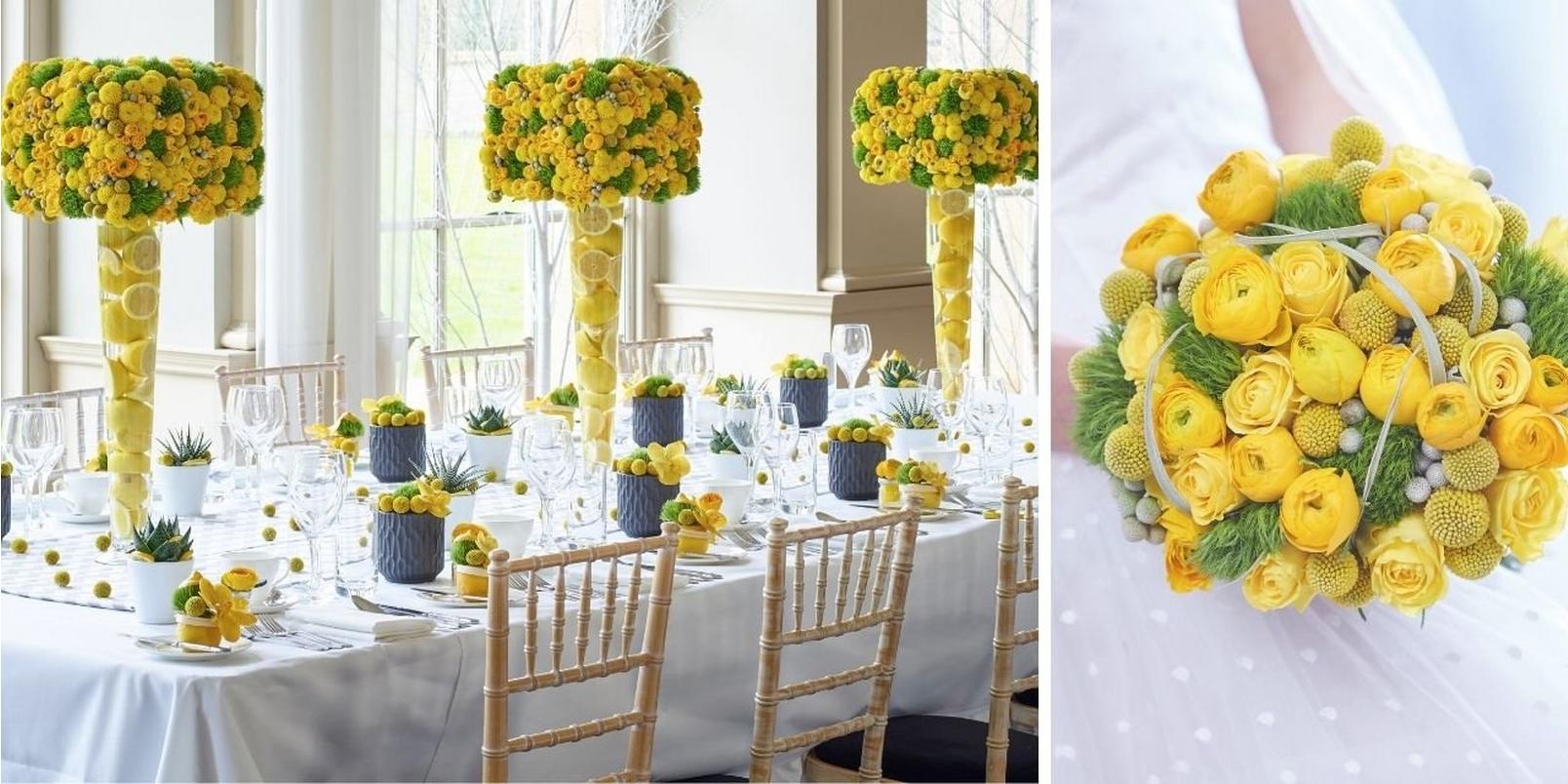 #4 Antique pastels
We love a white wedding as much as the next person but in 2021 we're expecting a little more colour (sorry Bill Idol). Expect to see gorgeous, muted pastels making their way into bouquets and arrangements. In part we have Princess Beatrice and Edoardo Mapelli Mozzi to thank for this, their wedding in 2020 featured a romantic profusion of blooms in delicate shades of pink and peach.
Florist Jo Hornsby from Daisy Chain, Shepperton, explains how to get the look: "You'll want roses, roses and more roses to bring this romantic trend to life. Ask your florist to use garden varieties as these tend to be highly fragrant and have lots of voluptuous petals. The o'hara rose would be an excellent choice as its ivory petals give way to peachy pink centres and look so pretty when combined with other blush blooms."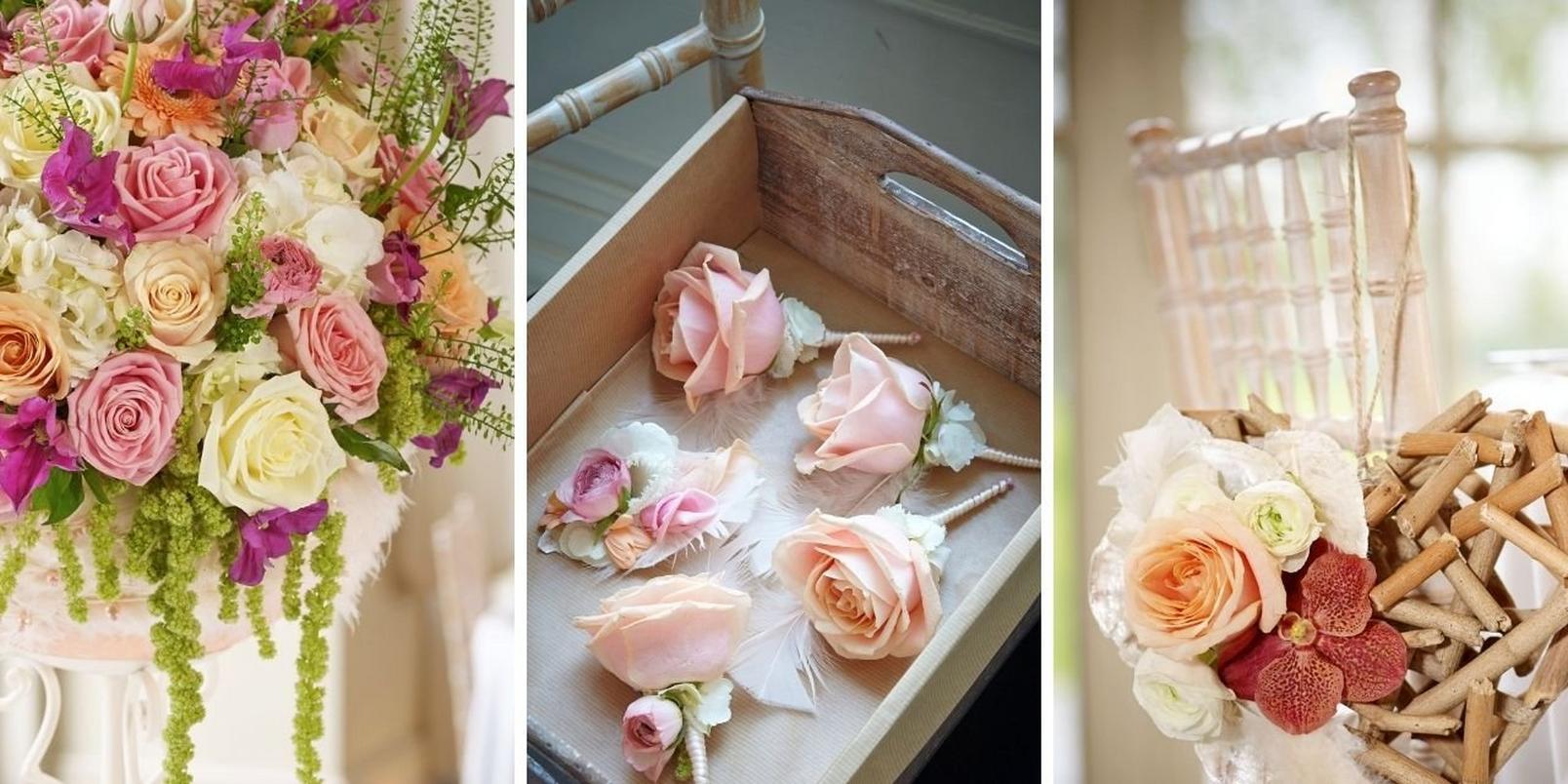 #5 Cascading wedding bouquets
Again, we have the royals to thank for this one. With a resurgence of interest in Princess Diana following the Netflix treat The Crown, we're expecting to see her flower choices making a comeback, namely the stunning cascading wedding bouquet she popularised in the 80s. Perhaps the most traditional style of all wedding bouquets, the shower bouquet is the epitome of elegance, designed to gracefully flow out of the bride's hands. Almost any type of flower can feature but the bouquet is usually gloriously enhanced with trailing ivy and fresh foliage.
Janet Boast of Going Dutch says: "The cascade style bouquet made iconic by Princess Diana will get a modern day makeover for 2021. Expect to see flowers like orchids, clematis, jasmine and Calla lilies gracefully flowing from the hands of many brides. Colour wise, we're likely to see a step away from white blooms that blend in with the bridal gown and a move towards stronger tones that ensure all eyes are on the bride."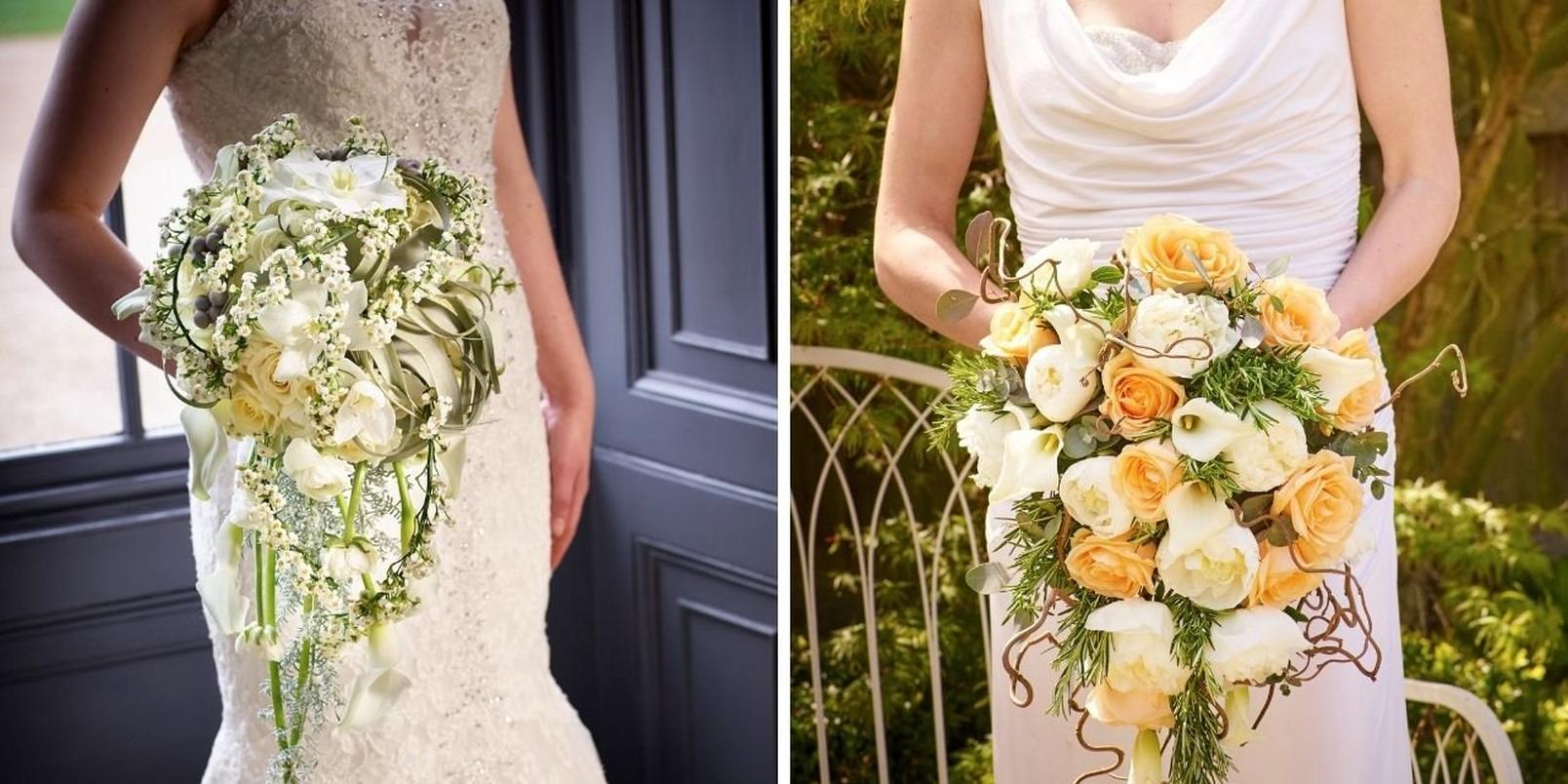 #6 Tablescaping
With guests having a lot to catch up on after so much time apart, we think weddings in 2021 will prioritise conversation over towering centrepieces. Long tables with low level arrangements will be order of the day. These arrangements are beautiful, they allow guests to chat easily, and there's no danger of anyone's hat catching on a tall candle.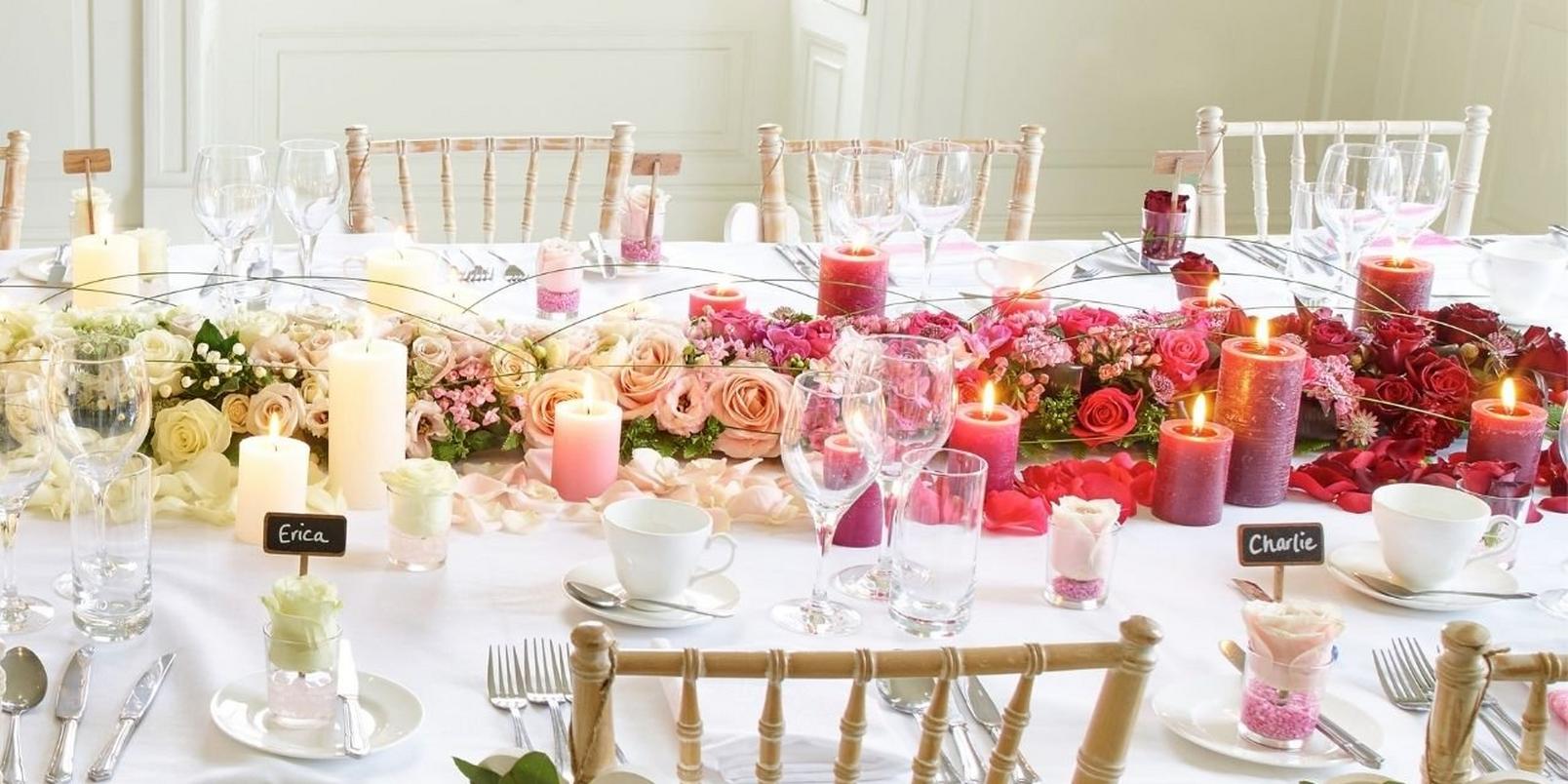 #7 Darling dahlias
Move over peonies, there's a new wedding flower in town! Once dismissed as old-fashioned we think the dahlia's moment has come at last. We hope its much-deserved renaissance is a long one!
Charlotte Davies, from Hilary's Floral Design in Abergavenny told us: "In 2021 dahlias will become the flower of choice for fashion forward brides. This fabulously showy bloom comes in a huge range of colours and it's in season May to November, making it brilliantly versatile."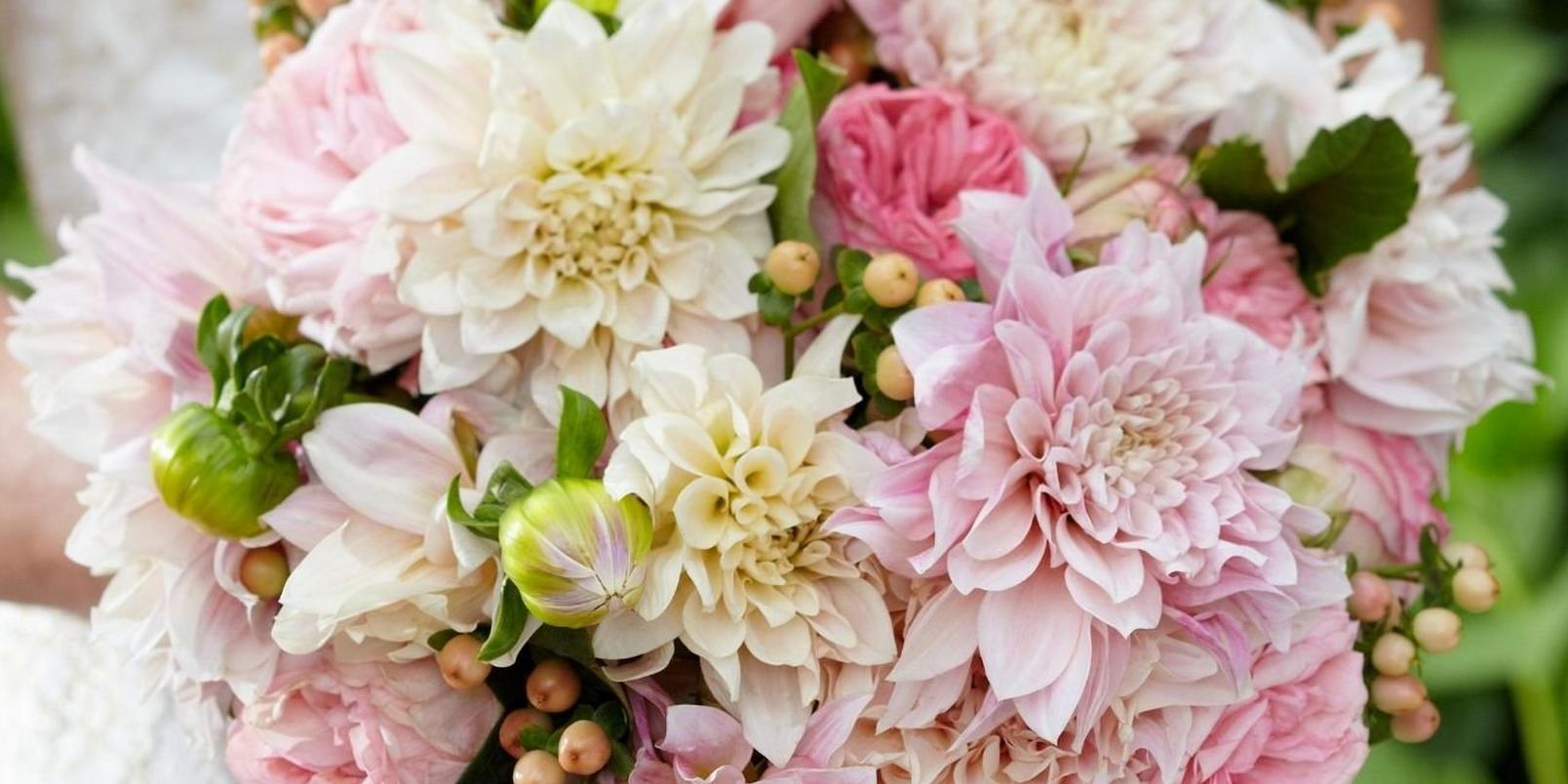 #8 Make it scent-sational
Expect weddings to smell as good as they look in 2021. We predict brides will be asking for scented blooms to fill their big day with aromatic appeal. Whether couples want to recreate treasured memories, like the smell of a childhood garden, or just ensure their day is a full sensory experience, the celebrations should be a treat for the nose. We rate the exclusive Lily of the Valley, garden roses and peonies for their perfume power.